The biggest viral story from the annual Victoria's Secret Fashion Show, filmed in Shanghai on Nov. 20, was the runway tumble—and graceful smiling recovery—of a Chinese model, Xi Mengyao, also known as Ming Xi.
Ming's fall was just the latest of many bumps along the road for the show, which has been beset by problems attaining visas for its stars, including model Gigi Hadid and the pop icon Katy Perry.
But in China the show, which airs Nov. 28, made its greatest splash long before its models took to the runway Monday: A televised reality competition similar to the America's Next Top Model franchise selected the eighth Chinese model to walk in the show. Road to the Runway was hosted by Xi—already a successful model and Victoria's Secret veteran—and was streamed on Tencent Video and IQiyi. It whittled down a group of 30 long-legged, pretty-faced young Chinese women, many with years of modeling experience under their belt, to one winner.
The final episode of the show was a cliffhanger, with two finalists—20-year-old One (Wan Yi) and 20-year-old Cristian (Chu Yitian). Victoria's Secret chief marketing officer Edward Razek told viewers they'd have to watch the actual runway show on Nov. 28 to find out who the winner was. Of course, expecting people to wait is naïve in the age of social media: The cherubic-faced One revealed herself to be the winner through selfie videos she took while sitting in backstage hair and makeup at the show.
For its contestants, Road to the Runway was many things—including a chance to make a modeling debut on the international main stage and, as one contestant Naomi (Kang Yaxin) explained, buy a big house. For its viewers, it also reinforces the globalization of a Victoria's Secret standard of beauty—one that that both defies and supports traditional Chinese standards of beauty.
What is a Victoria's Secret "Angel," anyhow?
Victoria's Secret chooses women who have the bodies of supermodels: super thin and lanky, and only appearing to have "curves" through the magic of push-up bras. They also display "cute" personalities that translate into mid-catwalk giggles and winks at the camera, and youthful dewy faces that wouldn't look out of place in a high school hallway—even though they're wearing lingerie in front of millions of people.
In 2012, Victoria's Secret casting director Sophia Neophitou caused a stir when she told the New York Times that she "would never use" Kate Upton, Sports Illustrated's cover model of the year, dismissing her as "like a Page 3 girl," referring to a defunct feature in the tabloid The Sun, which published photos of bare-breasted models with voluptuous curves. She is "like a footballer's wife, with the too-blond hair and that kind of face that anyone with enough money can go out and buy," Neophitou added.
Neophitou's point, clearly, was that she thought Upton looked too trashy, too low-class, too much of a woman for Victoria's Secret. It may be a mid-range suburban mall brand where American teenagers go for their first bra fittings, but it aspires, as evidenced by this year's partnership with Balmain, to the prestige of La Perla.
The globalization of American standards of beauty and the inevitable erasure of local standards of beauty is well studied in the history of beauty pageants. Nigeria's experience with the Miss World pageant provides an illustrative example: In 2001, Agbani Darego, then 18 years old, became the first Nigerian Miss World—the first beauty queen from Africa to win the title, and a major turnaround for a country whose contestants of previous years did "remarkably poorly," as the New York Times reported.
The sudden success was the fruit of an explicit change in policy. The head of the pageant, Guy Murray-Bruce, decided to change the criteria for selecting the country's representative: "The judges had always looked for a local queen, someone they considered a beautiful African woman," Murray-Bruce explained. "So I told the judges not to look for a local queen, but someone to represent us internationally.'"
The competition didn't just launch Darego's career and save the local pageant, though. It changed the ideals of beauty in Nigeria almost overnight, from "ample backsides and bosoms" to being "6 feet tall, stately and so, so skinny." Like Iman and Naomi Campbell, Darego was accused of looking like a white woman, but teenage girls in Nigeria began dieting and exercising to maintain their prepubescent, lanky bodies. "Because of Agbani, people have realized that slim is beautiful," one told the New York Times.
Enter Victoria's Secret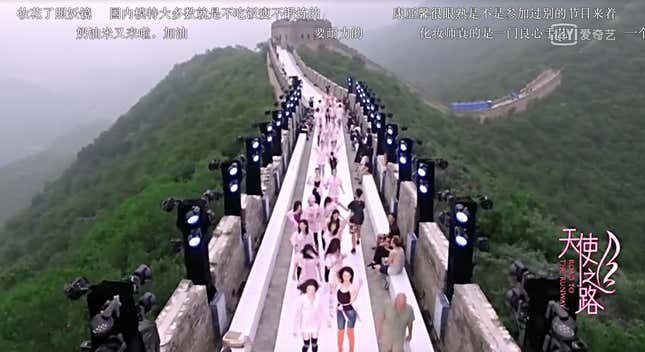 The first competition round of Road to the Runway was a catwalk featuring all 30 contestants on the Great Wall of China. Every model contestant was tall, thin, and beautiful, like a mythical Amazonian. But even after filtering for these requirements, the 30 models represented a wide spectrum of Chinese beauty that defied stereotypes: there was Naomi, whose Eurasian looks stemmed from her mixed background; there was Rachel, who rocked a green bob and gave dangerously cold attitude to the judges.
If Victoria's Secret wanted to be truly revolutionary and avoid more visa issues, it could have hired all 30 Chinese models, emblems of the diversity of their country. But Victoria's Secret didn't come all the way to China to support the local modeling industry or celebrate local beauty.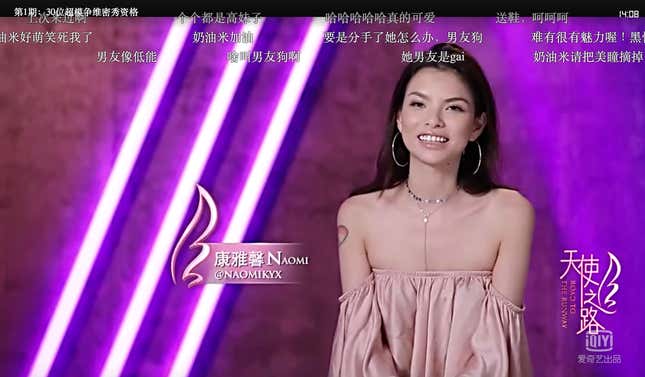 China's feminine beauty ideals have flipped and switched throughout the past 100 years, in line with the country's political and cultural transformations. In the 1920s, the port city of Shanghai was known as the Paris of the East, with debauched dance halls, art deco architecture, exclusive gentlemen's clubs, a thriving film industry, and the best business opportunities in all of Asia.
The women of Shanghai, known to be the most cosmopolitan in the country, emulated pout-lipped Old Hollywood stars such as Joan Crawford, and Parisian socialites with their red lipsticks and finger-waved bobs.
In 1966, Mao Zedong banned everything considered to be Western (ie, capitalist), even as he rejected the traditional Chinese beauty standards too. As I wrote earlier this year for Racked, primping and beautifying—whether it was Western norms or Chinese norms—was considered by Mao to be both petit bourgeois and oppressive to women.
Of course in practice, the Communist Party of China did not emancipate Chinese women from ideals of beauty, Western or Eastern. As Oregon State University modern Chinese history professor Hung-Yok Ip explains, beautiful women continued to be used as political devices for espionage. Female spies disguised themselves in fashionable clothing and makeup, and educated Chinese wives, like Sun Yat-sen's widow Song Qingling, were used in the embassy to entertain and charm American diplomats. Mao's legacy didn't destroy the institution of beauty itself—instead, beauty was reinforced as a source of nationalistic pride.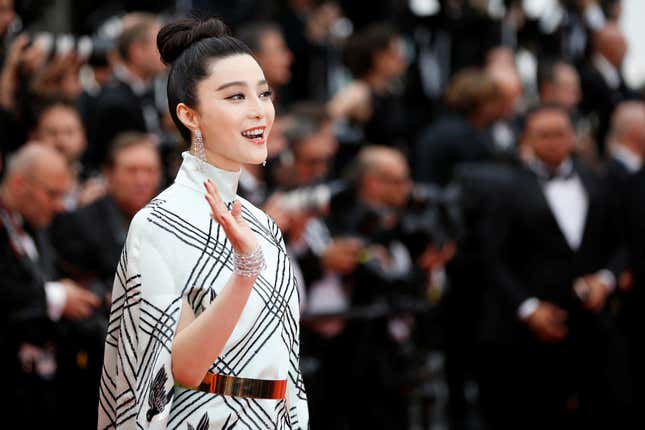 In the 1990s and early aughts, Japanese and Korean ideals of beauty combined with traditional Chinese ideals: big eyes, pale skin, a pointy chin, and looking rail thin. Young women also wanted to look like Korean pop stars—and these Korean pop idols wanted pointier, more Western noses. With her "fairest of them all" Snow White coloring, Fan Bingbing became the highest-paid Chinese celebrity in 2012, also earning endorsements from luxury brands like Louis Vuitton.
In Road to the Runway, two of the models cut in the first episode of the show were 30-year-old twins Viki and Kiko, who were told by the judges that they were "stunningly beautiful" but that they couldn't fit into the lineup. Another model cut in the first episode, Chen, had bigger hips and thighs that grazed against each other when she walked. "You have great beauty and great presence, but I don't think you have what it takes for this competition," judge John Pfeiffer told her. Her fellow contestants were shocked—Chen, of all the models, looked most like a Miss Universe or a Hollywood a-lister. "It's because her body's too good," contestant Jaclyn commented in shock. "Her legs are so long."
End of the road
Victoria's Secret eventually deigned to bestow its blessings upon eight Chinese women—Ming Xi, He Sui, Liu Wen, Ju Xiaowen, Xie Xin, Pei Shu, Estelle Chen (who is Chinese French), and the reality show winner Wan Yi. This is a first, and has been heralded as a move toward diversity by the media.
Even so, not a single one—not even 28-year-old Ming Xi, who has walked five shows for the brand—has been anointed an "Angel," a coveted contract that, in return for steadier work and more commitments, has helped models like Tyra Banks, Adriana Lima, and Karlie Kloss become household names.
Victoria's Secret is a latecomer to the lucrative lingerie market in China: Italian luxury label La Perla opened up shop in the mainland in 2006 and British luxury brand Agent Provocateur entered the market in 2013, while Victoria's Secret, a mid-market brand, didn't open a flagship until the end of 2016.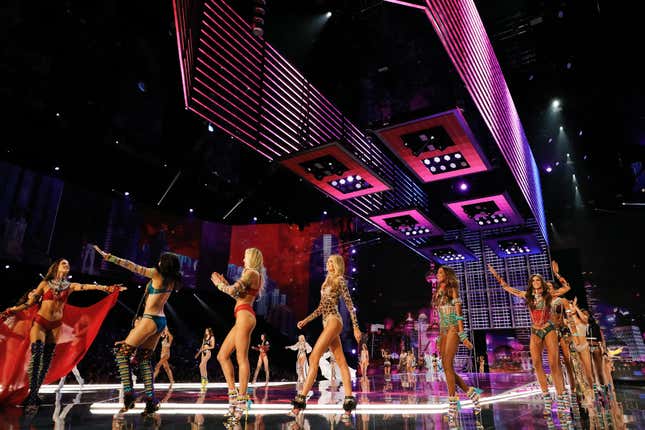 The company has plenty to gain from a higher profile in China. Its yearly runway extravaganza, complete with pop stars, paparazzi, and herds of influencers and street photographers, is the most-watched international fashion event of the year, but last year, the show filmed in the Grand Palais of Paris, France, drew in a middling 6.65 million viewers—less than the population of China's 19th largest city. This year, with Road to the Runway building expectations, Victoria's Secret is banking upon higher numbers.
Still, the message of the show, and the pre-show reality odyssey, is clear: The narrow standards of beauty promoted by Victoria's Secret aren't changing. Instead, Chinese women are being told, you too, should have a body like that.