The "travel jacket" is an endless source of internet fascination. It shouldn't require that much thought—a travel jacket is, after all, simply the jacket one wears while traveling—but the garment is the subject of innumerable Kickstarters, Amazon reviews, and lengthy discussion forums evaluating the particulars of this version of outerwear over that.
Perhaps the obsession stems from the idea that if you just get the perfect jacket, all your future trips will be as seamless and optimized as a promotional crowdfunding video. That was the promise of the failed "Airport Jacket" Kickstarter, which suggested you could forgo hand-luggage altogether by stowing all 10 lbs of your belongings in a floor length-trench.
Of course, choosing the right jacket can be vexing when you're in northern hemisphere winter one day and southern hemisphere summer the next. The difficulty is intensified if you're trying to both pack light and exude a vibe that's more sexy Anthony Bourdain than sensible Rick Steves. Given these constraints, what are the qualities one should look for in a travel jacket?
First, a travel jacket needs to be relatively versatile. If it won't work as well for a rainy walk to a nice restaurant in Paris as it will for an impromptu hike through the Atlas Mountains, then it loses points. Dark colors, attractive tailoring, and minimal visible bells and whistles–while still using a technical, water resistant fabric—all help to this end.
It also needs to be relatively lightweight. You don't want to be resenting the bulk it takes up in your bag while you're not using it. (Plus, an ultra-light inner layer like this is a better option for adding warmth, rather than bulk). Lastly, pockets are a must—specifically inner breast pockets for passport and phone and any pocket that zips—to help keep things away from prying hands on busy trains.
Then, there are the extras, which are legion: built-in neck pillows, eye masks, compartments for your tablet and water bottle, glasses cleaning cloths, earphone holders, clip for your keys, hidden gloves, and self contained stow-away bags are just some of the possibilities. Some of these would be useful, some are over the top, others are just silly.
We've rounded up the jackets you might consider buying for the traveler in your life, or for yourself.
If you want to go all-in:
If you want the travel jacket to end all travel jackets, go with the BauBax range. Reportedly the sixth-highest funded Kickstarter of all time, it comes in a range of different styles for men and women—blazer, windbreaker, sweatshirt, and bomber—and 15 extras that go way beyond pockets (though there are plenty of those too: for your phone, tablet, blanket, passport, drink, earphones, and of course your hands). It's not the most stylish, but if being prepared is your thing, then the BauBax is your jacket.
Something you'll probably want to wear at home: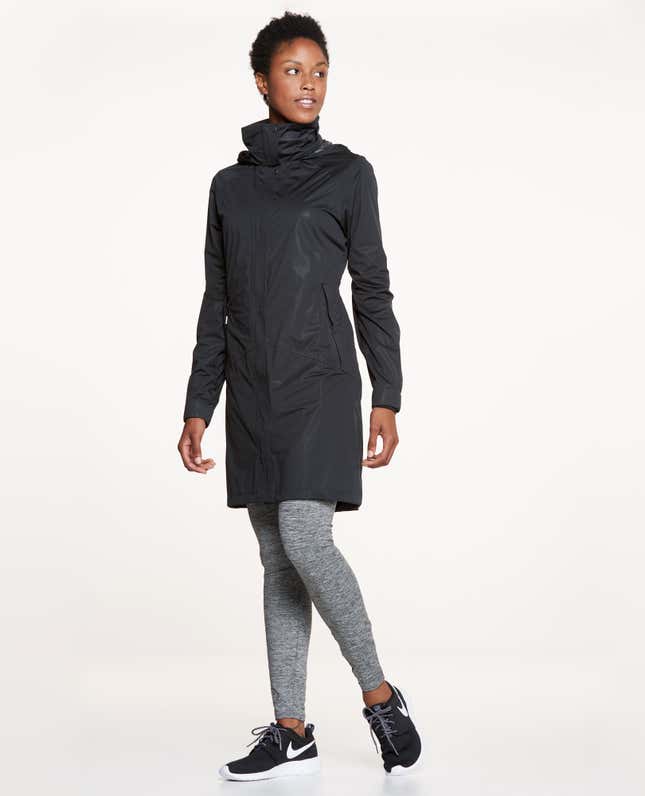 Toad&Co's Overshadow Trench definitely ticks the boxes of stylish, versatile, and technically practical. It also has a stowaway hood and packs up into a case contained in the left pocket, so you can easily stash it away when you arrive somewhere warm. The stretchy fabric is described as being "light and drapey." And the "internal secure stash pocket" sounds quite practical.  (Only available for women).
For understated cool and comfort: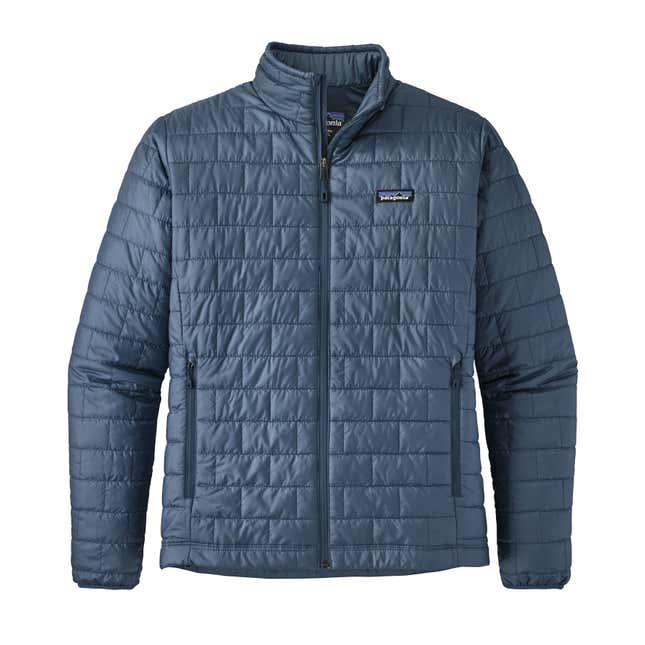 Patagonia is a favorite in the travel world for its well-designed and long-lasting gear, and its Nano-Puff jacket is a stand-out. Water resistant and wind-proof, it's a warm jacket that feels light as a shell, and can just as easily be worn to a casual business meeting as an exploratory excursion. Zippered hand-warmer pockets as well as a zippered internal chest pocket will keep everything warm and in place, and the whole thing packs down into its own carrying case. Available for both men and women, in a range of colors (but go for black).
For those who want attention as well as comfort:
"If you prefer not to be stopped on the street by people obsessed with your jacket," the product description for New York designer Rachel Antonoff's Peggy Puffer jacket says , "do not buy this hibiscus velvet puffer." We don't doubt that this coat attracts attention, and the detachable neck pillow does indeed make it look ideal for settling into a long-haul flight. However, it loses points for versatility because, well, it's hibiscus-colored velvet. On the other hand, if you are the type of person who can make a jacket like this look apt wherever you're jet-setting the world, then we want to be your friend.
High on features, low-key on aesthetics:
If you're into the idea of a purpose-built travel jacket with all the extras, but don't want to look like you're wearing a purpose built travel jacket, the Global Travel Clothing Company's options in black and navy look low-key enough. They have an extensive list of features—including hidden pockets, tablet and phone compartments, a water bottle holder, built-in eye mask, detachable hood and lots more—and come in both male and female versions. They'll do the job, though you're unlikely to be stopped by any street style bloggers.
For the person who dislikes technical performance wear:
The Ellie Lightweight Travel Parka from Anatomie is another contender for something you'll wear at home. Water resistant, lightweight, lots of pockets (including interior pockets), and a slouchy feel that looks urban-chic rather than sloppy. It comes in two colors, bronze and black, but is only available for women.