What can you not do? What task or obligation can you free yourself from right now? A yoga teacher recently posed this question at the beginning of a class I was taking. I found it slightly eye-roll worthy in the moment, but I've been using it to guide decisions ever since.
It was certainly in the back of my mind when I bought a sparkly silver artificial Christmas tree from the Vermont Country Store in Rockingham, Vermont on Cyber Monday.
Sometime before Thanksgiving my husband and I came to the realization that we both hate getting a Christmas tree. Don't get me wrong, I love having a tree, decorating it while sipping a hot toddy or a spiced cider, turning on the lights when the sun goes down, and basking in the glow it emits on December evenings. Going to get a tree, however — lugging it home, putting it in the stand, cleaning up the needles that are already all over the place, then watering it, taking it down and figuring out how to get it composted or turned into mulch — all count as annoying tasks in my book.
A fake tree was clearly the way to go, especially since we're responsible for a certain amount of seasonal magic making, as the parents of an almost-three-year-old. First though, I had to give myself permission to assemble my tree from a box instead of lugging it home from a farm. Despite the fact that in 2016 the artificial Christmas tree industry had an exceptional year, with 18.6 million tree purchased (compared to 27.4 million for real trees—also a strong showing compared to past years), people still have a lot of strong feelings about fake trees, based on environmental, aesthetic and sentimental reasons.
What's better for the environment, an artificial Christmas tree or real tree?
As with all things green, it's nearly impossible to calculate the carbon footprint of a real versus artificial tree with any accuracy, since so many factors are in play. How far did your real tree travel? How long will you keep and reuse your artificial tree? The New York Times investigated back in 2010 and found that if you're planning on keeping your fake tree for 10 years or more, it's basically a wash. Though it's buried in the last paragraph of the story, the real news is that in terms of bigger picture environmental impact, this is a choice that isn't particularly important — compared to more grandiose decisions like which car to buy, how large your home is, and how you go about heating and cooling it.
There are some gnarly chemicals in most fake trees, most notably PVC, though Christmas lights, which adorn the vast majority of all trees, are arguably far more worrisome, as they are encased in PVC that generally contains lead as a stabilizer. All of these risks though, should be taken with a grain of salt, since these are low levels and short-term exposure we're talking about, unless you put your tree up before Thanksgiving and take down just after Easter and spend a lot of very intimate time with it. If you're truly freaked out, go natural, or buy an artificial tree well in advance, let it off-gas outdoors for a month, and wear gloves when you decorate.
Don't get caught up in the idea that you're killing a tree by purchasing a natural tree–think of them as crops, which is what they are for the more than 15,000 Christmas tree farms in the US, as recorded by the USDA's most recent agricultural census from 2012. This week the real tree truthers at Breitbart, got their knickers in a twist about how the Asian-dominated artificial tree market was hurting American farmers, while ignoring the fact that of all the trees purchased in the US each year, more than 1.6 million in 2016, are grown in Canada. In total, real tree sales were up in 2016, to 27.4 million over 26 million in 2015, and farms where you go and cut your own tree don't have to throw unsold trees away. They just grow bigger, and more valuable, for the next year.
Artificial Christmas trees offer you more design options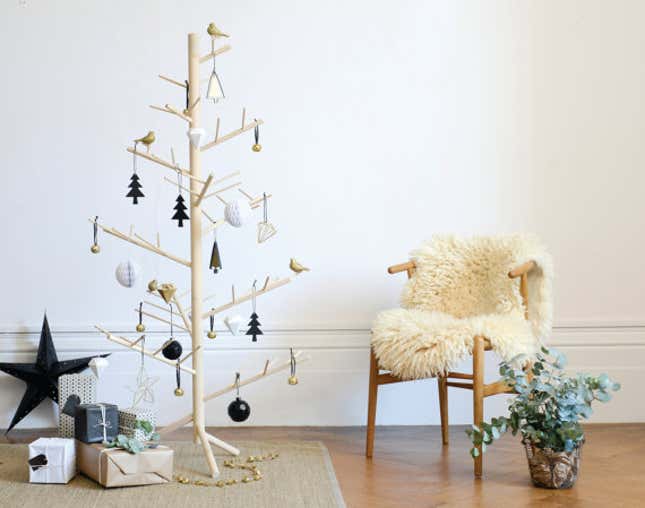 Sure there's something to be said for a perfect pyramid of fragrant pine boughs, twinkling lights and ornaments carefully collected over many years. Let's be real though, Christmas is a holiday made from glitter and stardust. Get a pink tree or a rainbow one and go nuts. Not everything has to be all tradition, all the time. I just wish there was a Rent the Runway-style artificial tree disruption service to make it easier to change up the look every year.
For me, trying to replicate a real tree in plastic is slightly weird, but leaning into the glittery fun of the season, a pleasure. I ordered this silver, 60s-inspired tree and bought a couple Mrs. Meyers Iowa Pine scented candles to replicate that fresh evergreen smell. If you go in for a clean modern aesthetic more than kitsch or country kitchen, Architectural Digest put together this round-up that highlights the strange elegance of Charlie Brown Christmas trees, some of which avoid the PVC issue as well since they're made from simple wood and wire configurations. Dedicated DIYers should also check out this Buzzfeed listicle that collects some of the most creative Christmas tree solutions from the craftiest corners of the web—there are a lot of options here that solve the problem of not having a good spot for a tree in an apartment, along with some really out there, please don't actually try this at home, ideas. If in doubt, Consumer Reports has some buying tips for fake trees. Or invest in a real, non-evergreen tree that you can enjoy all year, along with a really nice planter and decorate to your liking. The world is your oyster.
The sentimental prison of a real tree
Fake trees inspire very strong feelings, many of them based on outrage.  I posted a picture of some sparkly trees lined up at a sidewalk kiosk in front of the Quartz offices in New York City on my Instagram account and the comments poured in: NOPE. Can't do it. In Vermont!!!?? My people were not having it.  As with many things that a lot of people feel passionately about — sports teams, car brands, Dave Matthews Band performances from the 90s — I don't really get it.
This is where giving yourself permission to not do certain things becomes relevant. Holiday traditions wind their way from one generation to the next, but unlike eye color or that distinctive gait you share with your uncle, they can be revised. I like sending holiday cards and making Christmas cookies, but you won't catch me shepherding my family to church on Christmas Eve and I don't feel obligated to accept holiday invitations, even to family gatherings. This year I'm adding a silver tree to the mix, and I hope my kids remember it fondly one day, while feeling free to do whatever they want with their own celebrations.