In appropriate 21st-century fashion, the British royal family announced on Twitter this morning (Nov. 27) that Prince Harry is engaged to the American actress Meghan Markle. The wedding is set to take place some time in the spring of 2018.
Becoming a princess will mean even more media scrutiny for Markle than the massive amount she has been subjected to as Prince Harry's girlfriend, and much of it is sure to center on her clothes. Harry's mother, Princess Diana is still widely remembered today for her fashion choices, and his sister-in-law, Kate Middleton, the Duchess of Cambridge, is followed by tabloids, fans, and critics who tirelessly chronicle her every frock. What she wears has such an impact on what the public buys that it's nicknamed "the Kate effect."
Markle, whose clothes are already tracked by blogs and photographers, seems poised to have a similar impact on fashion. In fact, the royal wedding is expected to be a boon for the UK economy. So what is her style like?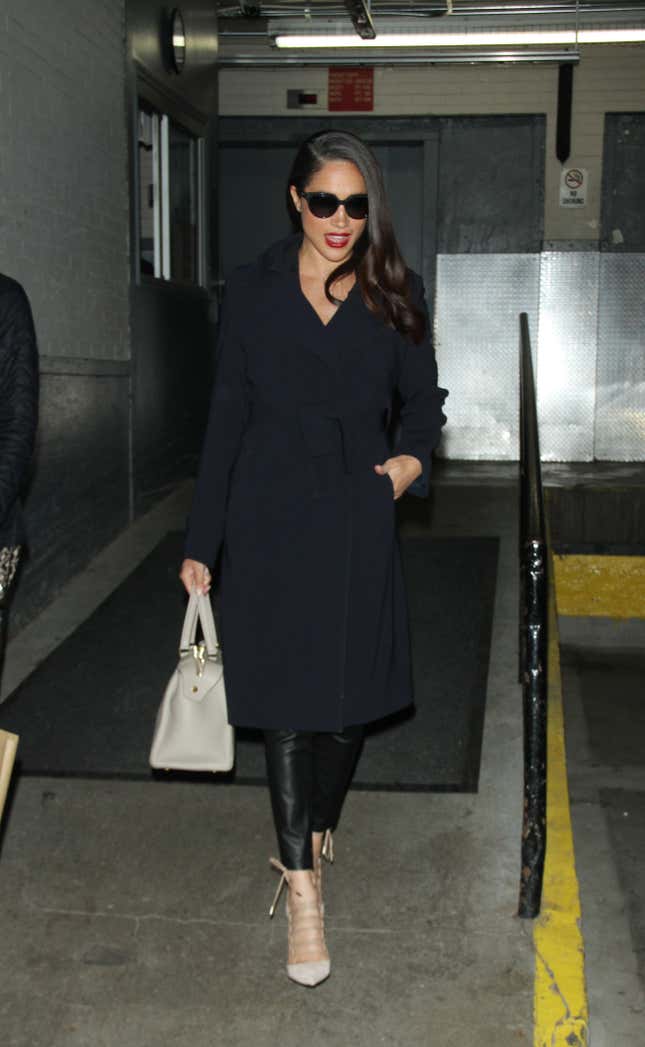 If Middleton is known for her knee-length, polished day dresses, Markle is recognized for a cool, laid-back look. When she's not attending media events, she's regularly photographed wearing skinny jeans or trousers, paired with a shirt or sweater and a jacket over top. Often she's snapped wearing yoga pants on her way to a class, mat in hand.
It's sort of a standard uniform for American celebrities. And indeed, that's what Markle has been up until now: She plays the character Rachel Zane on the show Suits, and has had other TV and movie appearances, such as in the the 2011 movie Horrible Bosses.
But even if Markle brings that Hollywood sensibility with her to her new home, Nottingham Cottage at Kensington Palace, don't expect a new era of public appearances in distressed denim and leather biker jackets. The royals maintain a pretty straight-laced dress code in public, even for casual appearances, as the BBC reported this summer. "For ladies, a smart day dress or trousers teamed with a jacket or cardigan is considered acceptable while for gentlemen it is a blazer with a collared shirt and chinos," it noted. Jeans are acceptable for walking the dogs or similar activities. (Middleton herself turns up in a pair occasionally.)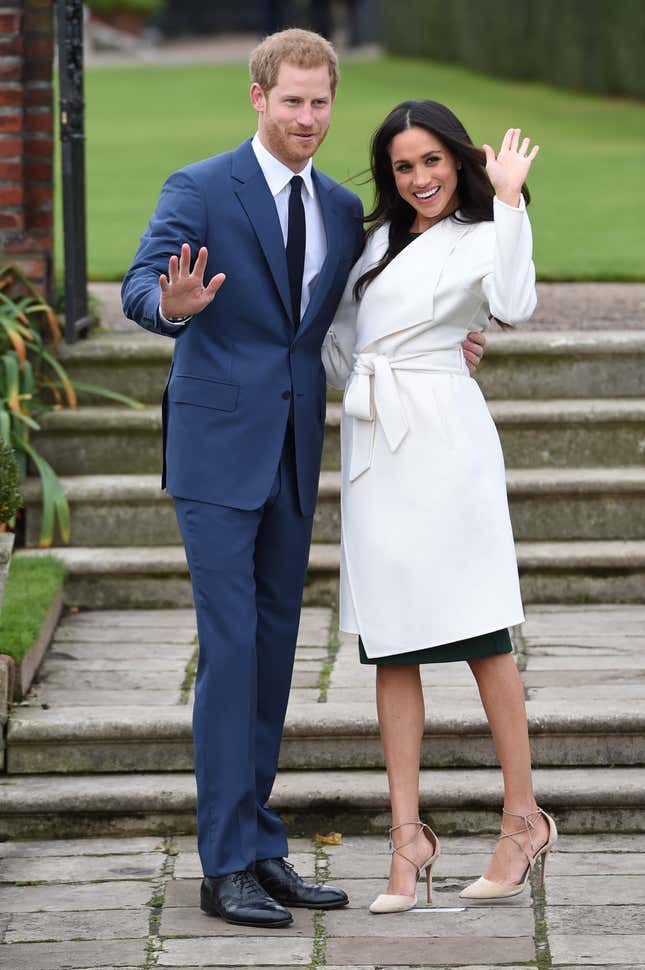 Markle has her chic, sophisticated look down as well. She's likely to flex that side of her style more once she's an official princess. Already, the white coat she wore when announcing her engagement outside Kensington Palace today, by Line the Label, has caused a buying frenzy that reportedly crashed the Canadian brand's website.
Of course, you can also expect a glorious dress come her wedding day. Come spring of 2018, that's what everyone will be watching for.