Every year, it seems, there's a new holiday tradition observable on social media and in glossy magazines that feels suspiciously like an excuse to spend even more money. Matching pajamas for the whole family? I see what you're up to and I'm resisting, despite the Instagram bait. As someone who gets excited when the mail comes every day, sending Christmas cards is way more my holiday jam, and is money, and time, well spent, in my opinion.
Sure, sure, sending out a photo from your wedding or of your adorable moppets may feel like you're participating in a competition to see who is living their best, best life, but come on. Don't let the pettiness of social media ruin everything. Holiday cards are about gratitude and connection and they're a delight to receive. Your year may have been a mixed bag, but there were happy moments in it. Highlighting those, for yourself and others, is a way to keep perspective, and keep moving forward. It's deeply human.
We're past the era of Hallmark cards and Sears Portrait Studio photos. There are a handful of apps and web-based photo services that will help you create custom cards from the pics on your phone or computer with ease. Here are four ways to connect with a card.
Holiday cards made easy
Postable has beautiful cards for all occasions, but so do a lot of services. What really sets this site apart is their genius solution for collecting addresses. You provide the email addresses for the friends and family members whose physical addresses you want to include, type in a quick note, and Postable sends an email that comes from you so people actually open it, with a link so they can fill in their address. Who doesn't want mail? The whole process takes you about five minutes. From there you can either order a box of cards and use the address book you generated to complete them, or send cards directly from the site. You can also import a spreadsheet of addresses and export the ones you generate.
There may be a contingent of Miss Manners types who find the idea of a computer printed rather than hand-inked message, even if personalized, strange, and I certainly prefer to write my own. But the flip side is that Postable cards are always legible, and they really make the whole process super easy. Cards range from $1.25 to $3.50, plus postage.
The fancy feel-good option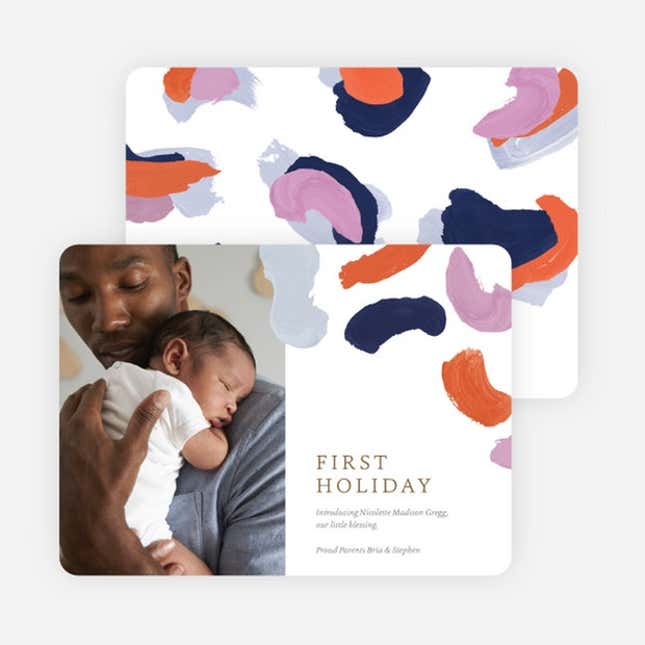 Paper Culture, like many retail disruptors, has a positive social element baked into its formula: They say they plant a tree with every order and all their cards and envelopes are made from 100% post-consumer recycled paper. The sample cards on their site also feature a fair number of non-white, non-heteronormative, occasionally multiracial families and couples, which you'd think would be standard practice by now, but really stands out here.
On the practical end of things, Paper Culture's designs are some of the most appealing I've seen, though you could spend hours sifting through them, so beware. If red, green and holly berries is what you're after, there's plenty here, but there are also less traditional cards. If you're not into photo cards, they have tons of really beautiful illustrated and graphic cards that don't require an in-focus snap from your vacation. The interface for customizing your cards is also superior to most other services and they will send your cards for you if you import your address list. Prices start around $1.50 per card and go up from there.
Always wait for the sale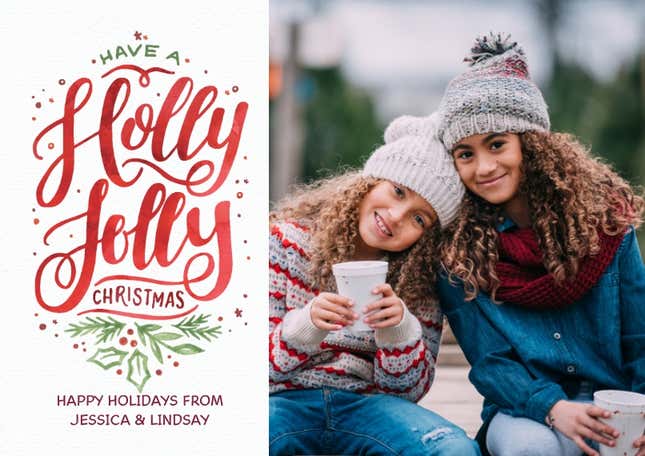 If you are a child of the 70s or 80s and remember those rectangular photo cards your mom always sent (made from photos taken with her rectangular point and shoot camera, of course), you can recreate that aesthetic with Snapfish. There are beautiful, fancy cards with foil printing, on heavy card stock with round corners here. And if you're on a budget, there's not really a better site out there. Pro tip: Never pay full price, there's always a sale on, usually a substantial 40-60% off sale. Sign up for their newsletter to keep track. I recommend their framed prints too, especially if you have a fair number of grandparent types to send gifts to. This is a good place to print all those photos on your phone, as well.
Cards start at $1, and remember, you can usually get them for 50% off that price. One problem with Snapfish is that there are so many choices you can spend hours trying to find just the right card. Currently there are close to 1,000 options for Christmas cards alone.
Finish your thank-you notes in a snap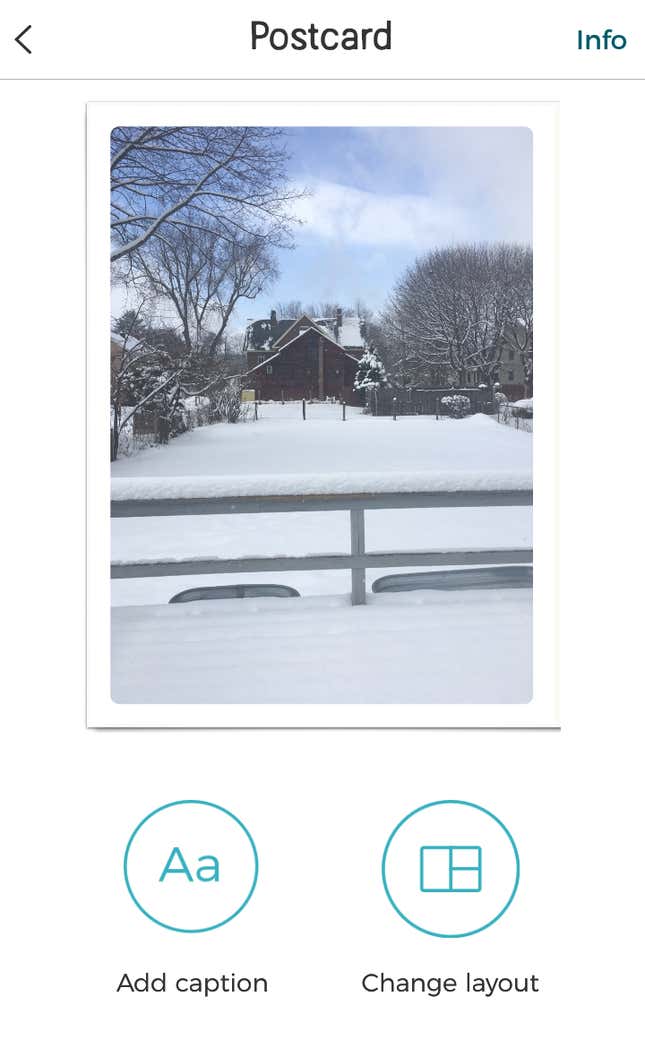 Touchnote is an app that uses the photos on your phone to create cards, postcards and photo gifts. There are two things it really excels at: making it simple to send cards to people who live in a different country since (unlike some competitors) they don't charge more postage for international addresses; and thank you notes. Anyone with children too young to be hounded into writing their own thank-yous knows that this can be a stressful task come January. I like to take a picture of my son playing with the item I'm thanking the giver for, or send a picture of the giver and my son together, and use it to send a card via Touchnote. I can usually get my entire list done for about $20, while watching a movie on the couch and I've had several recipients tell me how personal it felt to get a card tailored to the gift.
Touchnote works on a credit system, and the price per credit depends on how many you buy, ranging from $1.99 to $1.67. Postcards are generally one credit, cards two, and that includes postage, yes, international postage, too, so you're talking about $2-$4 a card, sent anywhere in the world you like. I have successfully sent Touchnotes to both Canada and South Korea, without having to set foot in a post office. The app also keeps an address book for you, which you can import from your phone's contacts, so you could send all your cards from your phone, if you wanted.