Ina Garten, as always, was onto something when she reinvigorated the notion of Engagement Roast Chicken—a roasted chicken is the perfect home cooked meal for romance. When Meghan Markle and Prince Harry got engaged in Nottingham Cottage, the prince's no-more bachelor pad in Kensington Palace, they happened to be having a "cozy night" roasting a chicken.
"It was so sweet and natural and very romantic. He got down on one knee," she told BBC. "As a matter of fact, I could barely let you finish proposing. I said, 'Can I say yes now?'"
The newly engaged couple is well documented throughout their courtship for staying in and cooking their own meals. While every restaurant in the world wants these two attractive and famous lovebirds canoodling at their dining room tables, they're busy keeping their intimate moments private and without frills—well, except for a trip to Botswana for a second date.
Royals aren't the only ones who can harness a roast chicken's almost Proustian, romantic appeal. "A simple roast chicken can be the best thing you ever ate. It only needs a good bottle of wine to be transformed into a banquet," explains Lee Brian Schrager, founder and director of both the New York and South Beach Wine & Food Festivals and a connoisseur of roast chicken around the world. His favorite roast chickens are from Barbuto in New York City, Le Coq Rico in New York City (recipe below), Rotisserie Georgette in New York City, The NoMad in New York City, and Zuni Café in San Francisco ("The special occasion chicken that pro cooks I know go to," Quartzy food writer Anneliese Griffin notes). Over in London where Markle has recently moved in with her fiancé, Israeli-British chef Yotam Ottolenghi makes a golden chicken roasted with sumac, za'atar, and lemon. If you can find chickens in a country, you will find a variant of roast chicken there.
Of course, you can also just buy a rotisserie chicken, warm it up in the oven, light some candles, and pour out some wine. Romance can be cooked up without cooking at all.
For those who want to emulate the royal couple, we've asked Antoine Westermann of Le Coq Rico and Martha Stewart to share their time-honored recipes with you. No, a perfect roast chicken—even the most crispy crusted, juicy one—won't get you engaged or make you a princess, but it is a dish that turns everyday meals into special occasions. Once you make roast chicken a few times, it becomes like muscle memory—and like Markle and Prince Harry, you can do something else while it's roasting.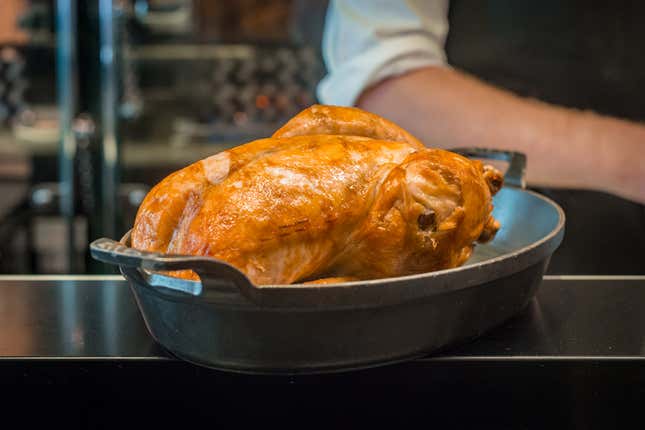 Roast Chicken, by Chef Antoine Westermann of Le Coq Rico
1 chicken, about 4 ½ lbs
1 tbs. butter
1 ½ tbs. olive oil
Salt
Freshly ground pepper
Put half of the butter, salt, and pepper inside the chicken. Cut the other half of the butter into chunks and rub them onto the skin of the chicken. Then, brush olive oil onto the skin and sprinkle with salt and pepper.
Put the chicken on an oven dish, one leg down. Put the dish into the oven, pre-heated to 200°C, and let it cook for 20 minutes. Then turn the chicken onto its other leg, and cook for another 20 minutes. Finally rest the chicken on its traditional base and let it roast for 30 minutes, sprinkling it regularly with its cooking juices.

Take the chicken out of the oven and wrap it in aluminum foil. Remove half of the grease from the dish and return it for the last time to the oven at 180°C. Brown the drippings without letting them blacken. Add 10 centiliters of water to the browned drippings, scrape the dish to get the bits off the bottom, and leave that in the oven while cutting the chicken. To finish, mix the cooking juice and the drippings, and put the cut chicken in the dish.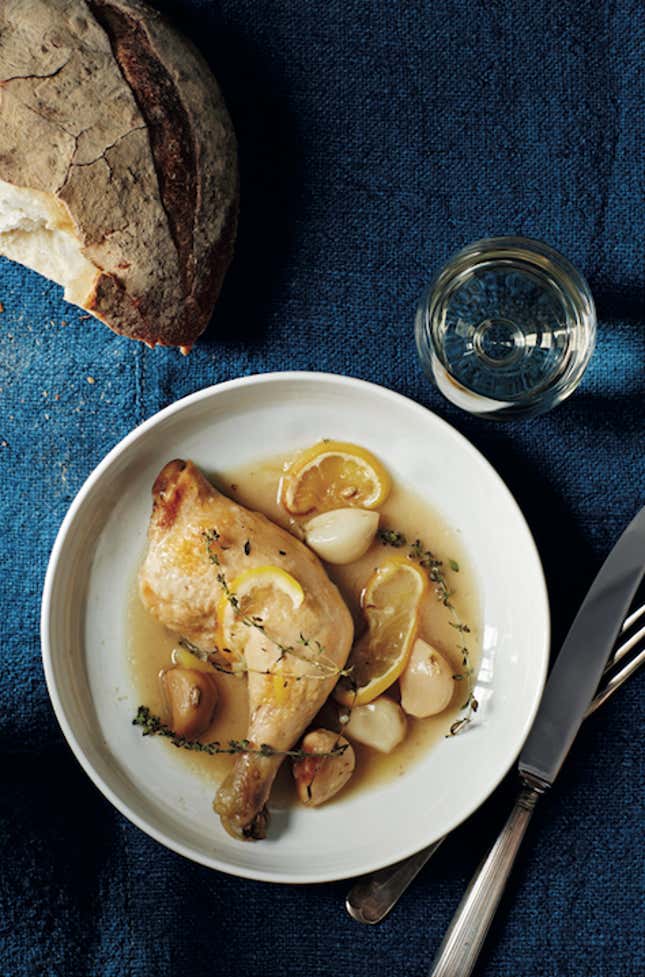 Chicken with 20 Cloves of Garlic, by Martha Stewart
8 whole chicken legs (about 4 lbs.)
1 Teaspoon extra-virgin olive oil
Coarse salt and freshly ground pepper
20 Garlic cloves
2 Lemons, thinly sliced
6 Thyme sprigs
Crusty bread, for serving
Preheat a 5- to 6-quart slow cooker; preheat oven to broil.
Place chicken skin side up on a rimmed baking sheet. Rub oil onto skin and season generously with salt and pepper. Broil until skin is brown in places. Transfer chicken to slow cooker. Add garlic, lemons and thyme. Cover and cook on high until meat is tender and cooked through, about 2 ½ hours (or on low for 5 hours). Serve with braised garlic, cooking liquid and bread.