There are a number of important holiday cookie recipes in my family. I make Dorie Greenspan's incomparable World Peace Cookies every year. My mom bakes jan hagels, a traditional Dutch cookie that is topped with walnuts and powdered sugar. My 90-plus-year-old grandmother still makes a multi-step, twisted candy cane cookie that requires two doughs, extensive shaping and and a final dusting of crushed candy canes. There is one recipe though, that we all make and all refer to simply as "Christmas cookies."  If you want to keep it simple, delicious and classic, this recipe is all you need.
It originates from The Joy of Cooking (though it reportedly vanished from the 1997 edition and was reinstated in the 2006, 75th anniversary edition, and is most assuredly included in my personal copy which is an early '70s printing of the 1964 edition), and it is perfect. Called "Rich Roll Cookies," and not to be confused with the Roll Cookies or Butter Thins featured on the same page, these cookies land somewhere between a shortbread and a sugar cookie, thinner and crispier than the former, and richer and more delicious than the latter. They are an ideal way to show off your eclectic cookie cutter collection, and a blank slate for every kind of decoration from a simple sprinkle of colored sugar, to elaborate piping with royal icing (please don't unless you truly find it fun and relaxing). When I was in elementary school my mom would roll out and cut the cookies into bells and stars and Santa faces while my sisters and I painted them with an egg wash stained with food coloring using paintbrushes repurposed from our bin of art supplies.
Once baked they're buttery, but not overwhelmingly rich, and perfectly crisp, as Mary Berry might say. They keep for at least a week in a tin, and you can prep the dough in advance and store it in the fridge for a week or two, wrapped in plastic, for cookie emergencies or just to get a jump on your cookie game.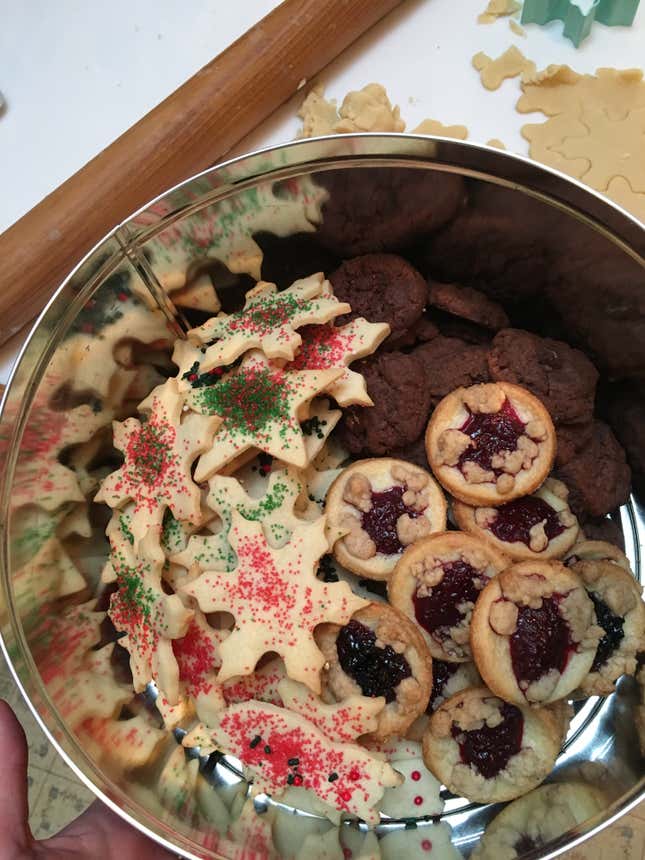 I make a double batch of the recipe below, and it's the foundation of my cookie plate. I add the World Peace Cookies, and a third wild card cookie for the perfect balance. This year I'm going to go with a rosemary-pine nut cookie from Milk Street (paywall). Last year I did a sort of classy jam thumbprint with a shortbread bottom and streusel top. Contrast is key, here. You want a basic to start, then something chocolate, then something with fruit, nuts, caramel, peppermint, or some other distinct flavor. I recommend storing them in separate tins, then making plates as needed for friends, neighbors, parties, and personal satisfaction.
The one thing to keep in mind when you're making Rich Roll Cookies is that they can be a little fiddly. Do not skip the refrigeration and stay patient when you roll them out. This is a lot like pie dough. If the dough gets too warm and becomes hard to handle, pop it in the freezer for a few minutes. Serious Eats also has a few quality roll cookie pointers.
Here's the recipe, as it appears in my copy of The Joy of Cooking. I don't grease the pan, I use a silicone Silpat to line instead, because it makes me feel like a pro and they're really, truly stick-proof (for non-gooey items at least). I've never sweated dusting the counter or the rolling pin with flour and I don't even know what a rolling pin cover is. Put colored sugar, egg washes, and other decorations on before the oven, anything having to do with icing once they've cooled. And enjoy.
Rich Roll Cookies
About 60 2-inch cookies
Just what they are named, and delicious!
Aunties and grandmothers who roll cookies for and with children are scarce these days. But shaping cookies is such fun that children should be encouraged to learn to make them for themselves. Inexperienced bakers often ruin rolled cookies by using too much flour in the rolling process. To use as little extra flour as possible, chill the dough at least one hour before rolling it, and use a pastry cloth and rolling pin cover. These practically do away with sticking and require the use of very little additional flour. Grease the pan, but remember never to use a pan with deep rims for cookie baking. Removing the cookies from such a pan is very difficult.
Cream:
1 cup butter
2/3 cup sugar
Beat in:
1 egg
1 teaspoon vanilla
Combine and add:
2 1/2 cups sifted all-purpose flour
1/2 teaspoon salt
Chill dough 3 to 4 hours before rolling
Preheat oven to 350 degrees
Roll out and cut.
Bake for 8 to 10 minutes or until slightly colored.