It's been an incredible year for LGBT cinema, from Moonlight's dramatic Best Picture win at February's Academy Awards to Call Me By Your Name's more recent critical acclaim and commercial success. And there's been plenty more in between.
A new film, scheduled for release in spring 2018, is set to build on the success stories of the last 12 months—and take it mainstream. Love, Simon, a gay coming-of-age movie from the team behind The Fault in Our Stars, shouldn't be groundbreaking at this point, but it is. It's the first release of its kind from a major studio, in this case 20th Century Fox.
The movie, based on Becky Albertalli's 2015 young adult novel Simon vs. the Homo Sapiens Agenda is directed by Greg Berlanti, known best for his work on Riverdale and The Flash. It stars Jurassic World's Nick Robinson, and follows 17-year-old Simon as he tries to find himself, and the anonymous classmate he's fallen for online.
From the trailer, released earlier this week, it looks like a film we've seen plenty of times before. It's a high school-set romantic 'dramedy' aimed primarily at a teenage audience, but this time, the gay character is front and center. Simon isn't the 'gay best friend' or reduced to a supporting role, this is his story. Finally, major studios are realizing that stories like his deserve to be told.
While Love, Simon was in the works over a year before Moonlight won the Oscar, the incredible year that LGBT cinema has had will undoubtedly inspire more filmmakers to tell quality queer stories in new and different ways. No one will deny that LGBT cinema has been growing for a long time, but too often these stories focused on the anguish and pain of gay people. Whether they focused on the AIDS epidemic or violent homophobia, it was rare for their characters to have any semblance of a happy ending. In many cases, they were lucky to come out of the film alive (some, as in Brokeback Mountain, sadly didn't).
That's not to say that these films don't have their place, but the last 12 months has brought a sea change in the types of stories that are being told. It's a sentiment shared by Call Me By Your Name actor, Armie Hammer, who praised the film's "beautiful" connection that came with "no punishment or fear".
"I like that no one had to pay for being gay in this movie," he told USA Today. "No one got beat up by a mob; no one got AIDS; no one's family turns on them. It's just two people falling in love and I thought that was beautiful."
The same is true of another of the year's best movies, God's Own Country, the debut film from British filmmaker Francis Lee. Set on a remote farm in the northern English countryside, it focuses on the unexpected romance between Johnny, a young sheep farmer, and Gheorghe, a Romanian migrant worker, who is recruited to help out during lambing season.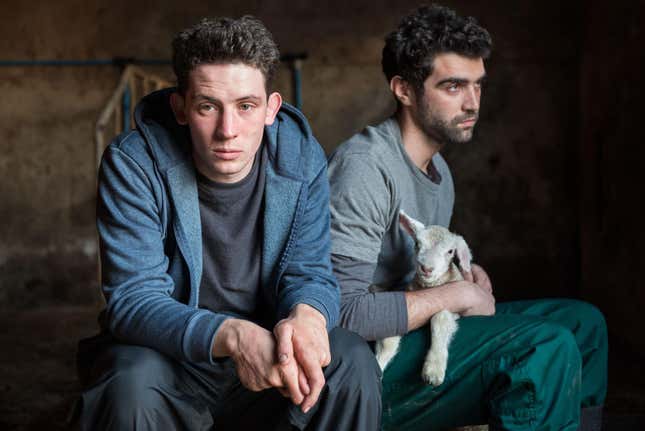 The drama has been hailed by more than one critic as "Britain's answer to Brokeback Mountain", but there's a fundamental difference between the two, despite their aesthetic similarities. While God's Own Country does tackle heavy subject matter (including family illness, economic depression and racism), it's ultimately a story about hope. As one critic wrote, it's "a universal tale about giving yourself over to love, even when you seem hopelessly broken". Johnny's sexuality isn't the source of his problems, but the love he finds is ultimately what saves him.
Call Me By Your Name and God's Own Country are just two of many LGBT films to enchant audiences this year. The French film BPM (Beats per Minute) was a Grand Prix winner at Cannes Film Festival and is likely to go all the way to the Oscars. A Fantastic Woman (known in Chile as Una mujer fantástica) has been praised as "a new, luminous touchstone work" in the growing genre of transgender drama, while documentary The Death and Life of Marsha P. Johnson put a timely and well-deserved spotlight on one of the most important leaders of the LGBT civil rights movement.
Excellent queer cinema isn't anything new, but there's something about 2017 that has felt fresh and groundbreaking again. For perhaps the first time, filmmaking is taking steps towards capturing the full breadth of the LGBT experience. It is showing audiences the beauty of same-sex love, the bravery and continued struggle of trans men and women, finally representing LGBT people of color, and reminding us of the figures who fought to give us the freedoms we enjoy today. With Love, Simon, the gay coming-of-age story will find hopefully find an even wider audience, and it's about time too.