Not much isn't swoon-worthy about Call Me By Your Name, the coming-of-age love story by Italian director Luca Guadagnino set in the early-1980s.
There's the film's stars: newcomer Timothée  Chalamet as the charmingly love-sick teenager Elio Perlman and the god-like Armie Hammer as his hot-academic crush, Oliver. There's the Italian setting, close to the small town of Crema in the historic farming region of Lombardy. And there's the endless pastas and tortas and other Italian goodies that appear in scene after scene.
Mostly, however, the film's most enchanting prop is the sprawling 17th-century mansion owned by the fictitious Perlman family where the majority of the story takes place. Called Villa Albergoni, the property was a familiar sight to Guadagnino, who lives in Crema's historic town square. Initially, Guadagnino considered buying the rundown villa for himself, but ultimately chose it for his film—both for its beauty, as well as for the cinematic potential of its numerous salons, chambers, orchards and balconies (not to mention its peak-rustic swimming pool and rather substantial grounds).
Despite its impressive scale, Guadagnino found the villa—long disused—relatively empty, and worked with set designer Violante Visconti di Modrone to bring it to life, he told the online architecture magazine Spaces. The result is a beguiling mix of local and global antiques (including a century-old piano and numerous classical-era busts)—along with period-specific items such as a Robert Mapplethorpe poster in the son's bedroom. Both Guadagnino and di Madrone scoured local vintage markets to fill the villa's interiors, while also borrowing key knick-knacks (including a checkered kitchen table-cloth) from family and friends. The director and designer ended up with a book-filled, lived-in, slightly-bourgeois and grand-yet-cozy home that fulfills the fantasy of an Italian villa retreat without feeling overly fussy or fancy.
Call Me By Your Name is not the first time Guadagnino has deployed lush real estate to enhance his predominantly character-driven features. In 2010's I am Love, for instance, the industrialist Recchi family make their home in Milan's austere Villa Necchi Campiglio—a 1930s marble-clad pile built by Rationalist architect Piero Portaluppi. The building was occupied by Italy's Fascist Party during much of World War II. The villa is as rich in detail as both its real-life owners and the wealthy make-believe Recchis are in cash—with stucco ceilings, sprawling gardens, a tennis court, glass-paneled veranda, and Milan's first-ever heated swimming pool. Architecture fans can tour the villa, which is not too far from Milan's iconic Duomo.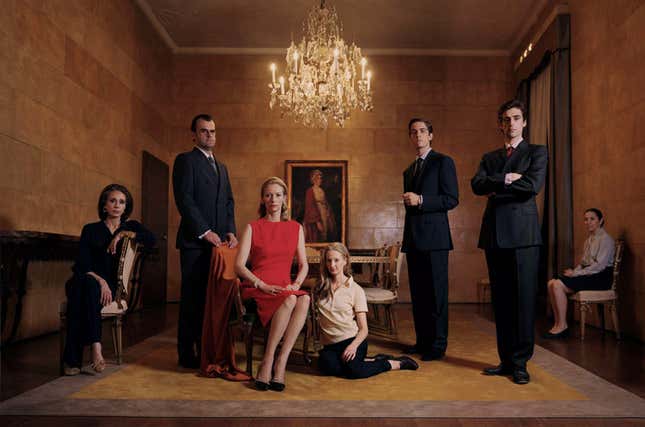 I am Love starred Scottish actress Tilda Swinton, Guadagnino's lead five years later in his rock-and-roll follow-up, A Bigger Splash. Here, too, swanky real estate becomes almost a character of its own—namely a dammuso, the single-story lava-stone homes that typify the tiny southern Mediterranean island of Pantelleria, where the film was shot. Many of A Bigger Splash's most memorable scenes take place in a damuso pool and on its sun-dappled terrace—and these distinctive dwellings (including the one where the film's cast stayed) can actually be rented.
With Call Me By Your Name only now hitting theaters, it's too soon to tell whether the film's success will give new life to historic Villa Albergoni. But since I Am Love's debut, Villa Necchi has become a Milan must-visit for modernist fans, while A Bigger Splash only further elevated Pantelleria— and its iconic dammusi—as a favorite of the global style crowd.
For the moment, at least, early reviews and box office totals suggest that Guadagnino and his cast seem almost certain to score Oscar nods. Too bad the Academy doesn't yet have a category for Best Supporting Real Estate.