The royal period drama The Crown has returned to Netflix with its second season, to chronicle the next era of Queen Elizabeth II's seven-decade-long reign. The first time around, The Crown focused mostly on Elizabeth's final years as a princess—the period immediately following her wedding to Prince Philip in 1947 and ending with her coronation five years later.
It was an era rich in both technological advances and political intrigue—from the advent of television to the rise of Arab nationalism. But to viewers of the show, Elizabeth's most pressing concerns appeared to be managing the needs of the men in her life—from Britain's power-hungry prime minister to an officious private secretary to her directionless new husband who be prone to a wandering eye.
Elizabeth may have become the most powerful monarch in the world. But the Crown's core narrative—both last season and now in season 2—is of a lovesick young wife battling the difficult men around her. Elizabeth may believe herself to have a God-given right to rule, but her most important task is finding her husband a job—and her sister a husband.
Indeed, the imperiled young queen or princess has emerged as a central trope of a slew of royal historical dramas on both cable and streaming channels. The same set-up propels much of Victoria, Masterpiece Theater's dramatic retelling of Queen Victoria's new reign—which returns for a second season in January. It's also evident in Reign, the recently-ended CW series centering on Mary Queen of Scots.
In Victoria, as in The Crown, the queen rules the largest empire in world history, but her powers seem limited—or at least contested—by the capricious men within her court and home. Her husband, the dashing Prince Albert, is as rudderless in the 1830s as Prince Phillip is a century later. Her uncle, the conniving King of Hanover, clearly wants her dead—or at least her throne. There are Tories and Whigs who jockey to control her attentions. And the entire nation—if not all of Europe—is rabidly consumed with Victoria producing an heir.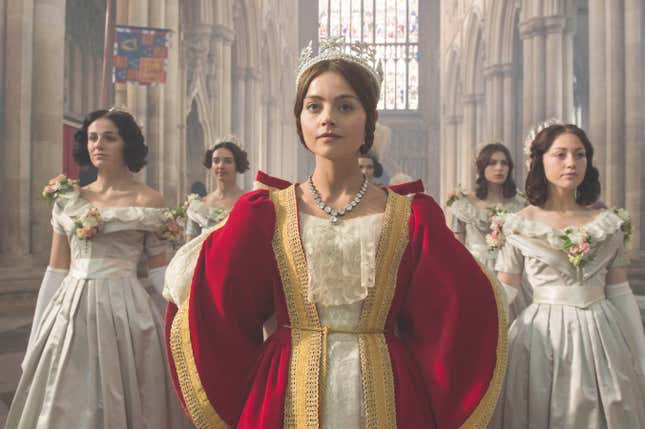 Far cheesier than Victoria and The Crown, Reign is royalty gone millennial, with a youthful Mary, ready to rule. But on Reign too, the queen is—you guessed it—consumed with perils of the heart. In this case, it's the Dauphin of France, promised to marry Mary in their early childhood to seal an alliance between their two nations. Mary's betrothal and virginity are positioned as Catholic Europe's only salvation from the threat of Protestant encroachment. And it's the men around Mary who will ultimately determine whether she fulfills her fate.
Now past 90, Queen Elizabeth II is the only British monarch most folks have ever known. But her rule—like those of Mary and Victoria—is actually an anomaly. Britain has mostly been led by kings, so despite television's current fascination with the country's female sovereigns, there just haven't been that many of them.
That fascination also extends to their spouses—consorts who stand alongside their wives with little to do besides help produce their heirs. Their lives are portrayed as listless, identity-less and filled with frustration.
Therein lies the appeal, perhaps, of these shows right now: The tension these men feel between traditional notions of manhood and the need to support their powerful wives makes for compelling drama. Arguably, by centering so much of their stories around the male consorts, shows like The Crown speak to our current age, where patriarchy is questioned, and men struggle in a culture of toxic masculinity—as harmful to themselves as to those around them.
Meanwhile, these British queens are by no means liberated from the clutches of wifely duty and motherhood (just as today's women, despite the gender parity gains of recent decades, are not). Without a husband there would be no heirs; and without heirs their throne is never truly secure. Kings can always find new wives; for queens there are no such options.
This trope, of a powerful woman facing down enemies and perils, will be taken to new heights in the final season of House of Cards, modern-day America's own operatically royal drama. The Netflix show's sixth season will arrive next year without Kevin Spacey, the actor facing sexual harassment and assault allegations. His character, president Francis Underwood, is set to meet an as-yet-untold demise, opening the way for Robin Wright's Claire Underwood to anchor the show—probably as America's first woman president, and presumably without a man by her side.