Holiday travelers, you don't want to be that person holding up the line of stressed passengers at the Transportation Security Administration (TSA) screening. You also don't want to get your container of Magnolia Bakery banana pudding confiscated because, apparently, in spite of its deliciously thick texture, it's a liquid. (Yes—this happened to me.)
Follow the official Liquids Rule: "You are allowed to bring a quart-sized bag of liquids, aerosols, gels, creams and pastes in your carry-on bag and through the checkpoint. These are limited to travel-sized containers that are 3.4 ounces (100 milliliters) or less per item." You can't bend this rule—ever!
Gone are the days when you had to make your own carry-on travel kits with Ziploc bags and little plastic bottles that resemble a chemistry experiment. You can now buy travel kits that are cooler and more luxurious than the lotions and potions at fancy fragrance stores. They kits also make great gifts—because folks always seem to appreciate things that are little nicer than what we'd buy for ourselves.
Disclaimer: Men, you can use skincare kits, too. You have skin, right?
($20)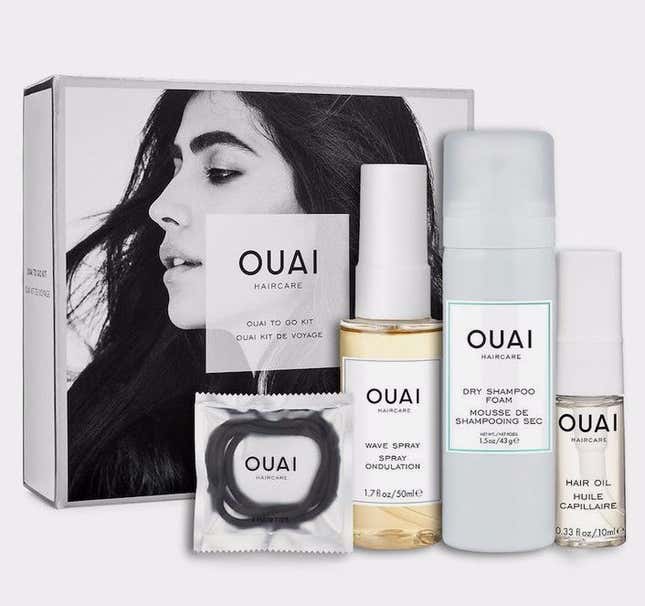 Jen Atkin knows a thing or two about A-List hair—she's the celebrity hairstylist to the Kardashians, Jessica Alba, Jennifer Lopez, Sofia Vergara, and Katy Perry. Her haircare line, Ouai, has over 300,000 Instagram followers and is a social media influencer by itself. Step off the plane like you have paparazzi waiting at the gate with this compact hair-to-go kit consisting of dry shampoo, volumizing wave spray, hydrating hair oil, and three elastic bands in a helpful "In Case of Emergency" package.
($150)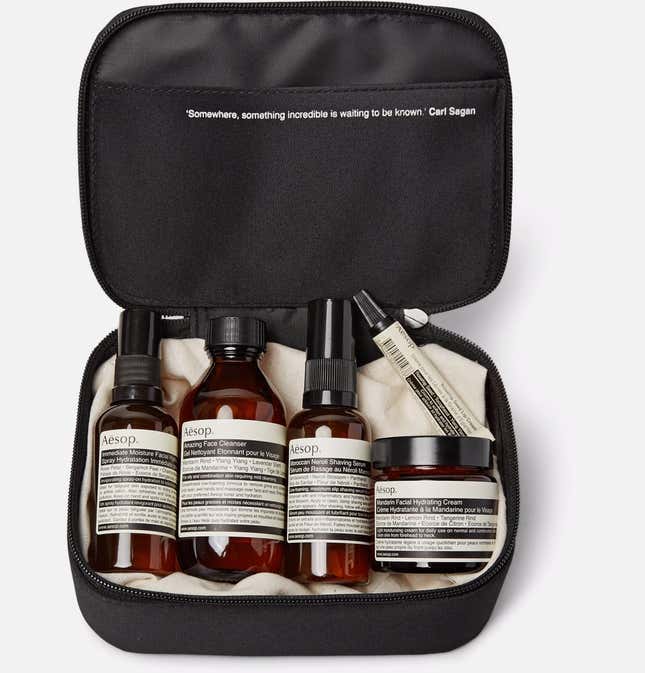 From shave serum to lip cream, this Mr Porter exclusive has everything you need to refresh yourself after a long flight—or day at the office. You can find Australian brand Aesop in the bathrooms or guest rooms of endless fancy hotels and restaurant. It's like a secret hospitality rating: Aesop rejects properties that don't meet their standards. Buy this kit and upgrade your grooming game automatically.
($25)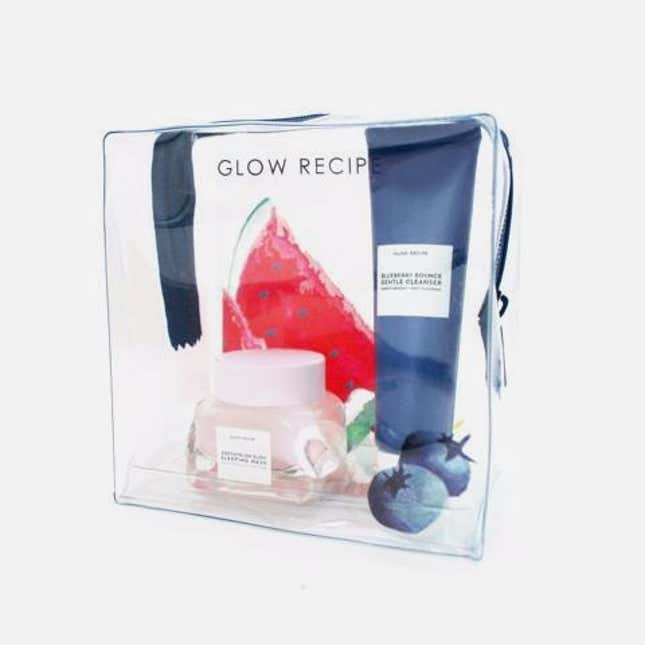 Korean beauty e-commerce brand Glow Recipe was one of the first companies to bring K-beauty stateside. The first in-house product, the Watermelon Glow Sleeping Mask, sold out at Sephora one day after launch. If you've never used the cult favorite sleeping mask, this is your chance. Wash your face with the Blueberry Bounce Gentle Cleanser (which melts off makeup and works as toner) before patting Watermelon Glow Sleeping Mask onto your clean face. Wake up like it's the best day of your life. You're welcome.
($59)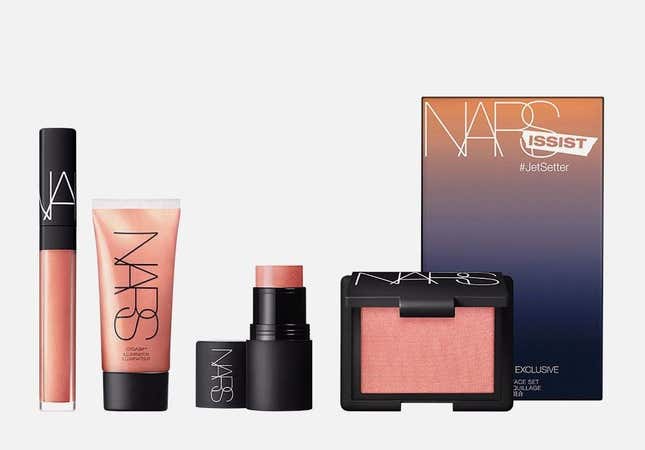 Need to impress the in-laws? Glamorously deplane looking fresh-faced and, well, glowing, with this cult favorite 4-piece cosmetics set in Nars' bestselling color, Orgasm. (Yes, the name will make you blush, but so will the actual products.)
($82)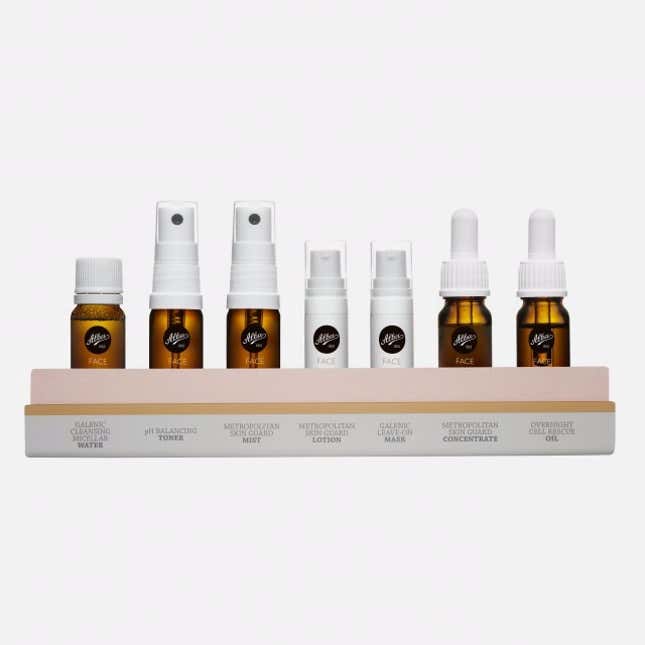 Imagine washing your face without soap and water. You can sit on the plane—even in the middle seat!—and avoid bothering your seatmates with the micellar water in this Poland-based brand's kit. Micellar water is like magic: Dab some onto a napkin or cotton pad, and it takes everything off your face without stripping its natural oils. This 7-piece kit also includes a leave-on overnight hydrating mask that you pat onto your clean face, no washing afterwards. See? Taking better care of your skin doesn't necessarily mean more effort.
($45)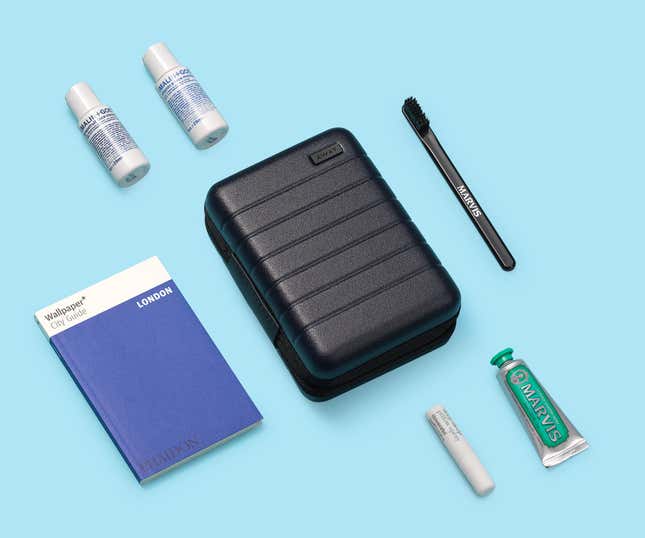 Sugary airport cocktails, greasy airplane food, and recycled air make for bad breath and bad impressions. The experts at it-girl travel brand Away included a mini Mavis toothpaste and toothbrush in its durable kit, made from the same material as their heavy-duty luggage. There also a copy of a Wallpaper City Guide to inspire your travels. Along with Malin + Goetz face cleanser and moisturizer, there is a pillow spray by This Works for deep sleep. Jet lag (and jet lag breath), begone.
($50)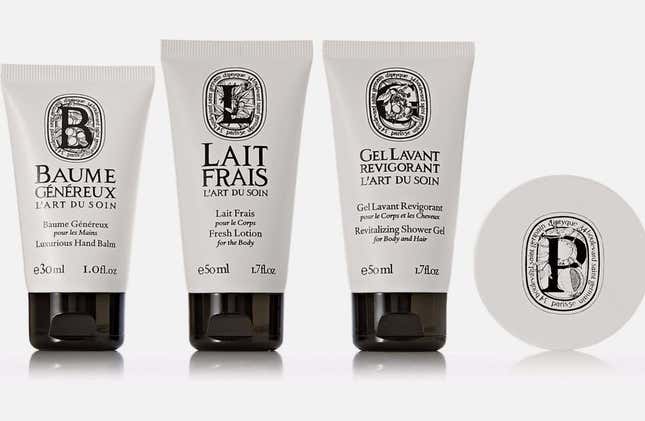 Diptyque candles can cost as much as $295, so why not spend that money on smelling like Diptyque yourself? Frequent travelers know that hotel toiletries vary in quality and variety. (Airbnb toiletries are even less dependable.) Which is why we love this TSA-friendly 4-piece body care kit, which comes in a drawstring pouch that streamlines your packing and guarantees that no matter how lumpy your bed is, you'll smell like orange blossom water and macadamia nut oil.
($90)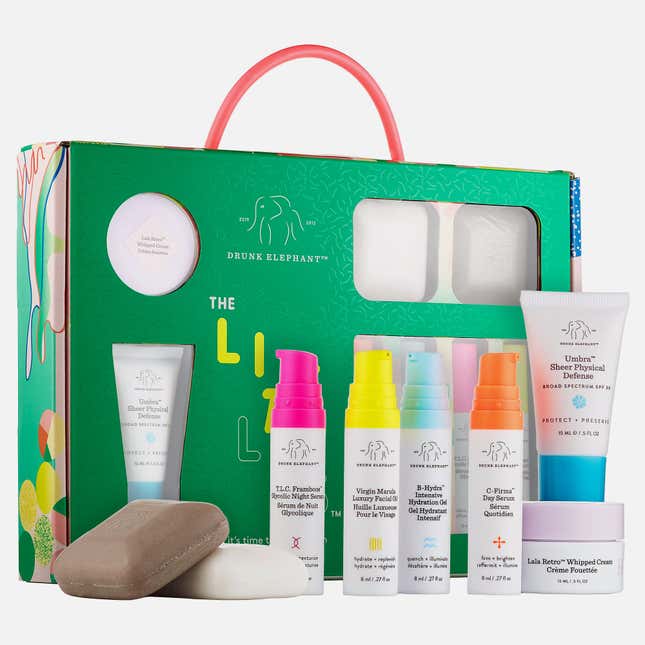 Drunk Elephant is a hilarious name for a skincare brand but it is also a beauty editor favorite because the gentle products actually work and they're cruelty-free. This 8-piece (!) travel kit will last 30 to 45 days if used daily—just enough time for you to see the positive change in your complexion.
($24)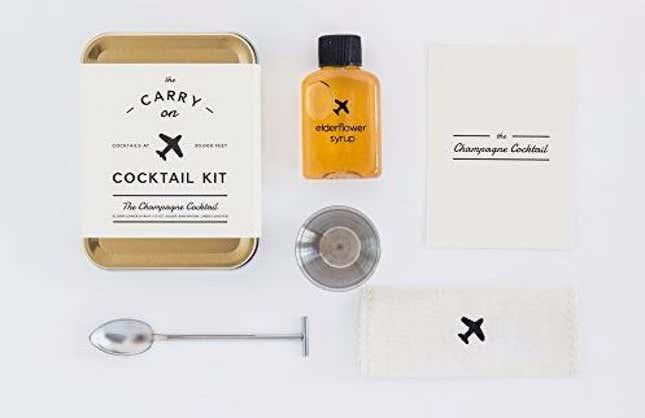 Um, this is not a toiletry set but it's just as important. Get the New Year's Eve celebrations started early—up in the air—with this Instagrammable carry-on tin containing a recipe card, bar spoon, mini jigger, elderflower syrup, and linen coaster (because you're classy). Cheers.