Gazillionaires rejoice! If you're in the market for a piece of ultra-luxury Big Apple real estate—you're totally in luck. An unprecedented wave of deep discounts across the New York City region means that the city's priciest pads are now available at lower—though not exactly low—prices.
The market for deeply-discounted penthouses wasn't always so robust. Nearly half-a-decade ago, there was a scarcity of new-build, ultra-luxury, super-premium condos in New York—particularly along what's become known as "billionaires' row", a broad swath of Midtown just below Central Park. But the arrival of One57 to the area in 2014 super-charged the top end of NYC's real estate market and spurred a bit of a pricing war. One57 offered penthouses close to the $100 million range—and suddenly, penthouses with eight—and even nine—digit price tags became the norm.
The problem was, that many didn't sell—causing owners and developers to begin seriously slashing prices. Indeed, a firestorm of cuts has emerged over the past year in both New York and nationwide—none more spectacular than a unit at One57 itself. Its owner, controversial Nigerian oil mogul Kolawole Aluko, couldn't keep up with his mortgage, prompting the largest residential real estate foreclosure in US history earlier this year—and the subsequent sale of his unit for a "mere" $36 million, far less than the $50.9 million he paid for the condo in 2014.
Why now?
According to Jonathan Miller, of real estate appraisal group Miller Samuel, there are a few key factors propelling owners and developers to shed posh properties—and encourage buyers to nab them. 
The first are jitters surrounding the proposed Republican tax overhaul, which finally appears near approval. While the details of the new bill are still begin finalized, many expect it may cause property values to either fall or lead to higher property taxes. Other industry insiders insist the new deal will actually benefit the real estate sector owing to the proposed reduction in corporate taxes. Either way, fear that a tax overhaul may weigh more heavily on high-end property is incentivizing both buyers and sellers. 
Et tu, housing market?
The second reason is that these huge discounts aren't really discounts at all—but a correction. In fact, they're actually just reasonable prices—if you can call $50 million reasonable. Because many of the slashed prices are what these units probably should have cost in the first place.
Industry insiders attribute much of this overpricing to one key transaction— the sale of an $88 million condo by former Citigroup chairman Sandy Weill to the 22-year-old daughter of a Russian Oligarch at 15 Central Park West in 2011.The sale was far above its asking price and sent shockwaves through the real estate industry.
But the sale was also highly unique. 15 Central Park West was in an established building that had already seen record prices; plus the buyer, it seems, may have used the purchase to try and hide assets from his estranged wife rather than actually secure a solid home at a solid price (this same Russian also sold da Vinci's "Salvator Mundi" for a record $450 million at Christie's last month). Whatever the motivations, this single sale had very little to do with the true value of the overall market.
Nonetheless, other luxury sellers, seeing Weill's success, began inflating prices to what Miller calls "aspirational prices." Sellers across the US were throwing $100 million price tags on $15 million properties, more or less to see what happens.
Sky-high
From 2013 going into 2016, record prices were seen across the country. This high powered buying period might have led to solid actual sales numbers if the homes and been truly priced to sell. But many weren't—and many remain on the market to this day. Need proof? How about billionaire Jeff Greene's palatial Palazzo di Amore in Beverly Hills, which was bought for $35,000,000 in 2007, and reintroduced to the market for $195,000,000 in 2014, since dropping down to $129,000,000.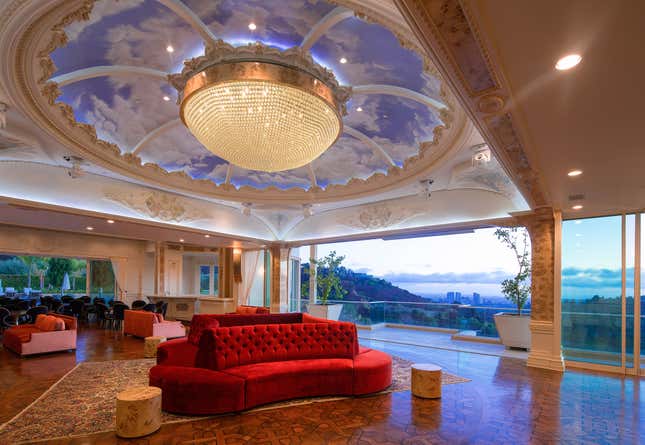 So now, Miller warns, as the superluxary market softens and properties are hit with million-dollar discounts, it's important to note that A) the original asking price was never really real, and B) most buyers knew that. They've been waiting for the bargains to roll in.  And it seems as if they have.
So what happens now?
Some brokers insist the market remains robust—that the individual price cuts are just that, individual. The market is "not softening" says Tal Alexander, one half of Douglas Elliman's duo The Alexander Team. "The $25 to $30 million market is hotter than ever." He says cuts are more likely in the $6 to $15 million market, and attributes top end sales to the strong stock market (AKA: the wealthy are "wealthier than ever"). As for one home he's repping, a Tribeca townhouse that saw a recent price slash from $50 million to $34 million, he calls it a rarity, saying that fluctuations are natural for "unique" spaces. Perhaps, but an equally sprawling townhouse on the Upper East Side just sold for a record (though still unspecified) sum that insiders are certain was far below its original $114 million asking prices back in 2013.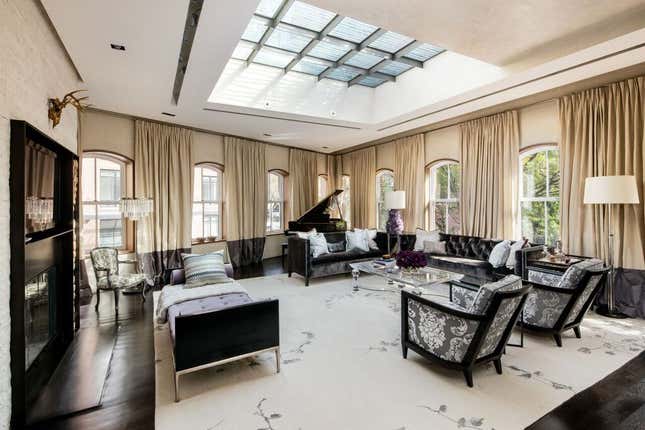 Leonard Steinberg, president of Compass real estate and veteran agent who has bought and sold some of NYC's trophy buildings, offered more of a more measured view, He calls the market a "mixed bag with no one clear direction." There's no fool-proof reason why some high-end buildings are being discounted while others have retained their value. But two factors are key: fashion and risk.
A super luxe building with edgy architecture might initially appeal to buyers, but ultimately lose its value over the years, he says—cautioning folks not to buy homes simply to follow trends. Conversely, properties with "classic sensibility"—buildings like 15 Central Park West—tend to have a better chance of retaining their long-term value because they're a "safe place to park big dollars," Steinberg explains. In short, the market should be evaluated on a building-by-building basis.
Firesale of the billionaires
Regardless, if you've dreamed of scoring a luxury property, you're in luck: despite the cuts, developers continue to build pricer pads than ever. Which means, most likely, even deeper discounts to come. So if you have an extra $50 million—and are in the market for what was once an $80 million condo—check out some of these sky high bargains, many of which ave already been nabbed by the world's billionaires.
Seller: Billionaire Vincent Viola
High price: $114 million in 2013
Ultimate sales price: Estimated $80 million in 2017
Special features: Panic room and an onyx elevator
Seller: Nigerian oil tycoon Kolawole Akanni Aluko
High price: $50.9 million in 2014
Ultimate sales price: $36 million in 2017
Special features: 23 ft long closet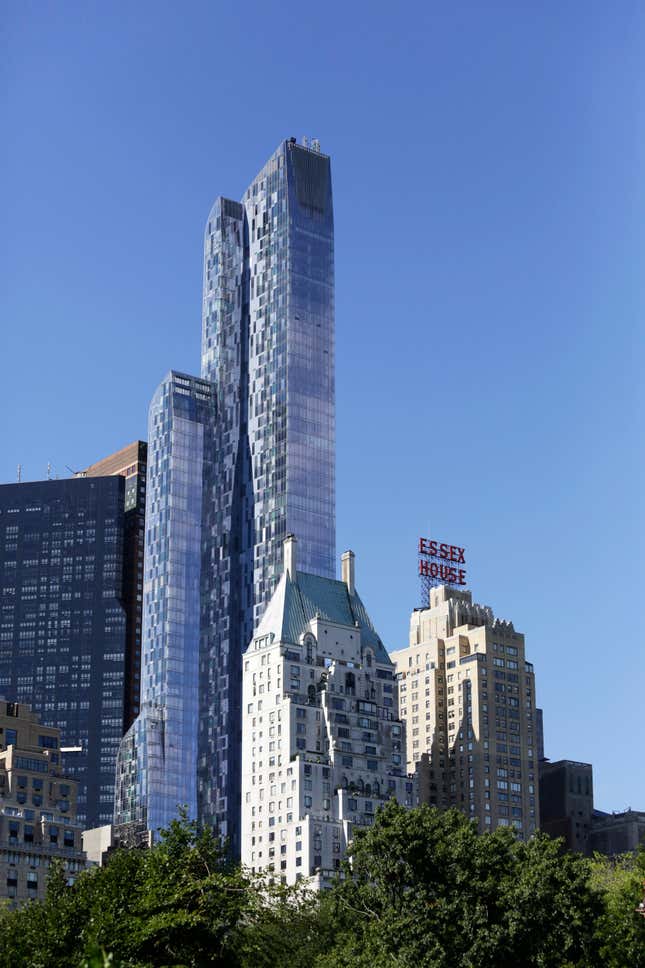 Seller: Extell Development
High price: $58.5 million in 2015
Ultimate sales price: $45.8 million in in 2016
Special features: Italian marble bathtubs and a steam room
Seller: 551 Chelsea
High price: $50 million in 2014
Ultimate sales: $38.05 million in 2017
Special features: A rooftop terrace with the infrastructure for a 61-foot-long infinity pool
Seller: Private equity honcho Mark Zittman and his wife Noelle
High price: $50 million in 2014
Currently listed for: $34.5 million
Special features: 11,300-square-footage space nicknamed "the suburb" by previous tenants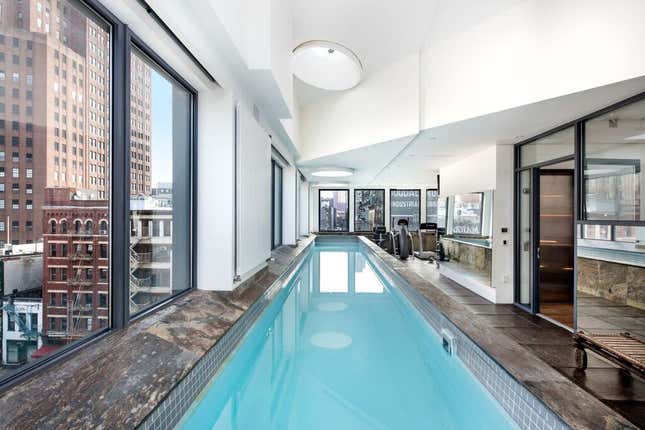 Seller: Celebrity plastic surgeon Sam Rizk
High price: $25 million in 2014
Currently listed for price: $9.15 million in 2017
Special features: a "disappearing television" and media room padded in ebony and velvet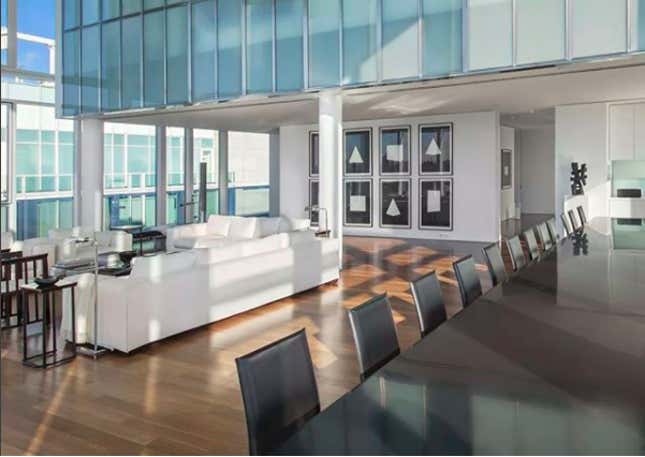 Seller: Canadian magazine publisher Louise Blouin
High price: $60 million in 2013
Ultimate sales price: $23.7 million
Special features: Martha Stewart used to live next door
Seller: Russian developer Vladislav Doronin
Rumored price: $100 million. This unit has yet to hit the market, but when it does we'll see if anyone nabs it for that much—or it it's fated to be the next nine-figure "steal".
Special features: a piano lounge