On Dec. 24, 1966, Fred Thrower put three hours of uninterrupted fireplace on local New York City television and he changed Christmas forever.
The WPIX president referred to his now infamous Yule Log video as a "Christmas card" to the station's viewers. It ran for 33 consecutive years, until it was pulled because of a lack of advertising revenue.
Thrower died in 1999, before he could see the internet birth a new golden age of the on-screen fireplace. There are thousands of hours of logs burning online and on streaming services. There are over a hundred videos alone on the YouTube channel Virtual Fireplace. We watched as many as we possibly could, then picked the ones that burn the brightest for you. Consider it our Christmas card. 
5: A Very Happy Yule Log
Not surprisingly, brands have discovered that turning someone's TV into a fireplace is nothing short of magical. Marvel, Budweiser, Microsoft, and Old Spice have all made yule log videos, spreading both joy and brand awareness. If you're going to go corporate, and don't want 44 minutes of Nick Offerman drinking whiskey and staring at you, Hallmark's 2015 take is the way to go.
A Very Happy Yule Log packs a lot of Christmas into one frame. Lights, stockings, gifts, a tree, a cat named Happy, and a dog named Happy. But there's no doubt about the star of the show: a glorious open hearth fireplace. This thing burns ferociously for three straight hours (most fireplaces streaming online are shorter clips looped over and over). Classic Christmas songs play throughout, but unfortunately tend to drown out some of crackle from the fire. Highly recommended for people with bigger televisions. 
4.The Yule Log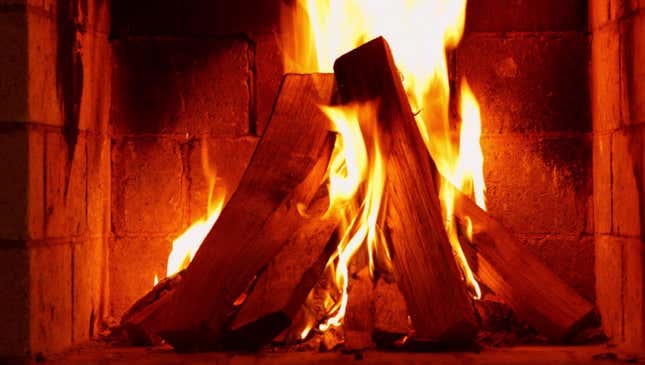 As you might have guessed from its title, and cover, the Yule Log, available on Amazon Prime, takes a no-frills approach to fireplace videos. The fire takes center stage, as it should.
It's a teepee fire, which is a bit unorthodox, but it works. The flames burst offscreen and can fill a living room with an orange glow. But the real hero here is the soundtrack. No music, just a crisp fiery roar, with plenty of crackle.
3. Fireplace for your home: Birchwood edition
The Fireplace in your home series is the gold standard of Yule log videos. George Ford, a pilot turned fireplace visionary from Longview, Washington, has built an empire of videotaped fireplaces, campfires and aquariums.
The birchwood edition is Ford at his finest. It takes a little while to get this fire going, but once it's in full swing you will feel its Christmassy intensity. And it's in 4K, for those who like their fake fireplaces in the highest of resolutions.
2. WPIX Yule Log
Log-for-log, the original WPIX version doesn't hold up by today's standards. For starters, there's no natural sound, just music. That's a problem. A good crackle is the foundation of any respectable yule log video. But the OG is not on this list for its production value. We wouldn't be here without it.
1. Fireplace for your home: Classic edition
If George Ford is the Orson Welles of yule log videos, this is his Citizen Kane. Like birchwood, the fire starts slow and builds over time, reaching a ferocious peak about 15 minutes in. That's where it hits its stride, blazing in perfect symmetry for another 30 minutes until it begins to slowly die. It's hard to imagine a more perfect fire with a more perfect sound.
Netflix gave it its own trailer and behind the scenes video when it started running it in 2013. It's literally restoring people's faith in Christmas.