Subscribe to the Quartzy newsletter to receive this in your inbox each Friday.
Happy Friday!
Stoners, whether they consider themselves aesthetes or not, have a tendency to obsessively appreciate nice details, whether it's the electric melon shade of an evening sky, a cascading guitar solo, or the cool, tongue-coating taste of a fresh mint milkshake. And yet for decades, many resorted to nondescript one-hitters and unattractive bulbous glass pipes best kept stashed in a drawer. (Who me?) No more.
With a legal marijuana market worth nearly $7 billion in 2016 in the US, and California just weeks away from legal recreational use, a wave of US editors, shopkeepers, and designers are using the familiar markings of luxury and a little winking humor to make getting high feel desirable, approachable, and, well, normal. Forget black-lit bongs, neon tie-dyes, and hemp necklaces. Think minimalist ceramics, midcentury ashtrays, and apothecary-style packaging. For some cannabis-curious consumers, good design just might be the ultimate gateway drug.
For Quartz this week, I interviewed a handful of entrepreneurs who can appreciate the perfect shade of pink as much as a rare strain of sativa. Here, just in time for your holiday shopping (or to replace that pipe you've had since college), are the highlights.
Think Kinfolk-meets-Cherry Bombe, but with weed. The first free issue shipped to pre-order mailboxes and boutiques in November, and for the cost of shipping and handling, you can subscribe to the next three, the first of which will come out in April. For the cost of a dime bag, you can also buy eight weed ikebana postcards to hang up or send your friends.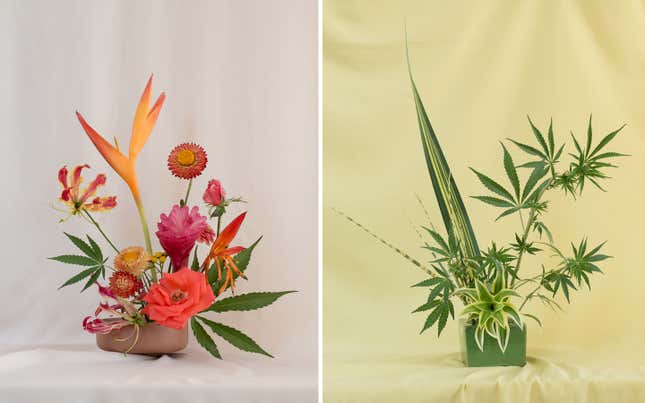 There's also now Gossamer, an online publication and newsletter founded by veterans of Lucky magazine and Digg, which examines lifestyle stories "through a green lens." And if you ask me, the daily Quartz Obsession emails make pretty solid rabbit-holes for reading, you know, through a green lens.
Never underestimate the power of daydreaming, stoned, with your girlfriends at the beach. This luxe e-commerce destination was born when design writer and editor Eviana Hartman, who casually says things like "Memphis is a little bit played out," was at the beach in January of 2015 with two similarly design-focused friends, when she took out what she called an "ugly, sort of blob-shaped glass pipe." A conversation about its outrageous ugliness ensued, inspiring the idea for channeling the three women's design contacts and expertise into a luxe e-commerce destination for pot-smokers. It launched nine months later.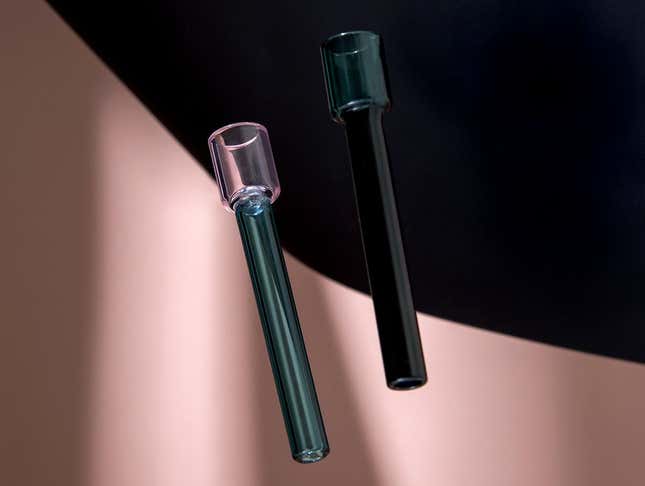 There's a lot to desire here, and not just for cannabis enthusiasts. It never occurred to me to covet an ashtray until I saw this lead crystal one by Fundamental Berlin. For those looking to replace ugly blob pipes, Tetra has lots of lovelies, including two exclusive designs of their own, which are also carried by Opening Ceremony and ABC Carpet and Home.
If Tetra is your seriously elegant shopping destination for weed accoutrements, the LA concept store and brand Mister Green is your seriously fun one. Founder Ariel Stark-Benz, a creative director and designer who has worked with brands including the Ace Hotel and Creem Magazine, stocks smile-inducing items like "Gatorbeugs" (a $85 glass re-enactment of a classic dorm-room-style Gatorade-bottle bong) and ceramic diner mugs that read "Bong Water"—but his taste level is also, you know, high.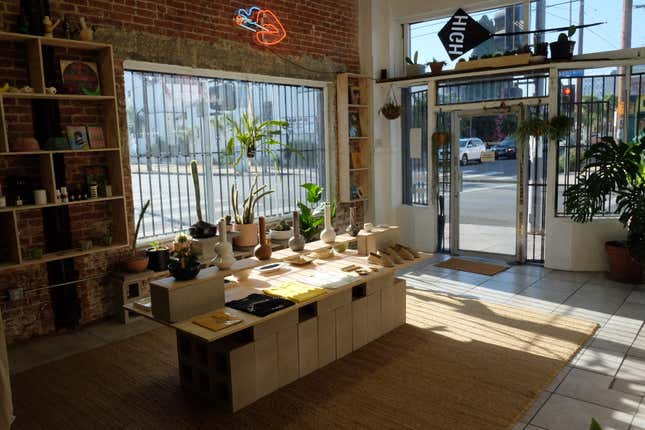 He stocks beautiful botanical watercolors by Kim McCarty, vintage midcentury ashtrays, and Elsa Peretti lighters. I also fell for a perfect apple-shaped pipe at Mister Green, rendered in white porcelain by Summerland Ceramics—easily the most charming design I encountered in this reporting endeavor.
What about actual consumable cannabis, you might ask? Here's Beboe, aka the "Hermès of marijuana," offering peach-tinned pastilles ($25) and rose gold vaporizers ($60). But it's not just the packaging that's fancy. Cofounder (and famous tattoo artist) Scott Campbell calls his products the "cold-pressed juice of weed"—created through a cold-water extraction process that's slow, expensive, and aims to preserve as much of the plant's subtleties as possible. The high itself, he says, is designed to be similarly subtle, whether it's delivered via a drag or two from a vaporizer or in an organic maple sugar-sweetened pastille—his personal favorite, which he describes as "really mild."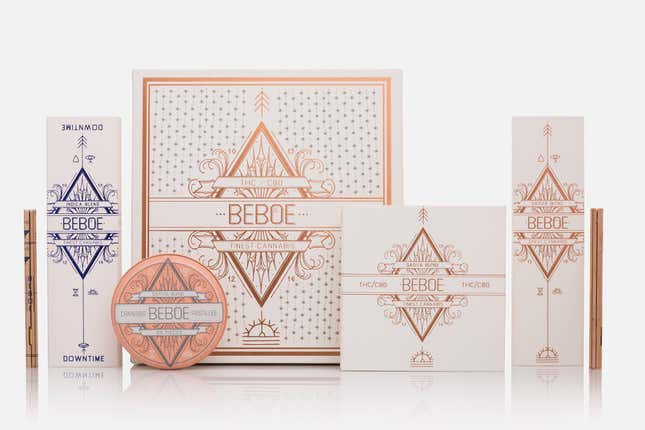 "It's grown-up drugs," says Campbell. "I'm a high-functioning adult with two kids and several full-time jobs. It might be once a week where I have a window where I can just be in the studio, I don't have to worry about picking the kids up from school or anything, when I can indulge in cannabis. So if I only have once a week when I can enjoy that, I cannot risk having a bad experience."
makes a line of candies that are very beautiful and very likely to be heavily Instagrammed once their new dispensary launches (permits permitting) at the Standard Hotel in Hollywood next year.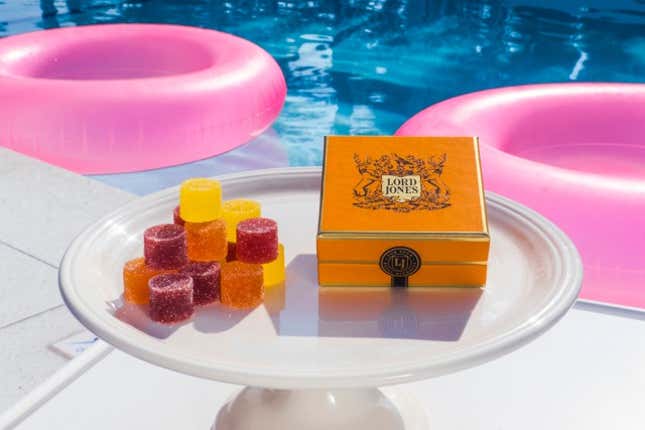 Meanwhile, do not overlook their lotions. I scoffed at a bottle of CBD and THC-enhanced "Wellness Formula" that was offered to me as a remedy for menstrual cramps, for which it was, unsurprisingly, no match. But for a crick in one's neck or tight shoulders, it actually delivers some real relief. And it smells much nicer than Icy Hot—like an herbaceous cologne, but not like herb.
Whoopi and Maya—as in Whoopi Goldberg and her cofounder, veteran edibles maker Maya Elisabeth—designed an entire suite of products especially for menstrual relief. I have so far only tried one of them: a small jar of raw cacao paste with CBD (a non-psychoactive component of marijuana). Per instructions, I whisked a spoonful of it into a saucepan of gently heated milk, and had the most soothing hot chocolate of my life. I can't say my cramps were completely gone, but I would definitely go back to this stuff, which you can also just eat with a spoon. Honestly, just smelling it makes me feel happier.
May your days be lit, and your evenings relaxing. Have a great weekend!

PS: Happy Hannkukah!
Tonight is the fourth night of Hannukah, and Quartz's Elan Kiderman made you a latke-bot. This magical creation commemorates the festival of lights (and latkes) by generating a wacky and inspiring new vegetable fritter recipe every hour through the holiday, which it posts on twitter @everylatke. Even if you don't find yourself with all the ingredients of @everylatke's admittedly offbeat combinations, you can use Elan's highly adaptable formula of base vegetables + eggs + starch + fat + extras to conceive of your own. Read Elan's story for more tips on latke-freestyling, and follow @everylatke for inspiration. As Elan writes: "I think you'll find that the miracle was inside you all along."