Old wine and modern architecture make a surprisingly fine pairing. From Frank Gehry's dramatic makeover of Marqués de Riscal to Zaha Hadid's futuristic extension at López de Heredia in Rioja, a contingent of high-profile architects have been giving centuries-old wineries a modern angle.
Pritzker Prize winning Norman Foster is latest starchitect to work on a storied wine estate and his client is honoring him in a very special way. Château Margaux, one Bordeaux's oldest and most highly-regarded wineries, broke tradition and released a sleek, new bottle design featuring the British architect's modern building etched in silver. The redesign for the 2015 Grand Vin is the first in Château Margaux's 500-year history and the winery is reserving the contemporary look solely for this particular vintage. A 750 ml. bottle is currently selling for upwards of $1,200 in the US.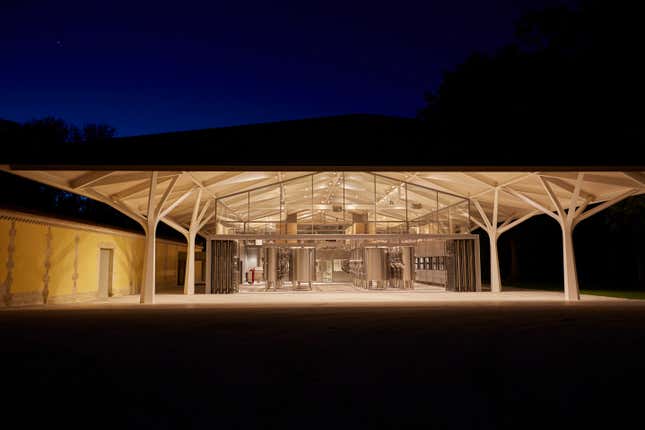 In 2015, Foster unveiled the modern additions to the Neo-Palladian estate nicknamed "Versailles of the Médoc." Château Margaux's mother-daughter owners Corinne Mentzelopoulos and Alexandra Petit-Mentzelopoulos were attracted to Foster's tempered modernism, which to them, evoked the contemporary winemaking style they've been championing lately.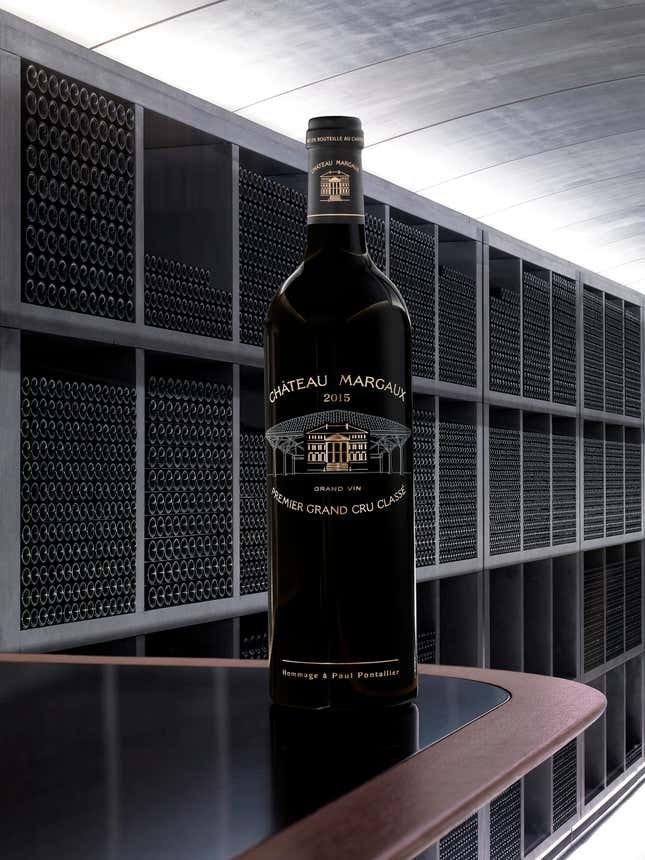 Deviating from the showy glass structures he's best known for—such as the Gherkin building in London, Hearst Tower in New York and the Reichstag in Berlin, and Apple's "spaceship" headquarters in Cupertino—Foster says he wanted the winery's additions to almost disappear in the landmarked estate.
"As a lover of wine there is only one Château Margaux—it is a hallowed label. This design has been inspired by the character of the existing estate," explained Foster, noting work of  architect Guy-Louis Combes in 1815. "At first glance there does not appear to be a new building. This is deliberate and it is only on closer inspection that the new addition is revealed."
Housed within a traditional-looking pavilion, Foster designed a new wine-production facility, an R&D center, handsome vinotheque, and tasting rooms. He also expanded the estate's 200-year old cellars and refurbished the orangery.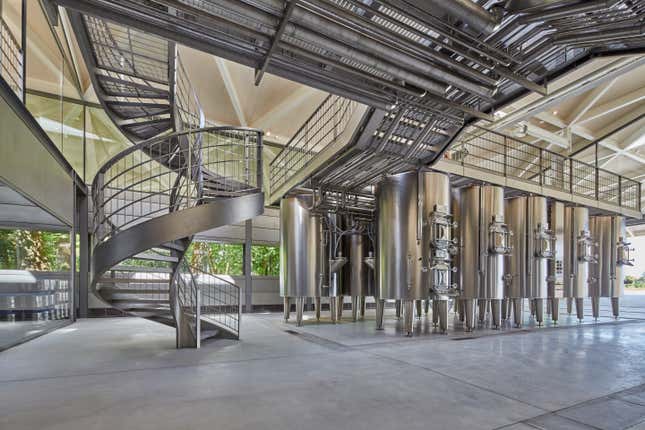 Along with Foster, the new bottle design also plays tribute to another visionary who shaped Château Margaux's recent history. Etched on the bottle's base is the name Paul Pontallier—the estate's longtime winemaker who passed away suddenly last year at age 59. The 2015 harvest was the last vintage he oversaw.
A favorite of Thomas Jefferson and British's first prime minister Sir Robert Walpole, Château Margaux is one of four estates to garner a "premiere cru" designation in the 1855 Bordeaux classification. In preparation for the Universal Expo in Paris that year, Napoleon III asked for a list of the best Bordeaux wines to parade before international visitors. Wine brokers convened and ranked estates based on reputation, price and taste. Since then—and despite a run of difficult vintages in the 1970s— Château Margaux is still considered among the finest and most expensive wines today.