Daniel Day-Lewis broke the hearts of film lovers everywhere this past June. The only man to have ever won three Oscars for best actor, he announced his retirement from acting, saying via a spokesperson that it was a "private" decision and giving no other reason. Audiences would get to see him in a new role one final time, in director Paul Thomas Anderson's Phantom Thread, which debuted in theaters on Dec. 25.
Part of what has always made Day-Lewis so magnetic and enthralling to watch is his inimitable ability to embody his characters down to the smallest details. He's famous for his rigorous methods, and that now includes preparations for his final role as Reynolds Woodcock, a fictional couturier in 1950s England who is loosely based on the real Spanish designer Cristóbal Balenciaga.
Day-Lewis watched footage of 1940s and 1950s fashion shows, consulted with the fashion curator at London's Victoria and Albert Museum, and learned to sketch, drape, and sew like a fashion designer. For almost a year, he served as an apprentice under Marc Happel, the New York City Ballet's costume director, even helping to make the costumes for a production of Firebird. Finally, as he explained to W Magazine, he remade a Balenciaga sheath dress from scratch, using his wife, filmmaker Rebecca Miller, as a model, before getting in front of the camera as Woodcock.
Except for sketching, you won't see Day-Lewis using much of his newfound knowledge in the movie, though. Not that it matters much to him. Learning these skills is part of how he inhabits his characters. For his role in The Last of the Mohicans as a frontiersman who has spent years living with Native Americans, he learned to build canoes, to track and skin animals, and to reload a flintlock rifle while running. For his part in The Unbearable Lightness of Being, adapted from the novel by Czech author Milan Kundera, he learned to speak Czech. Nevermind that the movie was in English.
In Phantom Thread, though, Woodcock's role as a couturier serves mostly as an outlet to express how relentlessly exacting and demanding he is. The core of the movie is his relationship with his model and love interest, Alma (played beautifully by Vicky Krieps). Clothes are just one way he exercises control over her and others around him. At one point, Alma apologizes for not having bigger breasts, to which he replies that it's his job to give them to her. He doesn't say it in a harsh way, but it suggests his belief that even her body is his to shape.
"Clothing designers in general have reputations of being controlling, exacting, demanding," Anderson recently told the New York Times (paywall). "Those traits are very, very helpful for our character."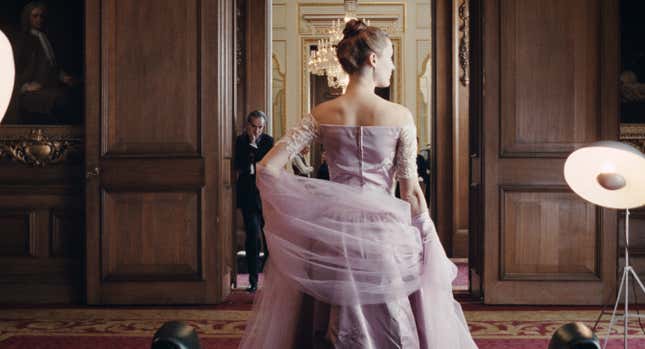 Anderson originally conceived the concept for Phantom Thread while he was sick and bedridden, leaving him completely dependent on his partner, actress Maya Rudolph. This scenario, which is central to the psychological dynamics at play in the movie, apparently blended with the fashion world after Anderson read a biography of Balenciaga.
The designer is today regarded as one of his trade's great geniuses, a man Christian Dior called "the master of us all." He was known for being very private, as well as a zealous perfectionist about his work. It seems fitting that he inspired Day-Lewis's last role.