Guggenheim Museum-favorite Italian artist Maurizio Cattelan—most recently known for the 18K gold toilet called "America" (2017) which visitors (including yours truly) could use as their golden throne—has a new piece of work out. And this time, you don't have to wait in line or buy a ticket to see it. Today, online dating platform OkCupid unveiled its first-ever advertising campaign in collaboration with Cattelan and photographer Pierpaolo Ferrari.
As noted by Artnet, the campaign series, which will be featured on public transportation, outdoor concert venues, and other locales of interest to single, young people is an attempt to reclaim the commonly-used acronym, DTF, aka "down to fuck."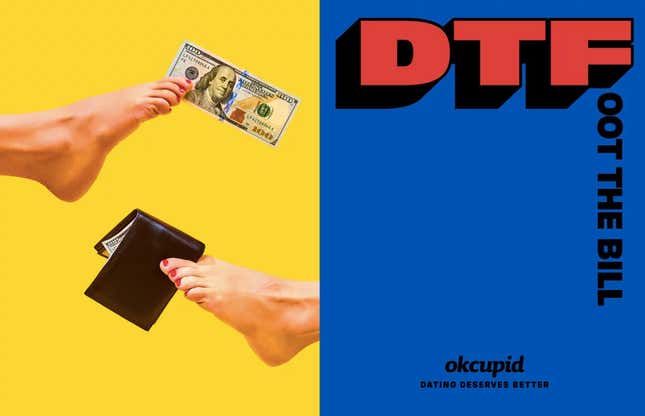 The campaign comes at an important moment for OkCupid—an online dating pioneer now struggling to keep up with the younger, cooler competition.  And partnering with Cattelan can help do just that, explains Brian Braiker, editor in chief of Ad Age, through email. Tinder, the foremost dating app for hookup culture, helped propagate "DTF culture," and now OKCupid wants to take it back.
"I'm not privy to what's going on at OkCupid, but they're not the new dating service any more," Braiker added. "Its users skew older than Tinder (by a decade, according to some estimates), so they're taking a more 'grown up' approach to dating." He noted that even though OkCupid may be acknowledging that they're an older dating site—having launched in 2004 (eight years before Tinder's release)—their new ads signify they're still cheeky without being gross.
As a fellow young person who grew up with Tinder and grew tired of swiping left, swiping right without much contentment, the new OkCupid campaign also speaks to those of us are entering our late 20s or early 30s. Today, we want something more out of our relationships than one-night stands—and the "DTF" construction might just help us get it. How about DTFoot the bill? Or DTFinish my novel? Or DTFight about the president?
Every advertisement features a playful, borderline controversial image alongside a "Dating Deserves Better" statement. For "DTFoot the bill," for example, two pairs of manicured feet hold a wallet and a $100 bill between their toes. "DTFight the far right" features a gun being dropped into toilet.
The campaign, which was developed by advertising powerhouse Weiden + Kennedy New York, speaks to the young and young at heart: Cattelan's golden toilet installation was a popular place for slightly crude but humorous selfies. He has previously made a sculpture of Adolf Hitler in prayer and a sculpture of John F. Kennedy in a coffin without socks and shoes.
OkCupid claims to be the first dating platform to expand options for gender identity (22 currently) and sexual orientation (13 at the moment). This is an appealing and distinctive feature, especially as newer dating apps like Bumble have come under fire for only working for cis people. OkCupid, like me, is getting older—but we're still cool, right?