You know the quintessential Portmanian hotel atrium lobby, even if you've never heard of the late architect-developer John Portman: It's a dramatic skylight, stacked balconies, soaring artwork, and a glass elevator that shoots guests up and down a central nave, like a scene from The Jetsons.
Considered one of America's most influential architects, Portman died on Dec. 29 at age 93. Portman is credited with revitalizing sections of his hometown, Atlanta, Georgia, and many other achievements—but inventing a template for these awe-inspiring hotel lobbies is his most enduring global legacy.
Before Portman's first "neofuturistic" wonder—the 22-story Hyatt Regency Atlanta—most hotel lobbies were essentially efficient customer pass-throughs. In Portman's hands, hotel lobbies became temperature-controlled gathering places where guests and visitors lingered. They ate, read, and snapped photos of the spectacular, vertigo-inducing attraction above their heads.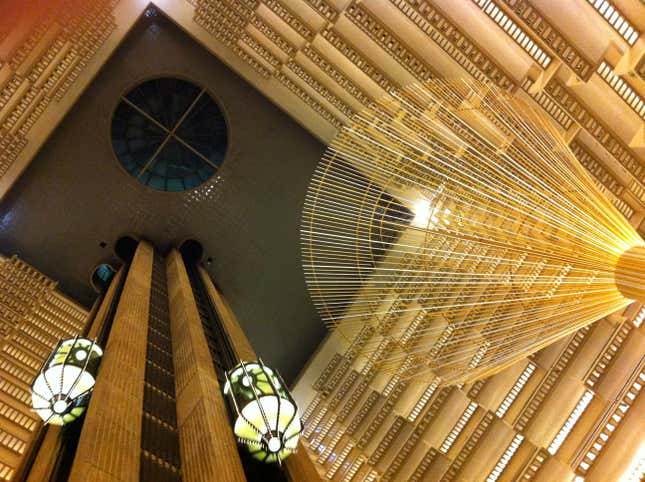 Portman considered the lobby a hotel's "internal lung," giving visitors a breather from the congested, grubby, possibly dangerous streets outside. When asked by the New York Times in 2011 why he designed such a theatrical thoroughfares, Portman explained that he also hoped to give people a moment of respite and joy.
"You want to hopefully spark their enthusiasm," he told the Times. "Like riding in a glass elevator: everyone talks on a glass elevator. You get on a closed-in elevator, everyone looks down at their shoes. A glass elevator lets people's spirits expand. Architecture should be a symphony."
Portman's hotel atrium template is now widely replicated from Kansas to Kampala. But did he invent a sanity-saving oasis, or an elitist enclave?
Many urbanists and architecture theorists complained that these airy marble and glass spaces created a cloistered artificial island that discouraged visitors from venturing outside the hotel. A clique of his fellow architects raised their eyebrows when Portman became a real estate developer, essentially co-funding his own projects to help realize his grandiose vision for air-conditioned agoras.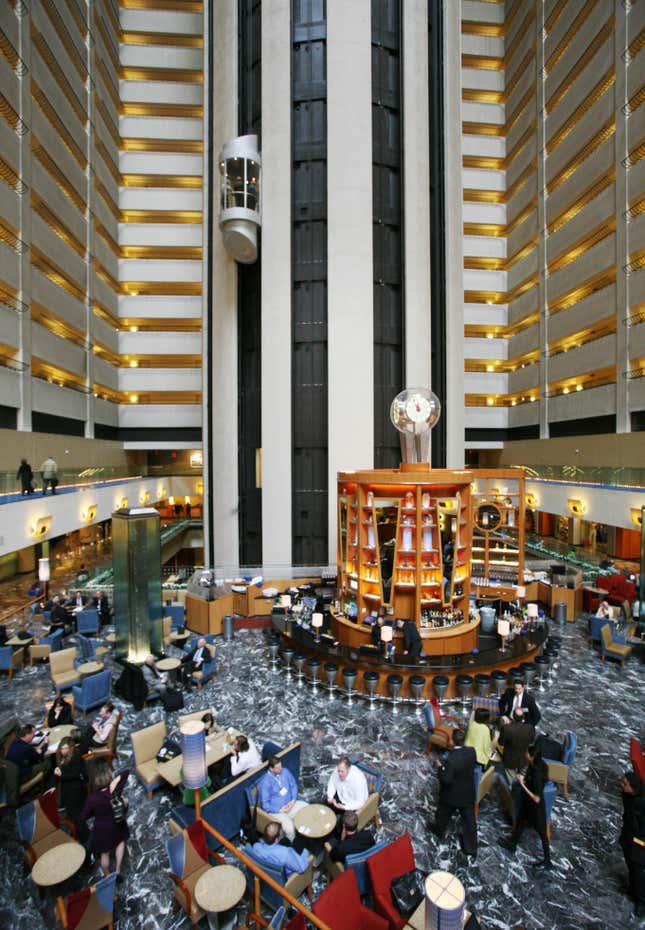 Dwell magazine's founding editor Karrie Jacobs called his approach "wrongheaded," arguing that "in city after city he attempted to replace urban street life with the canned vitality of hotel atria." She added, "The end result, however, was a set of mind blowing spaces, Hyatts and Marriotts that were crazier looking than the unbuildable schemes generally drawn up by architectural theorists and visionaries."
One thing is beyond debate. Portman's audacious architecture gave the public an indelible demonstration of a building's emotional resonance. As Jacobs described in Metropolis magazine in 2005, entering a Portman-designed atrium for the first time is transformative. "I think of this moment as my first conscious embrace of Modern architecture," she writes of seeing the San Francisco Hyatt Regency lobby as a teenager.
Years later, she returned to the same spot and found herself surprised by how powerfully Portman's oft-maligned atrium still moved her. "It occurred to me that this lobby is the one bit of San Francisco that still feels unequivocal in its enthusiasm for the future—even if that future has come and gone," she wrote. "The audacity and dynamism of the architecture is still powerful, even if the philosophy that created it—the belief in perfectible, controlled urban space at epic scale—has only recently come back into favor after a long period of disgrace."