Subscribe to the Quartzy newsletter to receive this in your inbox each Friday.
Happy Friday!
On our first one of 2018, I have a few resolutions for the weekends and non-working hours of the year ahead.
2017 was my first year living in Los Angeles, without the dense concentration of friends and family I enjoyed in New York City. There have been plenty of adventures: a weekend in Santa Barbara, an epic Baja road trip, a shopping spree at the Echo Park Craft Fair, and countless tacos. But I also spent many hours—too many—staring at a screen, and stressing about work. Without as many social commitments, I experienced just how much work can expand when it's not contained.
In 2018 I want to take more control of my time, both on and off the clock. With the help of Emily Withrow's guest edition of the newsletter last week and her Messenger-based tutorial on setting SMART goals to be Specific, Measurable, Achievable, Relevant, and Time-bound, I'm conceiving of fun-focused goals like: I'll have a date with a girlfriend every week in January. I will also dunk myself in the ocean at least once per week through February.
It may sound like I'm treating my fun a little bit like work, but that may just be the best way to make sure it happens. I'm hanging this Aurora wall planner in my office to record my progress, and remind me how rich life can be away from a screen.
To stress less about work, care more about other things
For Quartz, Andrew Taggart wrote that we're immersed in an unhealthy culture that German philosopher Josef Pieper called "total work." "Work becomes total when all of human life is centered around it; when everything else is not just subordinate to, but in the service of work," wrote Taggart.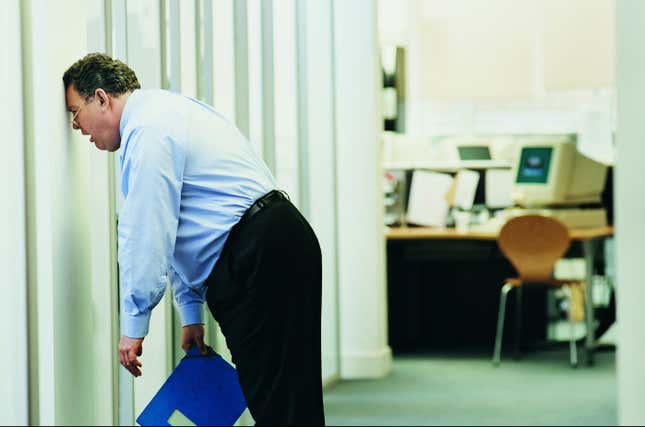 Many of us need to work a lot, and even enjoy it. But Taggart says we don't need to attach so much meaning to it in order to be good at it. And when we stop obsessing about work, that opens us up to finding meaning elsewhere. It's a virtuous, life-balancing cycle: "The more important things take us out of the endless pursuit of 'being useful' while enabling us to lose ourselves in the flow of time."
Speaking of flow
 In a 2017 piece extolling the virtues of The Great British Bake Off as an exhibition of the flow state—"the ecstatic state of deep concentration that occurs when we are truly and deeply engaged by a task"—Annaliese Griffin explored whether one could experience flow at work. She concluded, with the help of a brilliant and hilarious must-hear segment of This American Life featuring the late writer and avid crafter David Rakoff, that it's much harder—though not impossible—to achieve of a state of flow when doing one's paid job than when engaging in a hobby.
"When seated at the computer I have to either check my watch, eat something, call a friend, or abuse myself every 10 minutes," said Rakoff. "By contrast, I once spent 16 hours making 150 wedding invitations by hand and was not for one instant of that day tempted to check my watch."
To achieve a flow state at work or play, Annaliese writes that it's key to keep stretching one's skills. So if I—a longtime knitter—want to lose myself in my hobby, I should probably make 2018 the year I stop making simple ribbed baby hats, and finally learn to knit cables.
Finding life beyond work and family
Last year, inspired by a fictional Marie Kondo-ish guru on the sitcom Younger, Quartz editor Sarah Todd conceived a useful exercise: "First, I divided a piece of paper into four quadrants. Then I wrote down my top four priorities, one in each quadrant, hoping to discover something illuminating, as the TV characters had, about how to live my best life." Here's what it looked like:
Not very revealing. "I already knew that I cared about relationships and work," she wrote. "If I wanted to glean insight about positive changes I could make in my life, I needed to take work and relationships off the table. The issue wasn't that those things weren't actually important to me; it was that they were far and away the most important to me. They loomed so large that I couldn't see anything else." So she started over, no work or interpersonal relationships allowed. Here's what she got: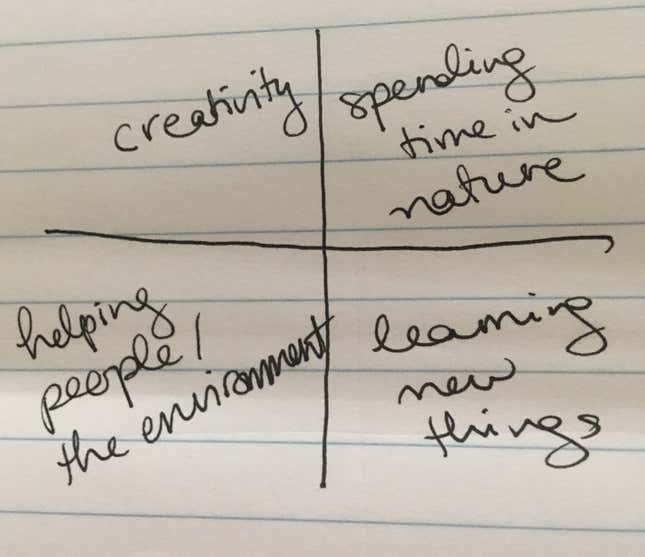 Now she was getting somewhere. "Suddenly I could see possibilities for change," she wrote, picturing art classes and regular excursions outside the city.
Before long, Sarah was watercoloring in her kitchen and forest-bathing in Japan. It worked for other colleagues too. "Putting work and relationships temporarily out of the picture didn't make anyone decide to quit their job and live as a hermit in the woods," wrote Sarah. "It just helped us get a little more clarity about what's missing in our lives—and discover the things we can do to get our groove back."
Once you discover them, commit
Like me, Quartz's Olivia Goldhill is embracing joy-inducing resolutions. "We tend to treat New Year's resolutions as puritanical forms of self-admonishment, focusing on our shortcomings and increasing our guilt when we inevitably fall short of our goals," she writes.
Instead, Olivia is inspired by friends who've resolved to have more sex, or get really into gin. "The point of indulgent resolutions isn't to think of some highbrow pursuit you feel you ought to do more of—like reading great literature or going to interesting lectures. Instead, it's about recognizing what brings you sheer, unadulterated joy, and making space for it in the coming year. Perhaps you want to drink more port (an unfashionable but delicious beverage), prioritize dog-sitting cute puppies, or get a whole sleeve of henna tattoos." I'm not sure I can endorse a full sleeve of henna tattoos, but do your thing.
May your 2018 be graced with a little less hustle, and a little more flow—gin or otherwise. Have a great weekend!
The Golden Globes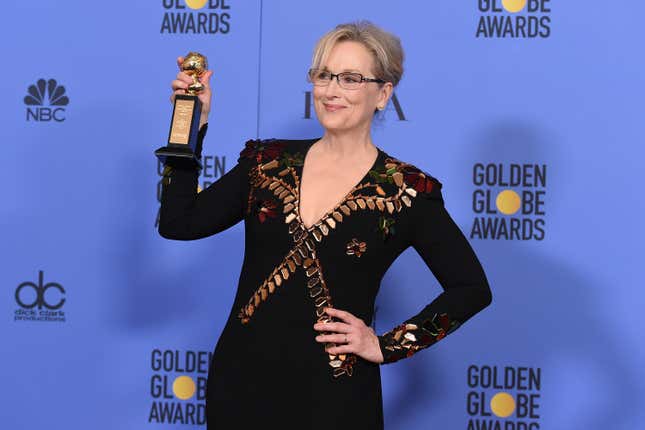 The Golden Globes will air Sunday on NBC at 8pm. The awards show affectionately known as the drunk Oscars will likely take on a tenser tone post-Weinstein, starting with the red carpet. There, nominees including Meryl Streep, Jessica Chastain, and Eva Longoria plan to wear black to call attention to the epidemic of sexual harassment and gender inequality in Hollywood and beyond. The choice of color—or lack thereof—has some critics, such as the Washington Post's Robin Givhan. "At a moment that has women seizing their authority and raising their voices, the point is to be seen and heard, " she wrote, adding that this is a moment to celebrate female-led successes like Lady Bird, Big Little Lies, Insecure, and The Post—not to mention Oprah's lifetime achievement award—rather than to appear in collective mourning. The Cut will sit out ranking (but will still post) red carpet looks, but at E! the show must go on. Live from the Red Carpet starts at 6pm ET, and it's sure to be interesting.