America's opioid epidemic is spiraling. In 2016, 64,000 people died from drug overdoses—around three quarters of them opioid-related—which is more than those who died from gun violence, motor-vehicle accidents, or breast cancer that year. But it's not just suburban addicts and chronic-pain sufferers who are falling prey to what's being called one of the worst public-health crises in recent history. It's affecting the art world, too.
Photographer Nan Goldin is known for her stark, honest portrayal of America's seedy underbelly. In the early 1970s, she began photographing the sex and drug lives of her friends, who were a part of New York's burgeoning transvestite and LGBT communities. Over the coming decades, her pictures came to represent a version of America that many mainstream art institutes initially didn't want to highlight; then-president Bill Clinton even accused her promoting "heroin chic."
So it seems cruelly ironic that Goldin has spent the past few years battling an opioid addiction.
In an open letter published in Artforum early this month, Goldin writes about her crisis in a ugly, brutally honest tone similar to that of her documentary photographs:
"My relationship to OxyContin began several years ago in Berlin. It was originally prescribed for surgery. Though I took it as directed I got addicted overnight. It was the cleanest drug I'd ever met. In the beginning, forty milligrams was too strong but as my habit grew there was never enough. At first, I could maintain. Then it got messier and messier. I worked the medical field in Berlin for scripts. When they shut me out I turned to FedEx. That worked until it didn't. The drug, like all drugs, lost its effect, so I picked up the straw.
I returned to New York. My dealer never ran out of Oxy and delivered 24/7. He had massive prescriptions and made massive amounts of money. For every penny he spent on a script he made a dollar on the black market. I went from three pills a day, as prescribed, to eighteen. I got a private endowment and spent it all. Like all opiate addicts my crippling fear of withdrawal was my guiding force."
Goldin is far from alone. America's opioid epidemic has been growing worse year on year. An additional 12,000 people died of a drug overdose in 2016 compared to 2015, and opioids are four times more likely to kill you than 20 years ago. Opioids include the illegal drug heroin, which killed 15,466 Americans in 2016, the synthetic opioid fentanyl, which is up to 100 times more powerful than morphine, legal prescription drugs such as Vicodin, and painkillers that contain codeine and morphine.
Of these opiates, OxyContin is the one of the most popular. A single family is reaping billions in profits—and Goldin believes they are to blame for America's opioid deaths.
Who are the Sacklers?
You might not know who the Sacklers are, but you've probably stood in a gallery that bares their name. The Sacklers—who are currently the 19th most wealthy family in the US and whose net worth was estimated to be around $14 billion in 2015—donate heavily to museums and institutions around the world. And they want you to know about it.
There's a Sackler Wing at the Louvre in Paris and another at the Metropolitan Museum of Art in New York. There are stand-alone Sackler galleries at the Smithsonian in the US and the Serpentine in the UK. The Guggenheim in New York has a Sackler Center, there's a whole museum named after them at Harvard, and they even have an escalator that holds their moniker at the Tate Modern in London (the Sackler Escalator, in case you haven't caught the drift).
In fact, there's only one thing the Sacklers don't seem to want to put their name on: OxyContin.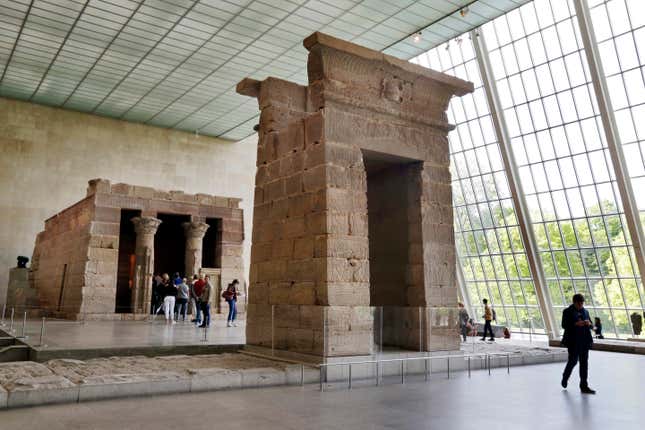 Purdue Pharma, the Sacklers' pharmaceutical company, first put Oxy on the market in the mid 1990s. Despite Americans having reported no increase in the level of pain over the past 15 years, the number of prescription opioids dolled out has quadrupled during that time. Oxy gained traction as an opiate of choice early on, and has generated over $35 billion in sales since it was released. It still pulls in around $3 billion a year for the family, who are comprised of about 20 heirs.
Much of the Sackler family have profited greatly from America's addiction to Purdue's products—though the descendants of one brother, Arthur M. Sackler, note that he made his riches through medical advertising, and sold his one-third option interest in Purdue before OxyContin was created. But those Sacklers who are directly connected to Purdue—and its maligned Oxy billions—insist they're working to curb the drug's misuse. "We are deeply troubled by the prescription and illicit opioid abuse crisis, and we are dedicated to being part of the solution," said a Purdue Pharma representative when asked for comment. "For more than 15 years, this company has a strong track record of addressing prescription drug abuse which includes collaborating with law enforcement, funding state prescription drug monitoring programs and enhancing interoperability, and supporting drug take back programs."
The stories of most Oxy addicts start out innocently enough. Many people were initially attracted to Oxy's slow-release mechanism, which means patients only need to take one pill every 12 hours, instead of up to six times a day for other medications. Purdue Pharma also claimed that this made the tablets less addictive. However, crushing up and snorting or injecting the pills bypasses this release structure, creating a powerful high.
In seeking a cheaper alternative to the pills—which cost around $6 for a 10mg tablet legally but up to $80 on the street—some prescription addicts turn to heroin. In fact, 80% of heroin and fentanyl users start with an opioid prescription, and you become 40 times more likely to abuse heroin if you are addicted to oxycodone, the active ingredient in OxyContin.
Including Goldin.
"When I ran out of money for Oxy I copped dope," she writes. "I ended up snorting fentanyl and I overdosed."
Goldin's fight against opioids—and the Sacklers
At the beginning of January 2017, Goldin checked herself into rehab. She has now been sober for over a year, and is turning her efforts toward stopping others from succumbing to the same fate she did.
Her first target? The wealthy philanthropists who help buoy the types of museums that supported her career—and her addiction.
I learned that the Sackler family, whose name I knew from museums and galleries, were responsible for the epidemic. This family formulated, marketed, and distributed OxyContin. I decided to make the private public by calling them to task…They have washed their blood money through the halls of museums and universities around the world. We demand that the Sacklers and Purdue Pharma use their fortune to fund addiction treatment and education.
To achieve this goal, Goldin has set up P.A.I.N., which stands for Prescription Addiction Intervention Now. The group's Instagram and Twitter accounts will be leveraging the hashtag #ShameonSackler to help pressure the pharma family to use the wealth generated from America's opioid addiction for education and rehab facilities, not splashy grand courtyards at the Victoria and Albert Museum.
"We are demanding they fund various treatment models; rehab centers, medication assisted programs, harm reduction, relapse prevention, and holistic approaches," she says in a statement to Artnet. "We demand they introduce effective labelling of their products and their addiction potential. We demand that they impress upon doctors to stop over-prescribing these medications except for patients who are in extreme pain." (Quartz currently has a request out to Goldin's studio for further comment.)
In addition to P.A.I.N., Goldin is encouraging museums to stop accepting donations from the Sackler family, as any money received is effectively funded by the opioid epidemic. She also has plans to leverage awareness through the medium that first shed light on America's underground drug culture: her photography.
"Most of my community was lost to AIDS," she writes. "I can't stand by and watch another generation disappear."
Addendum: This article has been updated to note that the descendants of Arthur M. Sackler have not profited from the sales of OxyContin or Purdue Pharma.