Last week, IKEA gave birth to a wild concept: an interactive print ad activated with a pregnant woman's pee.
In the current issue of the Swedish lifestyle magazine Amelia, a full page IKEA ad reads: "Peeing on this ad might change your life." The headline is followed by instructions to use the sheet as pregnancy test. When drops of liquid with traces of the pregnancy hormone comes in contact with the strip, a markdown price magically appears next to a picture of its Sundvik crib. "If you are expecting you will get a surprise right here on this ad," it reads.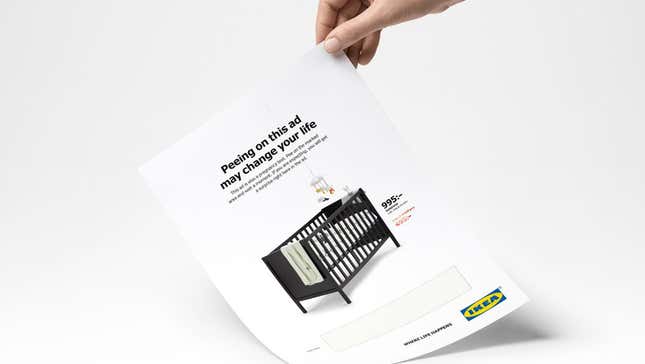 Despite the discount coupon premise, IKEA clarifies that it isn't requiring expectant mothers to flash the pee-soaked sheet at checkout counters to get the lower price. The ad is simply to get people to sign up to its family-oriented loyalty program. "[It's] to remind you that you can get a better price on the baby crib with the Family Club discount. You don' have to hand in any ad with urine on it or anything. Simply join IKEA's Family Club," explains a spokesperson Åkestam Holst, which devised the ad campaign. Technically any IKEA customer can join the program—whether pregnant or not—and they can even do it online.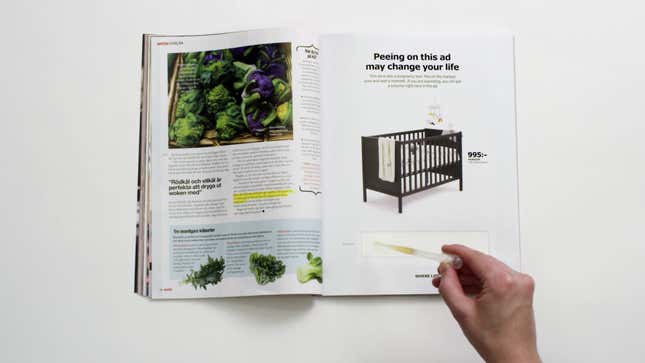 The genius promotion was designed by the Stockholm-based agency who worked with chemists at Mercene Labs to figure out how to scale tiny pee strips used to detect pregnancy to the dimensions of a consumer magazine's page. Mercene's materials scientists sorted out the paper's microfluidics and calibrated the "controlled capillary flow." (This lab video details the process.) Mercene tells Quartz that the sheet's accuracy rate is comparable to drugstore tests. "The ad has the potential to indicate if you are pregnant around four weeks after conception, and the text is fully readable after five weeks," explained a spokesperson in an email.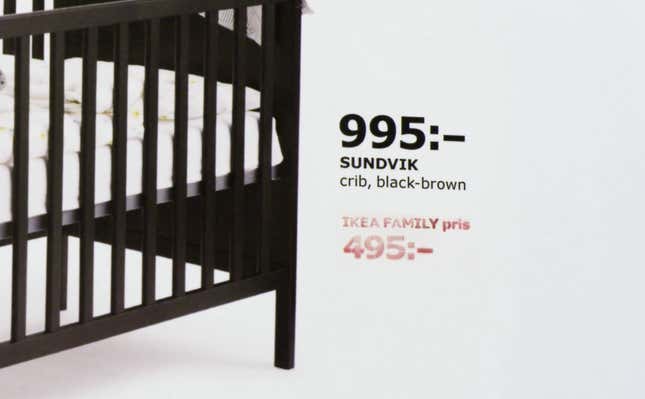 It's a clever interactive marketing device, for sure—like scratch-and-sniff strips or edible flavor paper. But does IKEA's baby predictor work as a medical diagnostic device that doctors would actually trust?
Dr. Stefan Hansson, a professor of obstetrics and gynecology at Lund University, Sweden says it will work just fine. "The pregnancy tests, detecting HCG in urine, have been around for a long time. Technically they are cheap and easy to manufacture. I think it would be possible to create the ad described, that is reliable enough for its purpose," explains Hansson, who seemed to get a kick out of IKEA's latest promotion.
Responding to our query via email, he adds, "The question is so odd that I have a hard time to take it seriously…Joke or not, I have to say that the idea is innovative and creative."
IKEA says it has no plans to use the ad outside of the Swedish market.