Just yesterday, Swedish fast-fashion retail giant H&M announced via Facebook that it has appointed its first-ever "diversity leader," Annie Wu, a veteran employee who is currently the Global Manager for Employee Relations. This was no unprompted gesture: the company was widely criticized two weeks ago for an e-commerce photo featuring a young black boy, five-year-old Stockholm-based model Liam Mango, wearing a hooded sweatshirt that said "coolest monkey in the jungle gym."
Due to the notoriety of the incident, which included looting of H&M stores in South Africa, Mango and his family have reportedly left Sweden for safety and privacy. But as noted by the New York Times, the attitudes in Europe were less severe than the outrage in the United States and South Africa. "To put the t-shirt and the word 'monkey' with racism, maybe that is not my way of looking at it," Terry Mango, his mother, told BBC. "I'm just looking at Liam, a black, young boy, modeling a t-shirt that has 'monkey' on it. I think everyone should respect different opinions on racism."
But whether or not Mango (and the rest of Europe) thought it was racist, H&M issued an apology to the public. But not before musicians like The Weeknd and G-Eazy severed their collaborations with the brand. And then H&M—perhaps realizing it lacked the resources to prevent such blunders in the future—turned to Wu. An American woman of color, Wu spent most of her career working in New York City before relocating to Stockholm in 2016. Her race—and nationality—are encouraging and suggest she'll be able to speak up for non-Eurocentric attitudes about racism, cultural appropriation, and sexism within the company.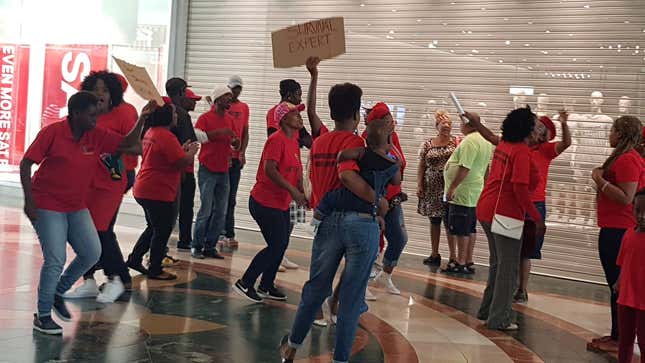 But you can't just appoint a figurehead, make a Facebook apology, and expect people to forgive you. If Wu is going to truly be a catalyst for change, she needs the executive power to restructure and transform the teams—especially the branding, e-commerce, and marketing departments.
The shocking aspect of this entire controversy isn't that H&M, known for its labor violations, did something wrong. The shocking part is that no one at H&M who was part of the creative and marketing process—which must include several departments and hierarchies of approval—realized that the ad was racist before it went public. And that may be because they didn't have any people of color, with executive power and non-Eurocentric perspectives, on these teams. "The recent incident was entirely unintentional, but it demonstrates so clearly how big our responsibility is as a global brand," the brand wrote on Facebook.
Did H&M not realize this sooner, before expanding into 69 global markets? Fashion insiders say, perhaps not. "Diversity in the fashion industry is challenged and archaic," Emil Wilbekin, a diversity expert, former Essence editor-at-large, and founder of Native Son, explained through email. He was surprised to find out that H&M, a $39.9 billion dollar company founded in 1947, didn't already have a diversity lead."We've had some improvement in the amount of Black women as models on the runways, in advertisements and editorials," he says, "but we aren't seeing an increase in designers, C Suites positions at fashion houses and brands, or leadership roles in the advertising and agencies that produce the creative."
"On a surface-level I celebrate the effort," Babba Canales, a New York City-based brand marketer who originally launched Uber (and her career) in Sweden, added. "However, diversity issues happen when there's not enough diversity internally in the first place. One new role won't change a structural internal behavior–you need to have a well represented staff that's just as diverse as your customers in order to avoid these things from happening. Hopefully that is the overarching goal, and this hire is a first step in that direction'
H&M could follow in the footsteps of Uber, which, in an attempt to fix its image after #DeleteUber went viral, hired American-born, African-bred Bozoma Saint John as Chief Brand Officer in 2017. "To me, there's no sense of tokenism because I know I can do the job—I'm qualified to do the job, I can do a great job," she told the New York Times. "Being present as a black woman—just present — is enough to help exact some of the change that is needed and some that we're looking for." Babba Canales Rivera, a New York City-based brand marketer who originally launched Uber (and her career) in the Swedish market, agrees–true diversity starts internally: "On a surface-level I celebrate the effort," she said. "One new role won't change a structural internal behavior–you need to have a well-represented staff that's just as diverse as your customers in order to avoid these things from happening. Hopefully that is the overarching goal, and this hire is a first step in that direction."
Even more so than Uber, H&M is an image-driven company and the conscious hiring of people of color as leaders throughout the organization would address many of its image-oriented problems. In a sense, H&M has no choice—it may have survived this month's gaffe, but future fashion faux pas could certainly erode its global bottom line. "[Wu] has a big job ahead of her managing their public facing image and product offerings to make sure that the brand is not offensive, but also proactive in representing the diverse consumers globally who support the business," Wilbekin said. "The brand's reputation is on the line."