Subscribe to the Quartzy newsletter to receive this in your inbox each Friday.
Happy Friday!
On a sunny Saturday morning last weekend, thousands of Hawaii residents received an alert on their phones. A ballistic missile was en route to Hawaii, it stated, in all-capital letters: "THIS IS NOT A DRILL." Naturally, people panicked. Some families hid in storm drains. One man barely survived a heart attack after phoning his children to say goodbye. Allison Wallis, who lives on Oahu, wrote for the Washington Post about rushing her daughter into the bathroom, where they filled the tub while she dashed outside to retrieve her service dog to shelter with them. (Their pet chinchilla didn't make the cut.)
Others were more calm. An acquaintance on Maui described feeling relatively sure an inbound missile would be destroyed by the US military before reaching the island. And at the surf break known as Jaws, the big wave-surfers gathered for the winter's biggest swell faced mortality by paddling into potentially bone-crushing barrels of water.
Nearly forty minutes after the first message, another was sent, affirming that the warning was a false alarm—apparently the result of human error. Fear has rightfully since turned into outrage, with Hawaii residents expressing their dismay at a flawed warning system, a vulnerable position, and the real possibility of nuclear war.
In the Washington Post, Wallis wrote that she and her husband decided some light prepping—go-bags, iodine tablets, practice drills—was in order. But not before they took a moment to sit outside with their snoring dog, watching their daughter play.
I wouldn't purport to know how one feels in the aftermath of such a scare, or wish that ordeal on anyone, but as Quartz's Ephrat Livni has written, a consciousness of one's mortality can serve to heighten the quality of one's life. (If the event that raises that consciousness doesn't, you know, kill you.) Ephrat cited the work of Laura King, a psychology professor who studied life and death from an economics perspective: "Death represents the scarcity of life, and understanding life as a scarce commodity enhances existence."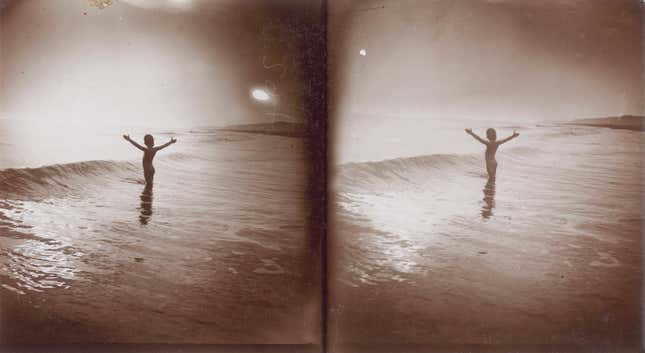 Joel Lovell described this effect—"to be as open as possible, all the time, to beauty and cruelty and stupid human fallibility and unexpected grace"—in a wonderful and memorable 2013 profile of George Saunders.
Saunders told Lovell of a brush with death, when a flock of geese nearly downed a flight he was on:
"For three or four days after that," he said, "it was the most beautiful world. To have gotten back in it, you know? And I thought, If you could walk around like that all the time, to really have that awareness that it's actually going to end. That's the trick."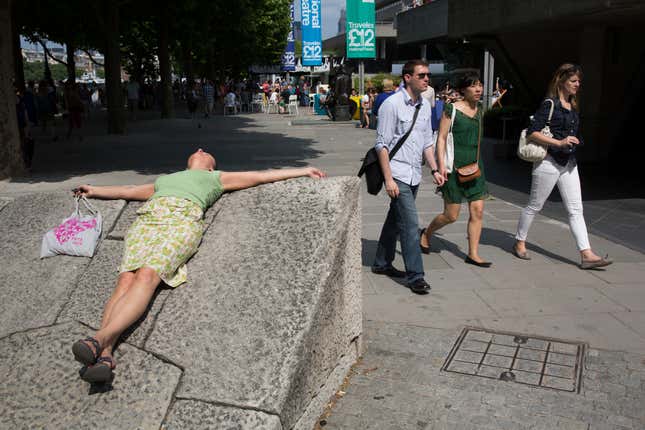 It's called WeCroak, and for the onetime price of 99 cents, it will alert you five times per day that you're going to die, along with a quote from a Zen master or poet such as Huangbo Xiyun and Gary Snyder.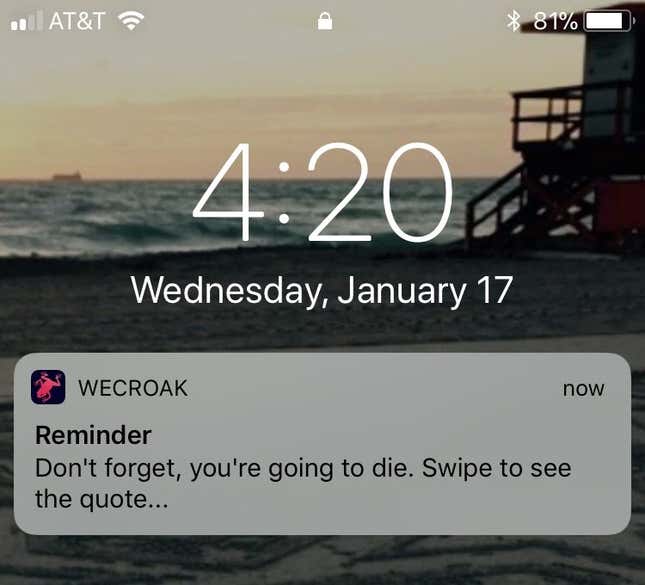 The Atlantic's Bianca Bosker wrote that the app's founders were inspired by the Bhutanese maxim that a happy person contemplates death five times daily, and found that it actually kind of worked for her:
"With each day the app sounds less like a Hobbesian warning—Life is short'—and more like an Oprah-esque affirmation: 'Life's too short!'"
It delivered a healthy dose of perspective, for example, when she was nervous about about a public speaking engagement. At the very least, it will remind you not to waste too much time on your phone.
Listen to Joe Frank
It seems like something the brilliant avant-garde radio artist Joe Frank, who died on Monday at age 79, might have appreciated. If you like Thomas Pynchon, Hunter S. Thompson, Gary Snyder, Marc Maron, or the smooth gravel of Alec Baldwin's narration of The Royal Tennenbaums, you'll probably find something to love in Franks' radio shows.
With his late-night shows on public radio—"Work In Progress," his call-in show on LA's KCRW in the 1980s, and later "The Other Side"—Frank pushed the boundaries of weirdness and blurred reality and fiction. He inspired radio luminaries from Ira Glass (once Frank's intern) to David Sedaris, and amassed a cult of fans along the way.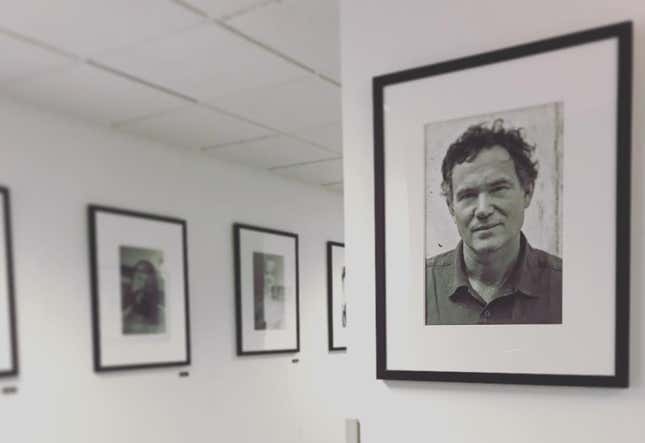 I only discovered Frank this week, and dove into an archive on his site, beginning with a piece called "Ascent to K2," a sort of epic prose poem about a troupe of climbers determined to climb K2 in open-necked sports shirts, on acid. The narrative follows them to the base of the mountain, where they realize the preparation for the climb was just as important as the climb, and opt to skip the summit.
I think there's a Buddhist allegory hidden in there, but am less sure there's one in the hilarious "My Date with Arianna Huffington," in which our host attempts to keep up with Huffington on her morning exercise, after soothing his nerves with a couple of Valium.
Speaking of weird and wonderful corners of media, this week The Awl announced that it would shut down operations of its websites, and with it close what Quartz's Sarah Todd eulogized as "a sanctuary for readers who wanted to have some fun; an online space that fully embraced the silly, the obscure, and the delightfully weird."
"Now that they're shutting down," writes Sarah, "it's up to the rest of the web to create spaces where humane people with a skewed view of the world can gather, and make each other feel less alone."
I'll do my best from here. Have a great weekend!

PS: Women's March anniversary events all weekend long
This weekend marks the first anniversary of the Women's March, which saw millions protest following the inauguration of US president Donald Trump. This year, the focus has shifted from a simple demonstration of solidarity to a mission to mobilize voters. The organizers of last year's march will hold a "Power to the Polls" rally in Las Vegas—the site of last year's deadly mass shooting, and also a key battleground state for midterm elections—on Sunday. Events are also planned for this weekend in Los Angeles, Paris, Hong Kong and Kampala, as well as Washington, DC. If you're interested in finding a sister event worldwide, enter your town, country, or postal code here.