If our prehistoric nomad ancestors were transported to 2018, one of the technologies they would be most impressed by is our footwear. For most of human history, we have lived on our feet, traveling long distances from place to place. Unfortunately, our feet aren't the ideal shape for an upright animal. They were retrofitted, you could say, from life in the trees, leaving us and our peripatetic forebears prone to pain and injury.
Those forebears might just shed a tear of joy to encounter the variety of spongy, comfortable shoes we've devised, the latest of which comes courtesy of Nike. On Jan. 23, it unveiled the Epic React Flyknit. It's the first sneaker to make full use of Nike's new React platform, a cushioning technology that feels sort of like standing on a firm, dense marshmallow, which springs back energetically the moment you take your weight off it. It feels particularly agreeable combined with Nike's foot-hugging, lightweight Flyknit upper.
Nike spent more than three years developing React, relying on the expertise of chemists, engineers, designers, and more to bring it to its final form. Compared to the generations of shoes that preceded it, Nike says it's softer, lighter, longer-lasting, and returns back more energy. A running shoe works like a spring: When you step down on the sole, it compresses and stores energy. It then releases that energy when you lift your foot. The ideal is for the sole to return as much of that energy as possible, boosting your foot up during your stride.
The shoe releases to the public on Feb. 22, via Nike's own channels and through select retail partners, and Nike expects a strong response from customers. "It's going to be a big innovation for us upon launch," says Brett Holts, the company's vice president of running footwear. "It will quickly become one of our biggest running platforms."
Nike could use the jolt. In North America, its most important market, it has stumbled of late, losing ground to Adidas, its biggest competitor. Whether React can help it regain its footing, though, is far from certain.
Comfort through chemistry
Though React was designed for running, many of the people who will buy the shoes don't intend to break a sweat in them. The comfort of athletic footwear is one of the biggest reasons the category has proliferated ever since rubber vulcanization in the 19th century made rubber-soled shoes widely available.
Everyone from the hardcore sneakerhead to the suburban mom values that bouncy, cushy feeling underfoot. "Comfort is not just an added benefit anymore—it's a necessity," Beth Goldstein, the fashion footwear and accessories analyst at research firm NPD Group, said in a Jan. 18 note on what to expect in the category in 2018.
That may actually be a challenge for the React platform, though. There are lots of comfortable sneakers around. Even if it is better, does it offer enough of a difference that people will think of it as something unique, rather than just one more option in a crowded market?
Nike was among the companies pioneered sneaker cushioning, going back to cofounder Bill Bowerman pouring urethane into his waffle iron in 1970 to create a flexible, springy outsole that would grip the ground. Holts says the famed waffle sole was one of the inspirations for the Epic React Flyknit.
Rubber, though, is no longer what the typical midsole in a running shoe is made of. Today most of the midsoles you see are foam EVA—ethylene vinyl acetate. Not the React, though. It's something new: "This base is actually a synthetic-rubber base, so it's a different chemical formulation, and that's what really helps us get that cushioning, that energy return, and then the longevity," Holts explains.
In the sneaker world, there's a lot of competition to provide the bounciest running sole, much of which centers on chemical engineering. Adidas has had success for a few years with its popular Boost soles, which were created by the chemical company BASF and are on exclusive license to Adidas. They're also not EVA. They're made of lots of small, individual pellets of TPU—thermoplastic polyurethane—fused together.
Under Armour is about to introduce its Hovr platform, developed in partnership with Dow Chemical. It's an olefin wax-based foam. Justin Howe, UA's creative director of footwear design, described it to WWD (paywall) as an "anchor-technology" and a "game changer" for the company, which has lately struggled to keep its high-potential sneaker business growing.
Nike didn't turn to an outside partner to create React. "It's all done in-house with our team of chemical engineers and developers, which I think is definitely a benefit for us because we had a lot of time to spend on it," Holts says. "It took over 400 iterations to get the formula just right."
The striations visible all along the midsole and outsole are functional. They're meant to amplify the foam's cushioning and support, and they're generated by a computer. Nike collected thousands of data points on how athletes of different genders and foot sizes place pressure on their feet. It input those data into a program that returned an algorithm, which determines where and how deep the striations are. Holts says it allows the Epic React Flyknit to provide exactly the same cushioning and energy return for every runner, whether they're wearing a women's size 5 or a men's size 12.
In the past, with the standard method of drawing sketches by hand and inputting them into computer-drafting programs, they couldn't have done anything like that. To create different sizes, they would just scale a design up or down, a method that alters the characteristics of the sole slightly as it changes size (similar in a sense to the way clothing simply sized up or down tends to fit badly).
But will people buy it?
Nike says its new React products will quickly take the place of its previous running technology, Lunarlon. It's a platform for casual runners as well as racers, unlike products such as its new Zoom Vaporfly 4%, which Nike hopes will one day let a person run a marathon in less than two hours. (Imagine that one, prehistoric ancestors!) Casual runners are a much bigger market, though how much React will help reinvigorate the brand remains to be seen.
Generally speaking, consumers in the US are presently passing over performance products in favor of more casual, fashionable sneakers. Shops are also flooded with running silhouettes, as NPD's sports industry analyst Matt Powell remarked in a separate note on 2018 predictions. "The modern runner trend which has carried the market for the last few years is getting ubiquitous," he wrote. "The industry must quickly address this and find the next new idea, before the modern runner gets played out."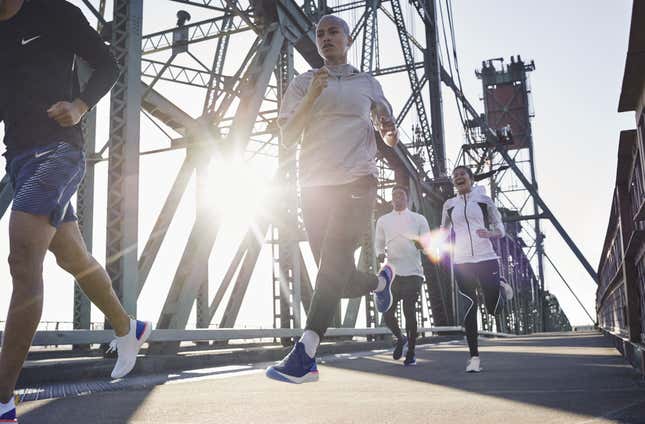 I asked Holts if Nike considered these factors when planning the release of the Epic React Flyknit. "We're always going to start any new creation, any new innovation, to try and improve performance from where we've been in the past and try to make athletes better," he replied. "That's no different with the React technology."
But he acknowledged that Nike does pay attention to the marketplace. They're aware of the running silhouette's ubiquity, as well as the consumer shift toward "lifestyle," where even running shoes are used more for running errands than actual running, and style matters as much as performance. The goal was to create a shoe you could run a race in, that also looks great with a pair of jeans.
"I think it's just having a level of honesty with how the consumer uses that product in the end, but it doesn't take away from the performance innovation or what the team puts into making that a better running experience," Holts says.
Nike has big expectations for React, and whether or not consumers are lining up for new running technologies at the moment, it's just part of Nike's DNA to always be working on new innovations in cushioning. It's what the company has done for decades, and it's not stopping. What's next? Holts says Nike is already focused on what new level of comfort and performance it can achieve next.