Prohibition is over, again! That's how Californians are hailing the state's recent legalization of marijuana—and it's gotten plenty of creative juices flowing.
The response to the Jan. 1 decision echoes the reaction in San Francisco on Dec. 5, 1933 to the news that Congress had repealed the 21st Amendment, lifting a 13-year-long nationwide ban on alcohol. With legal booze flowing again, fourteen trucks hauling wine and gin rolled through the city, proudly delivering their cargo to the Mayor at City Hall.
Modern bartenders have been celebrating by mixing cannabis cocktails at parties and on restaurant menus across California. The northern California restaurant group Tacolicious is holding a "Crab and Cannabis" feast on Jan. 31, offering a spread of local herb-infused Dungeness crab, Mexican-style clam chowder with charred poblanos, winter chicory salad, horchata pot de creme, and cannabis-infused tequila drinks.
Don't expect stoned diners. Hemp-derived cannabidiol (CBD), the tasteless, non-psychoactive substance in cannabis, confers a "body high" rather than the intoxicating THC version. For Tacolicious' party, the CBD will be mixed in small amounts in virgin and alcoholic cocktails, says director of events and marketing, Kory Cogdill. "No one is going to be laying on the ground staring up at the sky," Cogdill says.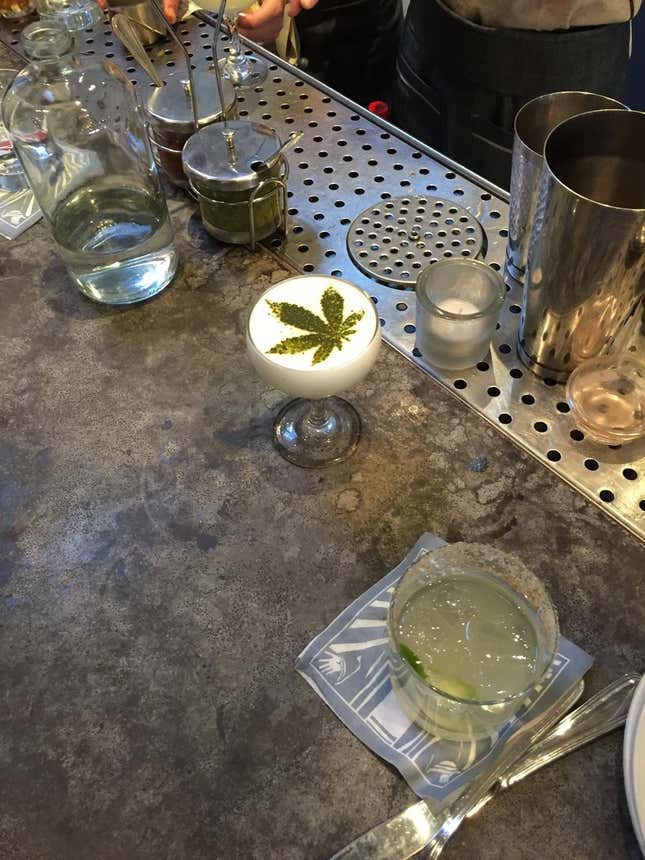 Cafe Flore in San Francisco's Castro neighborhood has cooked up a menu of 15 new CBD-infused drinks, as have other establishments in Oakland, Portland, and Los Angeles. DIY mixologists are stirring up THC cocktails with lemon ginger cannabis soda, vodka infusions, and Sour Diesel simple syrup.
The drinks are legal for the first time since the Marijuana Tax Act of 1937, which banned country-wide sales and use of the cannabis plant. Despite being legalized for recreational or medicinal use in all but four US states, marijuana remains a Federal schedule I drug, "with no currently accepted medical use and a high potential for abuse." It's been classified in that category alongside drugs like heroin under the Controlled Substances Act since the 1970s.
In California, more than 400 cannabis firms were open for business and licensed by the Bureau of Cannabis Control on Jan. 1 (with more than 1,000 applications still pending). The state is expecting big business from legal weed: $1 billion in annual tax revenue, and $250 million in savings from fewer court cases for marijuana-related infractions, reports GreenState. At the national level, those numbers will be far higher. It's another reminder of what was unlocked when the first Prohibition ended— $11 billion in tax revenue and $300 million in enforcement costs.