Andy Warhol is going to Rome.
The Art Newspaper reports that the Andy Warhol Museum and the Vatican Museums are in final talks to hold a major exhibition of Warhol's work. It would show both at the Andy Warhol Museum in Pittsburgh, Pennsylvania, the city where Warhol grew up, and in the Vatican itself, in a display space in St. Peter's Square. The exhibition would take place in 2019, timed to the 25th anniversary of the Pittsburgh museum.
Warhol, an artist known for his obsession with celebrity and consumer culture, might seem a strange fit at first glance for a show in the seat of the Catholic church. But he was the son of devout Byzantine Catholics, and remained a Catholic all his life. In 1980 he even went to Rome, where he met Pope John Paul II.
He "fooled the world into believing that his only obsessions were money, fame, and glamor and that he was cool to the point of callousness," art historian John Richardson once said of him. But those who knew him also said his Catholicism was a key part of who he was, and of the art he created.
The show would focus on Warhol's religious paintings, including his "Last Supper" series, made of reproductions of Leonardo's masterpiece, and his canvases of skulls, which suggest a contemplation of mortality. Alongside those works would be Warhol's films and other archival materials.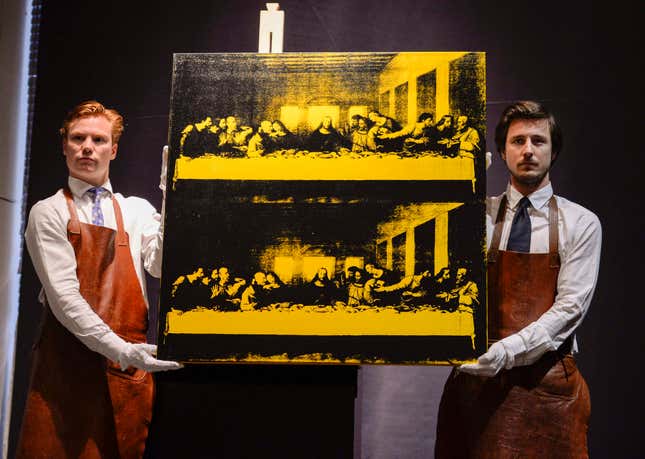 "We are very interested in exploring the artist's spiritual side," Barbara Jatta, director of the Vatican Museums, told The Art Newspaper. She added that it's important for the Church to address contemporary art, and the "world of images" we live in.
The Andy Warhol Museum declined Quartz's request for comment.
Last year marked the 30th anniversary of Warhol's death. But his explorations of contemporary culture remain as relevant as ever, and access to his work in high demand.
Calvin Klein recently struck a deal with the Andy Warhol Foundation for Visual Arts that grants it "unprecedented access to the late artist's works, including many that have not yet been published," the company said. The deal could land Warhol's imagery on Calvin Klein clothing—just the thing to wear to the Vatican for a Warhol show.