Mark the island of "Odaiba" as your next art destination.
The wildly creative, 400-strong Japanese tech-art collaborative teamLab announced plans to open its first permanent exhibition space in Tokyo this summer. Called "Digital Art Museum," (full name: "MORI Building DIGITAL ART MUSEUM teamLab Borderless") the new 10,000 sq.m (107,639 sq. ft) gallery space will be established in the Palette Town section of Odaiba, a man-made islet in Tokyo Bay. Based on teamLab's reputation for blockbuster immersive exhibitions, Digital Art Museum promises to draw legions of art lovers—especially those enamored by taking art selfies in dazzling environments.
Founded by mathematical engineer Toshiyuki Inoko in 2001, teamLab is comprised of artists, programmers, engineers, computer animators, mathematicians and architects who collectively ascribe to the descriptive "ultra-technologists." As a practice, names of teamLab members are not cited in works, they have a flat organizational structure and emphasize collaboration over individual genius. They are also very particular about the spelling of their name (small 't,' big "L"). Their mission is to explore how humans relate to nature in an age when much of our life is governed by technology.
The darling of art blogs, teamLab has surprised art critics by the emotional resonance of their photogenic projections. "The imagery in all three teamLab works feels clichéd and sentimental, while its stated themes—nature and humanity—are perhaps unhelpfully vague. But somehow, the mash-up of traditional and new, handmade and high tech, pulls you in, and you succumb to these works' inner logic," writes Boston Globe's art critic about a 2015 exhibition at the Radcliffe Institute in Cambridge, MA.
teamLab tells Quartz that they've decided to open their own museum because they haven't found a cultural institution solely dedicated to the thriving field of digital art. While many museums do include digital art in special exhibitions, no major art institution has a purpose-built structure with the right bandwidth and physical space to support the tech needs and big crowds of such installations. (Berlin's similarly-named Digital Art Museum is actually an online showcase with a small, brick-and-mortar gallery in the Mitte neighborhood.) "We've wanted to create the exhibition that delivers the borderless artwork world, and figured we needed to establish the museum itself in order to make that happen," explained a teamLab spokesperson in an email.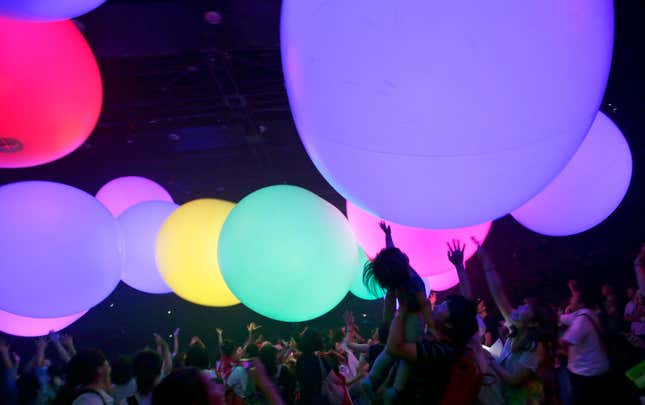 The artistic vision for the new museum is lofty: "To tear down the borders between 'one art and another,' 'art and visitors' and 'oneself and others' by allowing visitors to melt into the art and become part of it," a teamLab spokesperson explains. In other words, museum goers are designed to be part of the art experience, as they've done in previous exhibitions. One spectacular example is the 2016 work, "Wander through the Crystal Universe," where visitors triggered a light show upon entering a room. A mobile app allows them to command different patterns and sequences and change the atmosphere in the room.
Details about the inaugural Digital Arts Museum showcase haven't been announced but teamLab says they plan to update installations annually.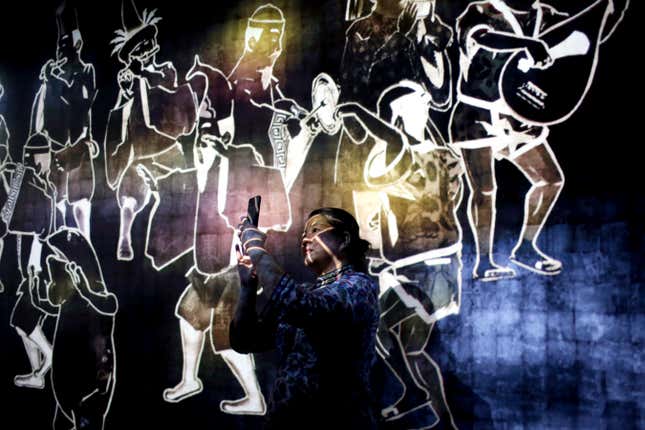 Japanese property management company Mori Building partnered with teamLab in the design and curation of the new museum. They offered the massive space to teamLab as a way to draw an international crowd to the area known for shopping establishments and the 377 ft. high Daikanransha ferris wheel. "We hope this Digital Art Museum will be the unique museum in the world and become a new destination for tourists, art lovers and museum-goers, and [that] it will reinforce the appeal and status of Tokyo," says a Mori Building representative to Quartz.
teamLab adds that building their flagship is a kind of civic initiative to advance Tokyo's status as a culture capital. "We believe that the museum will lead to an improvement in the charm of Tokyo," they explain. "We would like to make Tokyo the no.1 city in the world."