Once a thriving part of the Silk Road trade route connecting Asia with Europe, the litany of impressive sights in Uzbekistan and fabled cities like Bukhara and Samarkand makes it possibly the most fascinating and rewarding of the "Stans" of Central Asia to visit. But it's also among the toughest (behind Turkmenistan).
For most passport holders, visiting Uzbekistan means onerous requirements such as the need to secure what's known as a Letter of Invitation (LOI), usually by paying a fee to a local travel agency, as part of the visa application process—similar to the visa invitation requirement for travel to Russia for US citizens. Only a small number of countries are exempt from the LOI requirement, such as Austria and the UK. The visa can also often be expensive, and without any online or on-arrival application process, securing a visa sometimes means delivering a passport by courier to the closest available diplomatic representative and arranging payment by check or other means.
However, as the tightly controlled country gradually liberalizes (paywall) following the death of long-time strongman ruler Islam Karimov in 2016, it's also gradually widening the door to foreign tourists. The country has made tourism one of its key policy development areas over the next two years. Last year, some 2.5 million tourists visited the country, a 24% increase from 2016.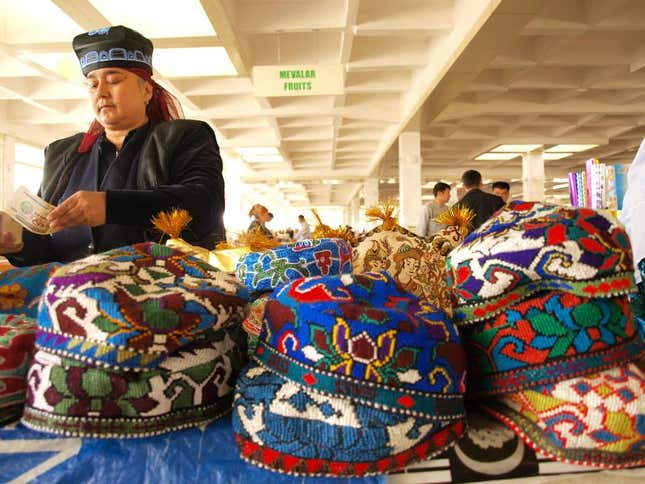 Uzbekistan recently announced a slate of new visa rules that will make it easier for citizens of some countries to visit. Uzbek president Shavkat Mirziyoyev said this week that starting May 1, foreigners will be granted short-term transit visas for up to 72 hours. Starting this weekend, visitors from seven countries, including Japan and Singapore, will be allowed to travel visa-free to the country for up to 30 days. Previously, only citizens of a handful of former Soviet states such as Russia and Kyrgyzstan could travel visa-free to the country. However, earlier plans to extend the visa-free arrangement to a larger list of countries announced in early 2017, including to citizens of Canada and the UK, have been rolled back.
Getting into Uzbekistan in the first place means getting the hardest part of the trip out of the way—but some heavy restrictions inside the country still apply. It's illegal to take photos of public buildings or inside the metro station in the capital Tashkent, although a decree announced this week also said such restrictions would be loosened. Other rules, such as having to register your whereabouts with authorities throughout the trip remain in place.
Under Uzbekistan's loosening political atmosphere, it will also get easier for citizens who want to get out of the country—previously an onerous exit-visa system made travel abroad for most Uzbeks nearly impossible. Mirziyoyev last year signed a decree for exit visas to be scrapped by January 2019.