Perhaps you noticed that when U.S. figure skater Mirai Nagasu became the first American woman to land a triple axel at the Olympics, she was also mastering a beauty look: winged eyeliner. Or when U.S. snowboarder Chloe Kim became the youngest woman ever to win an Olympic medal in her sport, she was sporting blonde balayage curls. (She also refused to cry after winning, because she didn't want to ruin her eyeliner.) Or that Canadian figure skater Gabrielle Daleman, who helped her team claim gold, is a master of contouring and has been referred to as a "Kim Kardashian lookalike" by media outlets.
The point is, while our inspiring Olympians let their talents and hard work take center stage, they also care about beauty trends and beauty products. And while most of us can't win medals like them, we can copy their beauty routines.
South Korea, which is hosting the 2018 Olympics, happens to be the beauty capital of the world. In the 1980s, French beauty companies—the industry leaders at the time—outsourced some of their laboratories and production facilities to South Korea. The French brands eventually vacated the premises to cheaper pastures in the 2000s, but the Koreans wisely repurposed these existing facilities to begin developing their own products. Enter: K-beauty, which made up of $2.64 billion of South Korea's exports in 2015. It's technologically innovative, delightfully packaged, and cheaper than its European counterparts. Not surprisingly, we can look to some of our Olympians for K-beauty pointers.
On competition days, Maia Shibutani, one-half of the U.S. ice dancing team, gets up earlier than her brother Alex, the other half, to do hair and makeup. "It's tough at competitions because we compete in arenas under bright lights, and it's almost impossible for skin to react kindly to the combination of sweat and makeup," she told the Klog. Though she avoids wearing concealer or foundation on non-competition days, she admits to wearing K-beauty brand Clio's Kill Waterproof Pen Liner in Black both on and off the rink. This inky eyeliner is felt tipped to give the user maximum control over the shape of the line—so you can do Nagasu's triple axel cat eye with a flick, or Shibutani's slightly more downturned almond line.
While traveling, Shibutani multitasks: she'll pop on a sheet mask, aka a disposable piece of fabric or paper soaked with serum with holes for the face, from K-beauty brands like Missha, Nature Republic, Tony Moly, and Dr. Jart+ while sitting in her seat on the plane. She's not worried about looking like Hannibal Lecter, the fictional cannibalistic serial killer whose Silence of the Lambs mask resembles a sheet mask: "Luckily, I think wearing a mask on a plane is more common now and not too scary for other people," she said. Wearing sheet masks in semi-public on planes is also a multitasking technique frequently shared on Instagram by Sarah Lee, the co-founder of Glow Recipe, a K-beauty brand that promotes natural products. Shibutani also carries a TSA-friendly spray, the cult-favorite Missha Time Revolution First Treatment Essence, which is a fermented yeast-and-vitamin-rich formula that you spritz to refresh your complexion—highly useful in a stuffy environment like an airplane.
Kim, whose parents immigrated to the United States from South Korea, also trusts in her K-beauty staples. "As snowboarders, we're constantly looking at products to combat all the elements for our skin and hair—the cold, dryness, high elevation, sun, and wind take it toll," she told StyleCaster. She uses Laneige BB Cushion on her face every day because it has SPF 50, citing its moisturizing properties and "killer glow" as additional benefits. The cushion compact was invented by Laneige's parent company, beauty conglomerate AmorePacific, and is one of K-beauty's most iconic products: a makeup compact built with a foam cushion that soaks up skin makeup for layered application without caking.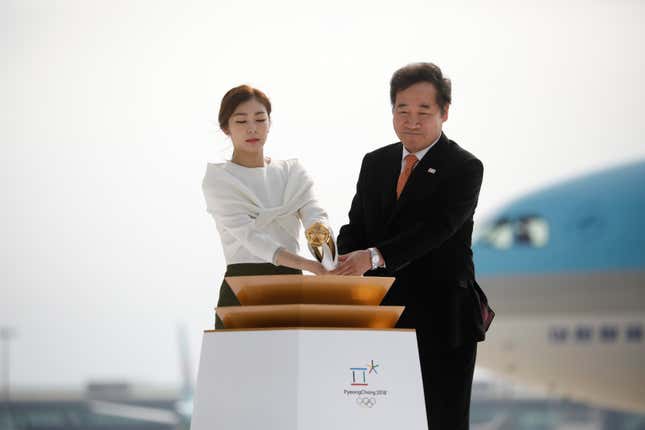 Though South Korean figure skater and 2010 Olympic champion Yuna Kim is no longer competing, she is more famous than most K-pop celebrities in the country. Her go-to makeup artist for public appearances, Jung Saem Mool, aka JSM, pioneered the iconic looks of Korea's top pop stars—as a matter of fact, JSM's work on stars like BoA, the Britney Spears of South Korea, is why K-beauty aficionados are so obsessed with the trend of glowing skin that appears almost translucent.
"Winter in Korea tends to be very dry. In order to prevent skin from getting dry, I do different skincare for the morning and night," JSM explained over email. In the morning, she uses Essential Mool Cream from her eponymous beauty line, a liquid moisturizer that doubles as a makeup primer to keep products locked in place. At night, she recommends using sheet masks to keep moisture in balance, and wearing a lip moisturizer like the Laneige Lip Sleeping Mask, which is like an overnight cream for your lips.
"In the winter, lips tend to get flaky due to dryness and [that makes it] hard to wear pretty lipsticks," she explained. While Korean celebrities like to keep their skin looking as natural as possible, they love sporting high-impact pink, red, or coral lipstick, like JSM's own High Color Lipstick. "K-beauty makeup also has a skin first approach so the 'no makeup' makeup look has always been in trend," K-beauty e-commerce retailer Soko Glam founder Charlotte Cho added over email. "Chok chok and 'juicy makeup' are huge K-beauty trends and are essentially dewy, hydrated bouncy makeup and skincare looks, which I can definitely foresee on the rink."
For all the PyeongChang athletes who aren't going home with medals, we hope they stock up on Korean beauty products instead. Those are sure winners.