People at Fashion Week are usually hungry—and no, I'm not making an off-color joke about the models, who are typically provided with a catered buffet backstage. I'm talking about the editors and stylists and buyers and celebrities and socialites and bloggers—er, influencers—attending the shows. It's cold outside, they've been running around all day, they're wearing uncomfortable shoes, and they haven't really eaten all day, all week, or even all year in order to fit into their Instagram-ready outfits. They need sustenance, and this past week, while showing the Fall 2018 collections, the designers at New York Fashion Week provided.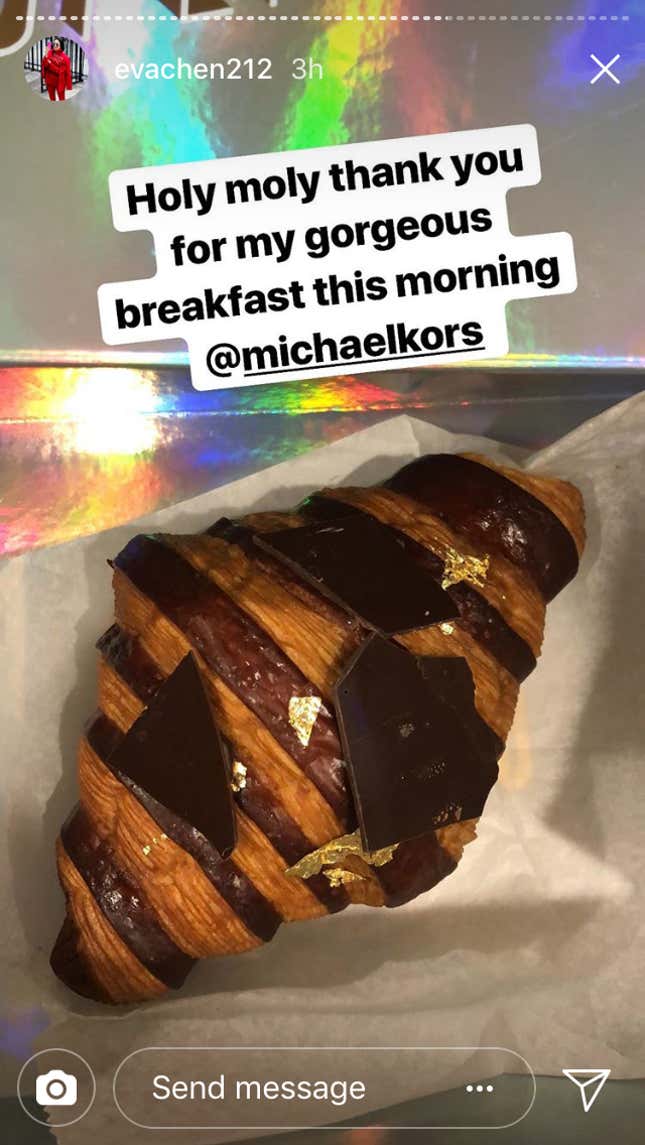 Invitations to the Calvin Klein show, designed by Raf Simons, were sent out in the form of silver metallic bags of popcorn, as confirmed by Instagram's head of fashion partnerships, Eva Chen, who dutifully documented her sojourn through Fashion Week via Instagram Stories. At the Klein show in the American Stock Exchange building, 50,000 gallons of popcorn half a foot deep covered the floor, so that both models and attendees had to wade through through the crunchy bits and pieces. Many of the models walked down the popcorn-laden catwalk with bags of popcorn branded with the company's logo in their hands. (Hot-shot brand Monse's boardwalk-themed afterparty also featured popcorn—though for eating only.) The runway at Raf Simon's eponymous menswear show was transformed into a bacchanalia with piles of bread, cheese, cakes, waffles, fruit, vegetables, and wine. Guests were encouraged to take a bite.
Meanwhile, Gabriela Hearst hosted a luncheon at Café Altro Paradiso in SoHo, where attendees dined on pasta, cheese, and prosciutto while models gingerly whisked around in luxurious coats. Influenced by international marbling techniques, designer Rosie Assoulin provided marbled meringues, crepes, and cakes alongside marbled velvets, silks, and cottons. And Chromat—the only New York Fashion Week mainstay to champion diversity on the runway every season—outfitted some of its models with Flamin' Hot Cheetos on the runway.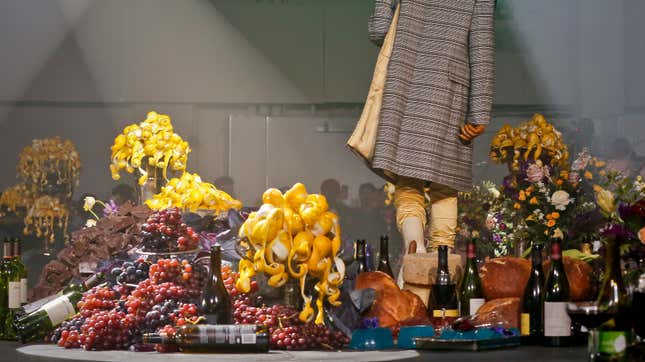 One morning, Chen Instagrammed a breakfast of a chocolate croissant with flecks of gold leaf, courtesy of Michael Kors. At the BOSS presentation, attendees were offered milkshakes, burgers, and fries while they viewed the revolving platform of models. At The Row, designers Mary-Kate Olsen and Ashley Olsen offered goodie bags with crystals—as well as strange-looking scones, shaped like crystals.
Fashion and food both share a dependence on aesthetics these days—Assoulin's carefully selected marbled fabrics speak for themselves. But there is a certain delight and novelty in the intermingling of food that looks as appealing as the clothing. In our age of Instagram and magazines like Cherry Bombe (a publication celebrating beautiful women like Karlie Kloss and Chrissy Teigen who eat and cook beautiful food) and the dearly departed Lucky Peach (a quarterly food publication co-founded by Momofuku chef David Chang whose visual aesthetic influences food magazines like Bon Appétit), food has become elevated so that it can no longer just taste good—but like fashion, it has to look good, too.
It is a sharp contrast to the industry's attitude towards food in the 1990s—when cigarettes and coffee were considered a meal— followed by a veer towards normalcy after an obsession with "juice cleanses" in the early aughts. The fashion industry still worships thinness; in fact, the current models on the runway are noticeably thinner than '90s supermodels like Cindy Crawford, which is why the fashion-meets-food gimmick is such a paradox: Is anyone eating, or are they just Instagramming?
But perhaps the food-in-fashion trend is just about practicality—after all, no fashion designer wants a hangry critic sitting front row and center at their show.