This was a real estate-heavy year for the Academy Awards: From the Kubrickian southern manse in Get Out to the London townhouse in Phantom Thread, production designers were well aware that a film's setting could be a core part of its overall narrative.
While we were all charmed by the breezy Italian villa in Call Me By Your Name, many of this year's best picture nominees featured backdrops just as handsome as Armie Hammer. Only a few of the homes are currently on the market—though we've included details on their approximate cost or value. But they will all be remembered for their cinematic importance. Here are some of this year's most spectacular:
Phantom Thread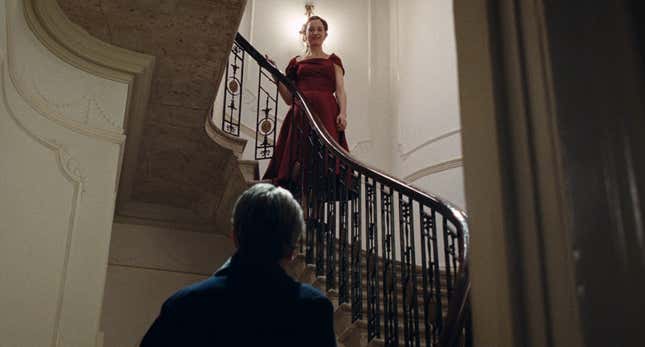 Reynolds Woodcock, the short tempered obsessive fashion designer played by an impossibly dapper Daniel Day-Lewis, has two homes in the film. One is a wellies-and-duck-shooting affair in the country for when he gets in one of his moods, and the second is a tony London manse that is home to his fashion house (pictured).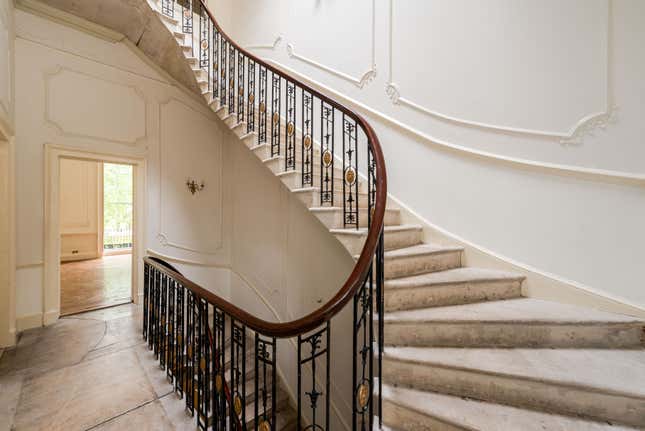 Cost: Over £15,000,000 ($20,660,163.57) and currently on the market.
The Space
10,403 square feet
Five-stories
7 bedrooms
7 bathrooms
8 reception rooms
Fun Fact: Daniel Day-Lewis slept here.
Lady Bird
If you're not into multi million-dollar townhouses, you may be better suited for one of the Sacramento dream homes featured in Lady Bird. The "big blue house" (below) is a symbol of suburban royalty for the film's main character, played by Saoirse Ronan, as well as the source of her social demise.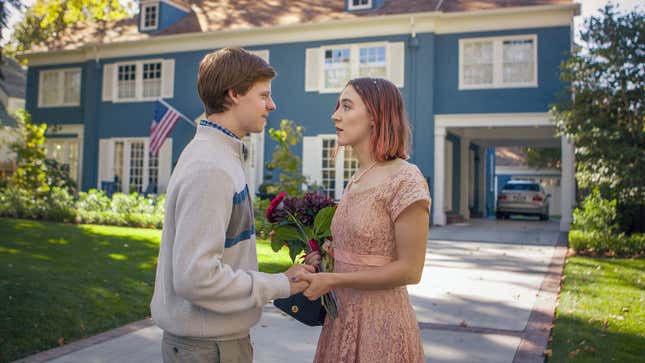 Estimated value: $1,351,035
The Space
2,588 sq ft
4 beds
2 bathrooms
Fun Fact: Ronald Reagan used to live in the so-called Fabulous 40s neighborhood, where the house sits.
The Darkest Hour
An Anglophile dream, this film recreates iconic locations like 10 Downing Street, London's Parliament building, and the Churchill war rooms. For Buckingham Palace, set designers used Yorkshire's Wentworth Woodhouse (below), the largest private residence in the United Kingdom. Wentworth Woodhouse is rumored (paywall) to have inspired the Pemberley estate in Jane Austen's Pride and Prejudice.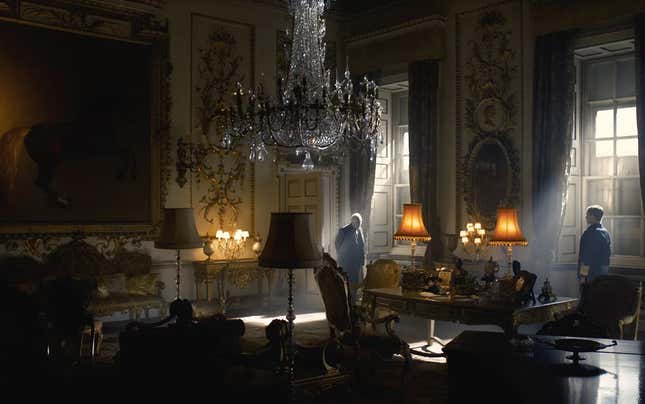 Cost: £7 million (over $9.5 million) when it was sold to the Wentworth Woodhouse Preservation Trust last year. But it needs over £40 million in renovations.
The Space
250,000 sq ft
365 rooms
15,000 acre estate
Fun Fact: In 1972, Earl Fitzwilliam, the coal baron who owned the estate, set fire to 16 tons of family documents in an inferno that lasted three weeks. They are thought to have contained dark secrets about the family's line of descent (paywall).
Get Out
The WASP-y Armitage family lives in upstate New York in the film, but the property itself is actually in the deep south, and the film is mostly shot in Fairhope, Alabama. And with good reason: The estate's Antebellum exterior is reminiscent of a Southern plantation, and its creepy, wood-paneled living quarters are straight out of The Shining.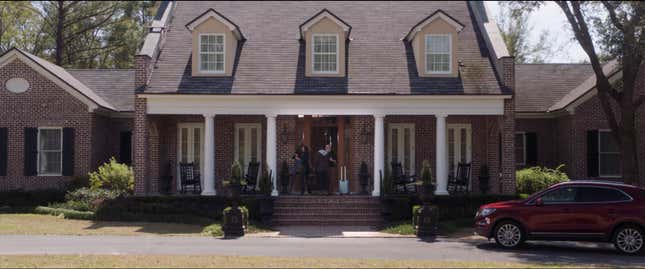 Estimated value: $883,125
The Space
4,292 sq ft
6 bathrooms
6.2 acre lot
Fun Fact: The basement scenes of Get Out were shot in nearby Mobile, Alabama in an abandoned schoolhouse and former Confederate hospital.
Shudder.
Call Me By Your Name
This would have been a perfectly good film if it was two hours of Timothée Chalamet frolicking around the palatial 17th-century mansion where the story takes place. The estate features frescoed chambers, Shakespearean balconies, and gardens rich with fruit trees—and has become almost as beloved as the film itself.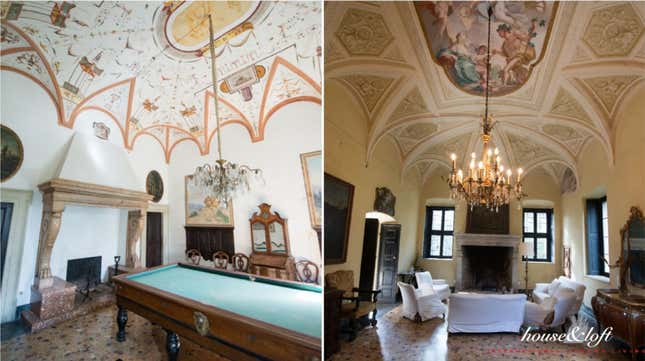 Cost: €1.7 million ($3 million)
The Space
15,000 sq ft
14 rooms
7 bathrooms
8 reception rooms
5 acre private garden
Fun Fact: Some of the frescoes were built by Aurelio Busso, a pupil of Raphael. Oh, and the property is currently on the market for roughly $3 million. 
The Post
Set designers transformed an old AT&T building in White Plains, New York, to serve as the Washington Post's offices. But the real magic is the studio recreation of the late Katherine Graham's actual home, Georgetown's iconic Beall-Washington House— where Meryl Streep hosts several soirees throughout the film.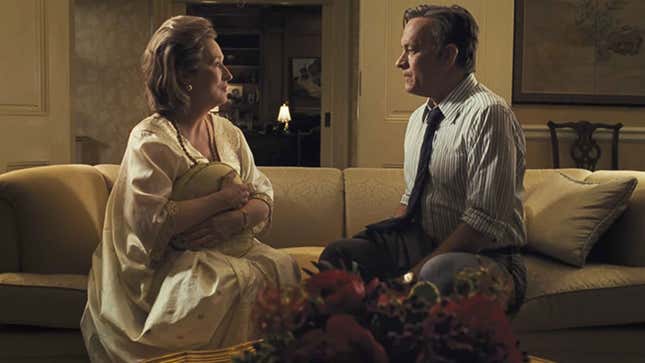 Current value: $11,099,140 (though it was bought by venture capitalist Mark Ein for $8 million after Graham's death in 2001)
The Space
6,956 sq ft
9 beds
7 bathrooms
Fun Fact: The property is named after the Beall-Washington family, which was formed through union of George Washington's grand nephew and a descendant of Scotsman Ninian Beall.
Honorable Mentions
The Shape of Water
Sadly, Eliza's emerald-hued apartment, wedged above a movie theater in 1960s Baltimore, was a set piece. But to evoke an aquatic feel, set designer Paul Austerberry superimposed what he described to the Hollywood Reporter as the "most famous shape of water"—artist Katsushika Hokusai's Great Wave Off Kanagawa—on the walls, and then painted over it in tinted blue plasters.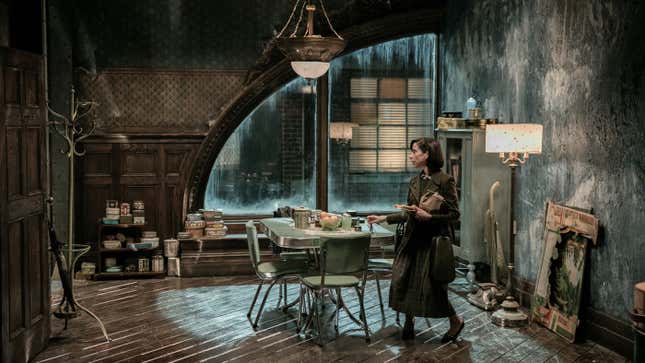 Blade Runner 2049
Nominated for best production design, set designer Dennis Gassner channeled brutalism and managed to communicate dystopian beauty in a world deeply ravaged by climate change.