At first glance, Forhims.com looks like a "gifts for your man" section of Glossier. The aesthetic similarities are uncanny: Pale pink and peach, pretty young models, a glib, all-lowercase brand name in a borrowed Goop-esque font.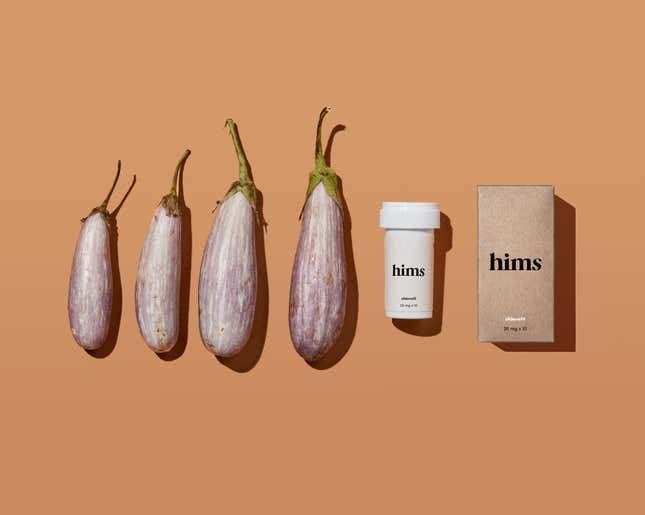 Beyond its font, Hims and Goop share far more. Founded in 2017, Hims is "tackling the lack of innovation and discussion in the men's wellness industry," says serial entrepreneur Andrew Dudum, who started the brand after noticing his male peers were curious about touchy health topics (hair loss, erectile dysfunction, acne) but uncomfortable speaking about them. Armed with an underserved market-cohort—and with a resume full of Silicon Valley moonshots—Dudum likely saw an opportunity.
Indeed, while most popular female wellness brands have a men's shop, there has yet to be men's wellness brand that exclusively markets to men using an aesthetic like this one, let alone openly identifies as a men's lifestyle brand.
The now 25-person company takes a two-fold approach to selling men's wellness: On the innovation front, Hims abandons the standard branding—which, for men, vacillates between gentlemanly and fratty—opting instead for millennial pink packaging and generous use of eggplant emojis.
The goal is for Hims to become a one-stop shop for men's wellness. To do so it's changing the conversation around male insecurities (mostly—like its notoriously chatty female wellness counterparts—by starting one). Dudum sees Hims as a place to have straight talk about typically stigmatized topics "in a frictionless, convenient and nonjudgmental way."
Pink is the new blue
You've seen the ads: A dad-bod dude ponders his disappearing hairline in the mirror —try Rogaine!—or a forty-something sips coffee with his approving wife: "Since Phil started taking Viagra…" The messaging around men's wellness is clear: Poor health is for the old, weakness is unmanly—and you should probably be embarrassed about it all.
It's the direct opposite of female-focused marketing in wellness—which for years has been about embracing the flaws, and creating a safe space to discuss them. Now Hims is adopting that technique, effectively wielded by the Goops and Glossiers of the world, and using it to sell wellness to men.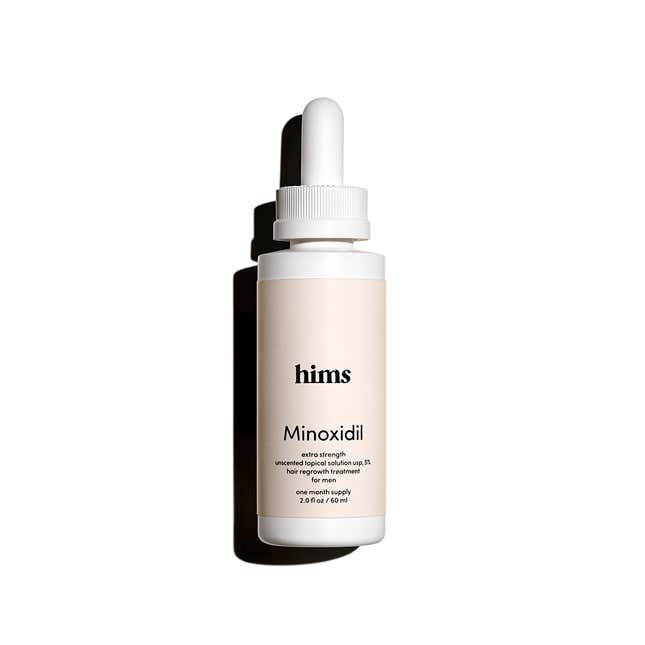 It's not like the medicine and supplements Hims is offering are anything new; rather the packaging in pastel bottles is. As Dudum sees it, most male grooming products feature "branding with dark colors or mahogany accents," or they're steeped in testosterone—think old Spice or Axe.
Goop for men? 
"Hims Is Basically Glossier for Dudes" wrote Racked when the brand launched last November. And, yes, some of the site's content certainly skews a little Goopie (see: Does masturbation cause hair loss?)
But while Hims is taking a page from women's beauty brands, a deeper dive into the website reveals some clear differences. For instance, Dudum told Fast Company last year that Hims' products are meant to be mass-market, and the site's surprisingly affordable items back that claim up—which is something that can't be said of many women's brands.
Moreover, the site features far more black and brown models than most wellness brands, especially female ones. Dudum says this is because "most guys" will encounter a portfolio of male health issues, so it's critical that Hims appeals to "a broad, diverse group," including a target demographic from the early twenties to early forties.
There's no such thing as the "hims man"
Unlike the ultra dewy Glossier girl and soul-searching Goopie, Dudum says "there's no 'type' of man that uses these products; there's no [archetypal] 'hims guy.'"
"It doesn't matter who you are," he writes, "If you have a question about your wellbeing, you have options and we want to help."
The approach is clever: If no man is "hims man," then every man can all be one, especially if means a bigger slice of the $3.7 trillion wellness pie. Ultimately, getting men to air out back alley conversations about bad breath and body odor offers a welcome opportunity for them to be vulnerable and open about wellness—which is probably something we should all get behind.