Subscribe to the Quartzy newsletter to receive this in your inbox each Friday.
Happy Friday!
I got to spend some time with Oprah Winfrey and Gwyneth Paltrow this week, in the form of Paltrow's new Goop podcast, released fittingly on International Women's Day. As I wrote for Quartz, Paltrow's interview with Winfrey touches on topics one might expect from two media moguls and lifestyle gurus: mindfulness and meditation (you know, from your bathtub overlooking the Pacific), the #MeToo movement, how to ignore the haters, and so on.
But the most intimate and unexpected part of the podcast—when it feels more like just listening in on a conversation between two women—is about mothering.
Winfrey has never had children of her own, while Paltrow has two. Still, Winfrey drops what Paltrow calls "the most profound" definition of motherhood she's ever heard—and I'm pretty sure Gwyneth makes Oprah cry.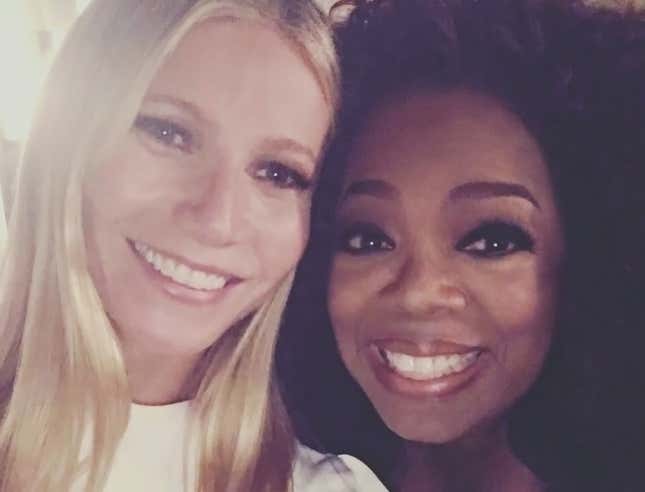 Winfrey discusses not only her choice to refrain from having kids, but also the rich and varied ways that decision has led her to be a mother beyond the conventional definition. She demonstrates how channeling her nurturing instincts toward people other than her biological children has made her the dynamo she is today. Winfrey's success, after all, is based on her ability to relate to others, and to make many of us feel that she's invested in our self-actualization.
The woman who showed Winfrey this way of mothering—nurturing, inspiring, and encouraging people to become the "the most authentic, truthful version of yourself"—was none other than the writer Maya Angelou:
"She was the mother figure for me," says Winfrey. "I mean, I learned my greatest lessons from her. She was my comfort. She was my nurturer. She was my inspiration. She was the person who was saying: 'You can do it babe, you can do it.' And she'd say, 'Take it all the way!' And then she would point to the stars. 'Take it all the way! Go all the way. Go all the way.'"
"Without sounding completely cheesy," says Paltrow, "that's what you are to so many of us."
It's a striking moment. It's clear that Paltrow is speaking from a personal place—not that she's putting Winfrey on a pedestal as a societal savior, but that Winfrey has genuinely made the space for Paltrow, and many others, to find something in themselves. For her part, Winfrey has been a fabulously popular talk show host, a TV and media titan, an Oscar-winning actress, and even lately a much-wished-for presidential candidate—but the idea that many see her as a maternal figure seems to catch her unawares.
"I don't know. I wouldn't be able to bear that," Winfrey stammers. Her voice breaks for a second. "I don't know what that would mean."
Paltrow presses on: "And you somehow gave us all permission to seek that," she tells Winfrey.
"Well, that's good," Winfrey replies after a pause. "Well, that's a good life!"
It's also a good start to Goop's first foray into podcasting—and a tough act to follow.
Speaking of women's personal choices.
Quartz's Rosie Spinks recently dove into what's known as the #hormonefree movement—women who forgo contraception in the form of birth control pills and IUDs in favor of fertility tracking apps, the "rhythm method," and, well, fate. (To be fair, I know women who have gotten pregnant while using all of those methods.)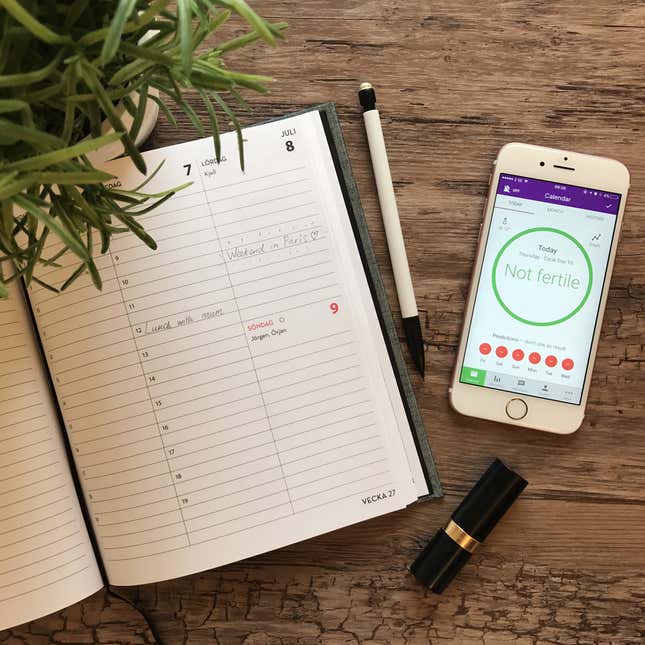 "In a world where women are acutely aware of the ways their bodies are violated, legislated, and objectified, it's easy to see the appeal—and indeed, the somewhat radical nature—of getting intimately acquainted with one's own," Rosie writes. But she also points out that fertility-tracking requires extreme daily vigilance and is recommended only for a women within a pretty narrow category of lifestyles.
Rosie writes about the way that fertility tracking apps, with the help of Instagram influencers, are selling the choice as a lifestyle aspiration on par with cutting out dairy foods or screen-time. It's a wholly modern chapter in contemporary contraception, and worth a weekend read.
Recipe: The Brandy Alexander
Annaliese Griffin, a Quartz reporter and Vermont-based working mother who has had it with snow days this year, recommends embracing the waning days of winter with a Brandy Alexander: a concoction of two ounces of cognac, one ounce of crème de cacao, and one ounce of cream shaken with ice, strained, and topped with fresh grated nutmeg.
"It's plush and boozy and feels fancy," writes Annaliese of the drink, in her spirited defense of creamy cocktails. "The depth of the brandy and its considerable bite combine with the cream in a way that accentuates both elements—they're somehow creamier and boozier together than either ingredient would be alone."
If you're on a roll, you might commemorate this weeks' 20th anniversary of The Big Lebowski (20th!?) with a home screening and a White Russian. (Annaliese also offers a recipe for that, along with her favorite, the Colorado Bulldog.) The dude abides.
Have a great weekend!

PS: Just getting around to those Oscar movies?
If the Academy Awards on Sunday inspired you to finally see some of the nominated movies, well, good for you! It was a strong field, and a lot of them are available to stream now. For $47, reports Quartz's Ashley Rodriguez, you could watch nearly all of the Best Picture nominees between services like Amazon, iTunes, and Fandango Now. And of course, many of 2017's great movies weren't honored at the Oscars. For more movie-watching inspiration, check out Adam Epstein's alternative nominees, which could set you up for a weekend of strong women on screen, with flicks like Girls Trip (best actress, Tiffany Haddish) and Wonder Woman (best director, Patty Jenkins.)