Originally, Sir William Henry Perkin set out to cure malaria. Instead, on his would-be 180th birthday, he is memorialized in a Google doodle for his chemical contributions to modern fashion.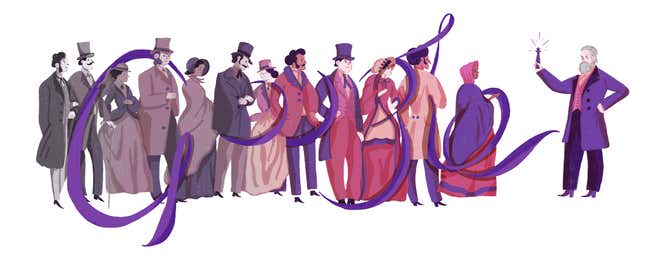 Back in 1853, Perkin, then only 15, started his career as a chemist working under August Wilhelm von Hofmann at the Royal College of Chemistry—now known as the Imperial College London. Their goal was to come up with a cheap, lab-made quinine, which was the best way to treat malaria in the 19th century.
Three years later, while most of his peers (and Hofmann himself) were on spring break, Perkin found himself toiling away in Hofmann's attic. As he cleaned a beaker after another failed attempt to make quinine, he noticed something peculiar. When he scrubbed away a dark sludge on the glass with alcohol, the combination of chemicals made a vibrant, electric purple.
Perkin, who had an eye for color as an amateur photographer and painter, recognized he had stumbled upon something more lucrative than an anti-malarial substance. He quickly relocated his work to his own apartment, where he, his brother, and a friend figured out how to produce the dye in larger quantities. In 1856, when Perkin was only 18, they patented the compound known as mauvine.
Perkin made a fortune thanks to his discovery. Mauvine was the first synthetic dye; previously, all clothing was colored from extracting juices from plants and animals. Purple in particular came from mollusk mucus, according to the Independent. So when mauvine became available for clothing makers during the peak of the Industrial Revolution, it almost immediately became high fashion. Queen Victoria herself wore a mauvine dress to public events, as did the French empress Eugénie.
The chemist went on to create more aniline dyes for clothing, until he died in in 1907 from pneumonia. Although he never did figure out how to make synthetic quinine (that discovery went to two American chemists in 1944), his work ignited the vibrance that fashion maintains today.