Until recently I thought that pies were immune from the aesthetic arms race of Instagram. Sure, they could be nicely crimped along the edges or neatly-cut to make a pretty vent in the top crust (I once carved a cute chick on the top of a chicken pot pie using a sharp knife), but there was no real way to fancy up the humble pie. Then I started seeing Twin Peaks-themed pies, David Bowie-themed pies, and incredibly intricate lattice pies in my social media feeds, not just on Pi Day, but all the time.
The good news for anyone who feels intimidated by all these custom pie designs is that this is a problem you can buy your way out of. Making a beautiful pie just takes a few special tools, and it's way less messy than trying to frost a fancy Instagram cake.
Lattice upgrades
You could spend hours upon hours braiding thin strips of pie dough or weaving a complicated lattice. Or, you could just use a pie crust cutter, which is basically a big cookie cutter. Williams-Sonoma makes a basic lattice design as well as a wintery snowflake and Nordic Ware sells several two-pattern-in-one reversible pie top cutters. I'm partial to the apple and maple leaf combo. You can also use a stencil or free-hand cut a design in the top crust—the worst that could happen is that you have to re-roll some dough.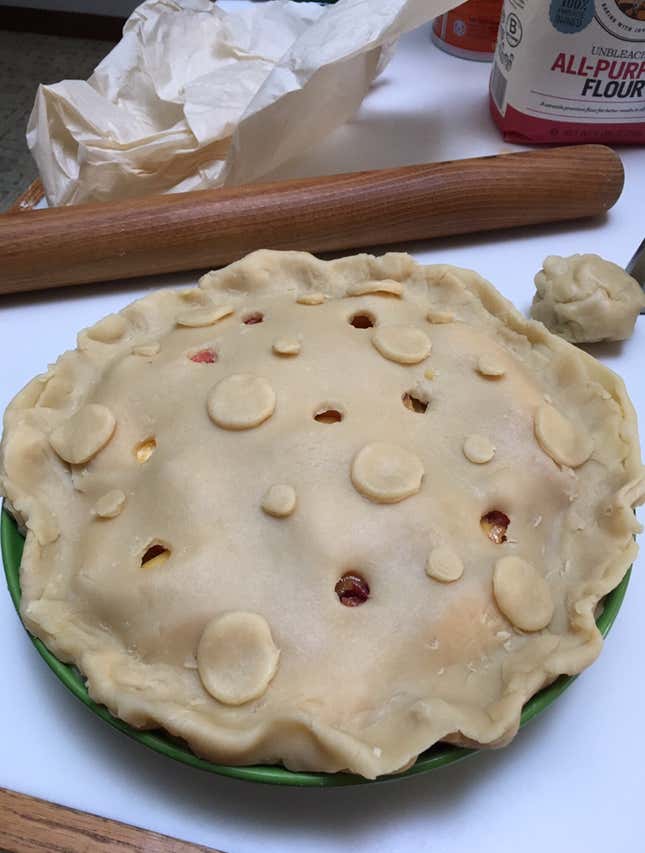 Cut outs
You can treat pie dough just like cookie dough, using cookie cutters to stamp out small designs. One approach is to cut out a lot of shapes and cover the whole top of the pie. Or you can just scatter a few stars, hearts or leaves across the top.
Very nearly any object you can think of is available in cookie-cutter form. There are specific pie design cutters available, like these cute cherries from King Arthur Flour. They will usually have some sort of relief design that adds detail and a plunger, so you can pop them out easily. Pie crust can be more delicate than cookie dough, but you can use any kind of cutter, whether it's a dachshund, puzzle pieces, or NSFW. You could even create a layered theme with different spring or Star Wars shapes.
Edges
If your edges always look sort of mangled (hand raised high over here), lining the edges with layered leaves or hearts or circles cut with a cookie cutter is a nice option. Or, you can invest in a pie crust decorator, which I have never used, but am strongly considering purchasing.
YouTube inspiration
Usually I'm skeptical when it comes to YouTube baking hacks, and admittedly, some of the techniques featured in the videos above and below would be quite time consuming. But if you're up for the challenge, almost all of these examples are actually achievable with a little patience. YouTube is also the best resource for visual instructions on how to make a beautiful lattice, should decide that's a challenge you want to take on.