Sondra Perry is an abstract artist known for using technology to examine systematic, racialized violence. Her latest offering is an all-consuming installation that, in many ways, feels inescapable, yet necessary in this day and age.
Videos showing violence against black people (usually at the hands of white authority figures) crop up on social media like clockwork. These grainy videos—of young black girls being slammed to the floor, young black men being kicked in the head and punched in the face, and black people being shot, often fatally—are nestled between memes and articles vilifying millennials for their avocado consumption. They are often accompanied by viral hashtags, anger that spills onto the streets in the form of protests, which are displayed, dissected, and vilified on the 24-hour news cycle. These images are everywhere, easy to access, and despite the deluge of daily, shocking content, they are, more remarkably, easy to ignore. People can scroll past, change the channel, and most simply, just look away. Like white noise, the violence is ever-present but has since dissipated into the background, like elevator music—it's there, but easy to tune out.
Perry, a 32-year-old artist from New Jersey, forces visitors of the Serpentine Sackler Gallery, London to confront the daily reality of violence against black people and the fraught relationship between black identity and technology. There is no turning it off or turning away. Her latest installation Typhoon Coming On, delivers wave after wave of dread and discomfort. The name of her installation isn't just metaphorical, it's one that's also intimately tied with Britain's role in the North Atlantic slave trade.
The title Typhoon Coming On is derived from J.M.W Turner's 1840 famous painting Slavers Throwing Overboard the Dead and Dying, Typhoon Coming On (often known simply as Slave Ship). The 1840 masterpiece depicts one of the worst atrocities committed by the British during the north Atlantic slave trade; in 1781, a ship captain threw sick enslaved Africans members overboard for the insurance money. Some enslaved prisoners jumped willingly. A judge would later rule in that captain's favor.
In the original painting, a macabre red sky merges with a sea teaming with blood, and black bodies sinking, some still wearing their chains. Perry uses the painting and digitally manipulates it to create an immersive animation. Perry's re-mastered video doesn't have the dead bodies or ship, but the rolling alternating waves of purple, red, dark brown, often molten-like waves leave the viewer with the same eerie feeling. This immersive environment was conceived specifically for the Serpentine Sackler gallery—the video plays on the outer wall surrounding the gallery, accompanied with a haunting soundscape that consumes you.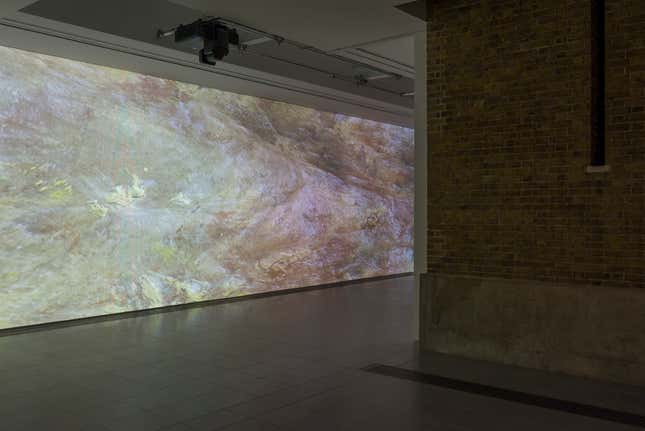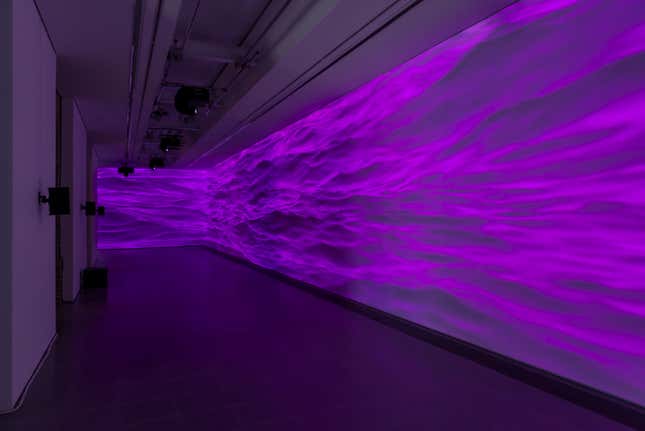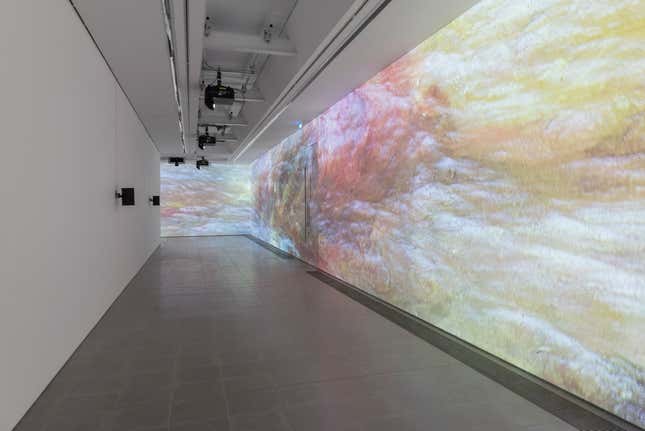 The exhibition includes three other installations by Perry. Visitors can sit on a bicycle workstation and watch Perry's own avatar on a three-part screen positioned above the handlebars. The bald avatar delivers a damning monologue on productivity, racial inequality, and the contradictory nature of success under capitalism. In another installation, visitors can sit and use a water-resistance rowing machine and row—somewhat hopelessly—against the thick, molten sea.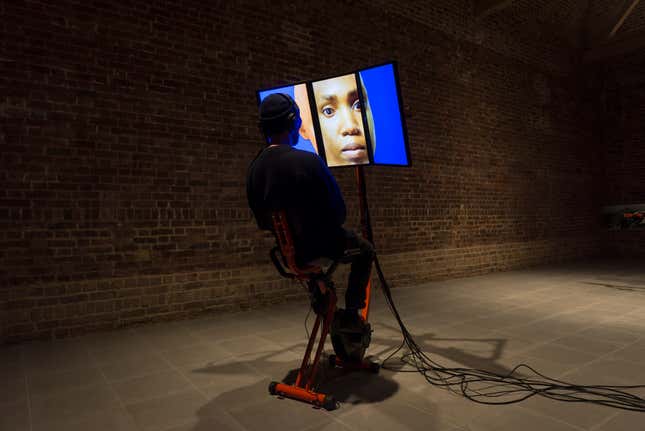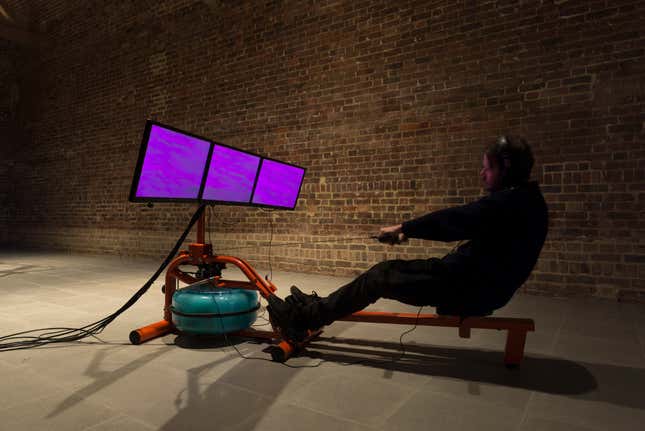 Perry's final and perhaps most evocative installation is called TK (Suspicious Glorious Absence). The wall projects an animation that is an extreme close-up and modified image of Perry's skin. Right in front of that wall is a monitor, which shows video footage from body cameras, protests, her family, daytime television, and American singer Eartha Kitt singing "I want to be evil." The video showcases racial prejudices, but also subverts it. At times, the video goes blank and just shows the audio of African-Americans describing police brutality. Some interactions are subtitled.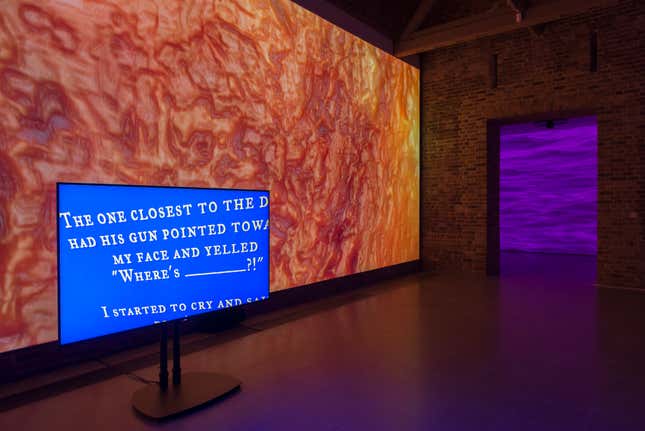 While videos of police brutality are short, sudden bursts of violence that people can scroll past, Perry slows down these violent interactions and lets them play out in excruciating detail. The subjects of the video are heard across the gallery, as the molten sea pulsates.
The installation is an acknowledgement of the contradictory impact of technology on black people's lives. Issues around police brutality wouldn't be at the forefront if it were not for police body cameras and the ubiquity of camera phones. That said, that very technology is complicit in the normalization of the violence that activist want to highlight.
Perry is an artist known for her abstract work, but visitors leave Typhoon Coming On with a clear warning against fatigue and more importantly, complacency.