The results are in: After much speculation as to whether Donald Trump's bumpy presidency would affect his real estate portfolio, a new report from real estate data and listings website CityRealty reveals that Trump-branded buildings have lost their "luxury" designation in the Big Apple due to falling prices.
The report compares the prices of Trump properties to the rest of Manhattan's luxury condo market, and found that the average prices per square foot (PPSF) in Trump condos have been far below luxury condos in the city as a whole. It concluded that with 9 of 11 Trump condos performing poorly, investment in the Trump property portfolio would be a "middle-of-the-road" decision in 2018.
The breakdown
The report analyzes all of Trump's condos in Manhattan—which have historically been marketed as luxury properties—considering factors like the number of year-on-year sales the buildings have seen, as well as their locations and the performance of neighboring luxury properties.
The Trump Palace at 200 east 69th street fared the worst, with the lowest comparable prices when stacked up against the Manhattan condo average, coming in with an 8% dip over the last decade.
Next, the iconic Trump Tower at 721 fifth ave—notorious for its major secret service presence as the president's pied-à-terre—performed second-worst, seeing a 10% swan-dive over the past several years.
Fake News
While Donald Trump continues to label the properties bearing his name as luxury, the numbers don't back it up. In the Manhattan premium market, Trump condos—which are often 25 years-old—simply no longer fall into that category.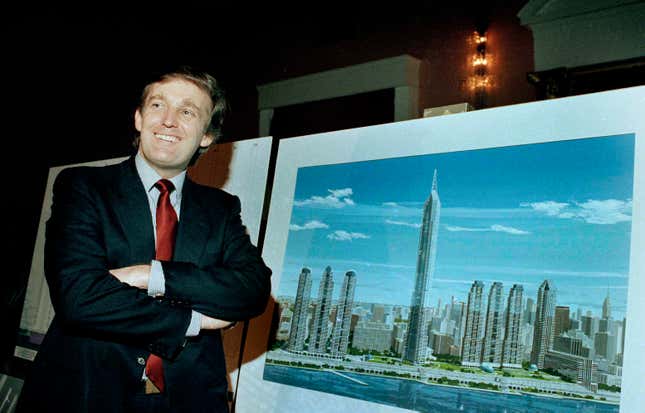 Real estate sharks have questioned whether the Trump presidency would affect his brand in either a good or a bad way. And CityRealty does note that the downward trend could simply be due to the relatively advanced ages of Trump buildings—along with the hyper-competitive luxury market, which is filled with pricey towers like 432 Park Avenue and the One57 building.
That said, the individual analysis does reveal a significantly lower prices in Trump-branded buildings: For instance, the Trump International Hotel and Tower—which is rated by City Realty as one of the Trump portfolio's more valuable properties—has a PPSF just shy of $3,000, but its neighbor, 15 Central Park West, boasts a PPSF of $7,000.
Gabby Warshawer, CityRealty's Director of Research and Communications, agreed that while Trump's reputation does appear to have affected prices, luxury real estate as a whole saw a 5% dip in 2017 compared to 2016,  although "Trump-branded condo prices dipped more, though, and were down 8%" she writes.
And when it comes to competition from new builds, Warshawer notes that they tend to have a "have a different luxury aesthetic than Trump-branded condos," and are selling for higher. "Trump buildings are not going to get any newer" she adds.
Trump's global hotel brand has had a similarly difficult time: Since the Trump presidency began, three of them have been stripped of the Trump name. Meanwhile, Trump Organization is attempting to launch two budget-friendly hotel chains with the Scion and American Idea.
Could Trump's real estate magnate days be over? Perhaps, although the New York Times reports that the Trump Organization is claiming Trump-branded buildings do, in fact, "beat the pants off the prices" (paywall).