If you're looking to spend money at an auction, the smart bet is to go with a piece of furniture rather than a painting. The market for design is booming with average sales prices increasing by 35% from 2016, according to the latest DeTnk Collectible Design Report. The annual survey also indicates a 17% overall growth from last year and that 70% of lots offered were sold.
DeTnk's report is the world's first annual survey focused on the burgeoning collectible design market. Distinguished from the fine antiques market, DeTnk analyzes sales prices of functional pieces that originated from the Art Nouveau period (roughly 1890-1910) to the present. Initiated 10 years ago by architect Rabih Hage, their analysis is based on auction sales data from Christie's (New York, Paris, and London) Sotheby's (New York, Paris, and London) Phillips (New York and London), Dorotheum (Austria) and Wright (Chicago).
This year, Swiss designer-sculptor Diego Giacometti topped the list after gaining record sales for his whimsical tables, shelves and screens sold via a series of Sotheby's auctions. His more famous older brother Alberto, who he shared a workshop with in Paris, is in fourth place. Yves Saint Laurent's favorite husband and wife designers Francois-Xavier and Claude Lalanne (collectively known as "Les Lalanne") also emerged on top of the list. The top-ranking contemporary designer is Australian industrial design superstar Marc Newson, who had several chair and lamps come up for auction last year.
Top 10 Collectible Designers, according to 2017 auction results
Hage says that collectible design market is still very small compared to today's convoluted art market and this is what makes it so exciting right now. "There is much more purity, naivete, and sensitivity in collecting design than collecting art," explains Hage who met with Quartz in New York City earlier this month.
The design market's fluctuations depend on the inventory released by a few serious design collectors around the world. The year 2009 was a high point in the design market, propelled by the blockbuster Yves Saint Laurent auction, which included several arm chairs, tables, and bedroom furniture. One leather and lacquer "dragon armchair" by Eileen Gray sold for €22 million ($26 million).
"If you're a design collector, you are contributing to writing history," Hage says, explaining how collectors can often determine the cultural heroes of an era. "You're helping elevate unknown creators.…You can make an impact. Anyone can be a Medici in design."
Design collectors can also help younger designers protect their ideas and contribute to the industry-wide war against the black market design knock-offs.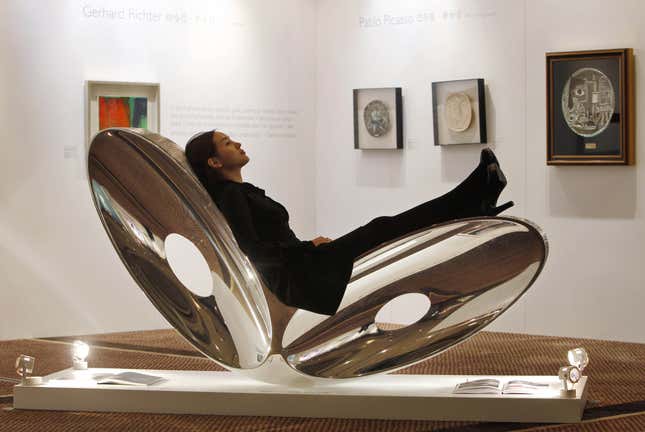 Pro tip: Go with contemporary makers
Apart from eyeing auction results, Hage attends the usual circuit of big design fairs and major museum exhibitions. He's observed that the contemporary design market yields the most exciting discoveries because it's less codified than older design periods. In the wild west of contemporary design, look for designers who get involved in the actual production of their products—instead of those who hand off conceptual musings to artisans. Among his all-time favorites for instance, is Johnny Swing who makes sinuous couches and chairs from by welding together thousands of found coins.
Don't store design: Buy it and use it
Perhaps Hage's most important guideline for buying collectible design is to take it out of the box and use it in your home. True to the aims of design, these pieces are meant to be subjected to the wear and tear of daily life. "It should have the patination and the dust on it," says Hage who avidly promotes the "rough luxe" design philosophy in his architecture practice. Indeed, the listing for Yves Saint Laurent's million dollar Eileen Gray armchair indicated "patinated silver leaves" which added to the piece's allure.
"With good design, you have the emotion of a piece of art and but can use it and touch it!," says Hage.