A decade ago, working in an office with a bunch of people from different companies would be a big no-no, unless you were a very avant-garde—or thrifty—business.
Today, with the meteoric rise of companies like WeWork, the shared office trend has caught on in a big way, with 2018 seeing nearly 19,000 total coworking spaces worldwide.
Co-working spaces can vary in their degree of design, but one thing the most successful examples share is that they attract and retain clients by resisting traditional office design, or completely turning it on its head. Instead, you'll see them pull aesthetic cues from coffee shops, libraries, and even hotels.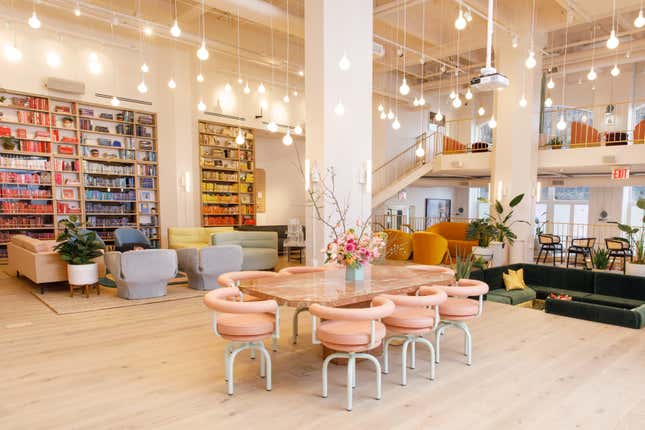 Trending in Tel Aviv
It's possibly no surprise that Tel Aviv—the home to WeWork founder and CEO Adam Neumann—is leading the coworking trend. And as the world's fifth largest tech hub, Tel Aviv has become a mecca for startups for several years now.
But there's more to the story, explains Avner Yashar of Yashar Architects, one of Isreal's leading architecture firms.
Despite its small size, Israel actually boasts one of the most important high-tech sectors in the world—one that's ideally suited to the shared office space concept.
"Co-working is typical of young, open-minded and offbeat companies," he writes over email, noting this can mean tech companies, which have different workspace requirements than a typical law or accounting firm. These companies "require flexibility, sharing, and teamwork on joint projects," he notes, writing that the changing needs has lead to a boom in "novel office architecture, innovative and unconventional thinking."
Check out some the city's most glorious office spaces:
Herzl 16  
A "work-play hybrid concept," this shared office is housed in the restored Pensak Passage building (Tel Aviv's first shopping center) and opens up into an Italian-style courtyard (below) where you can find Israel's first elevator. It's highlights include a Japanese-Israeli Izakaya restaurant, a vinyl record store, and serious Tuscan vibes.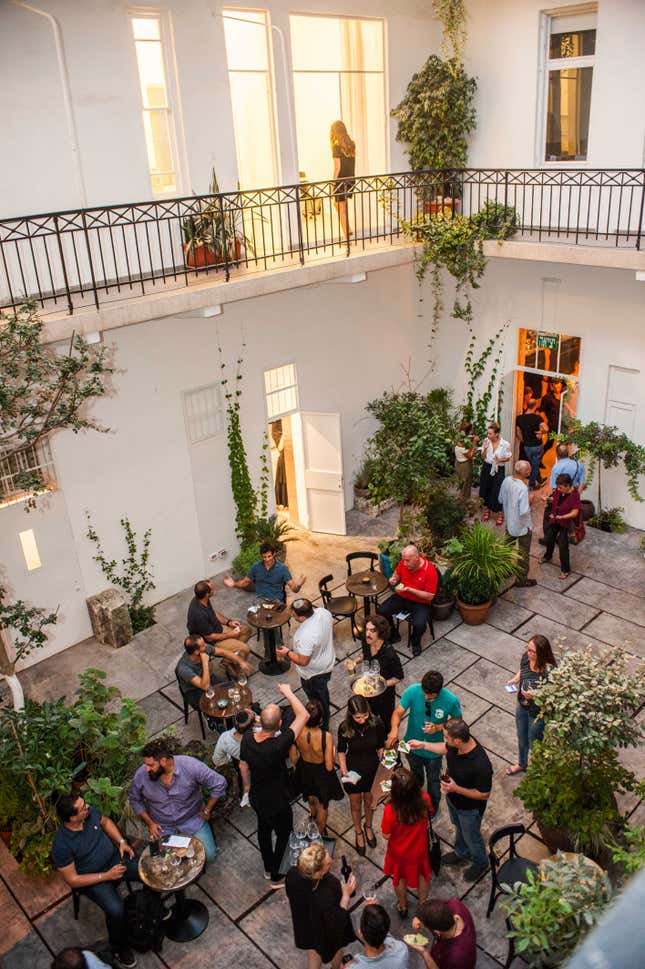 Landmark TLV and Da Vinci 
This "mini-city" takes the form of 245,000 sq meters of mixed-use space. Each office has shared balconies overlooking a public courtyard, as well as into a shared internal atrium in Landmark TLV. The offices also have views of the city skyline and the Mediterranean Sea.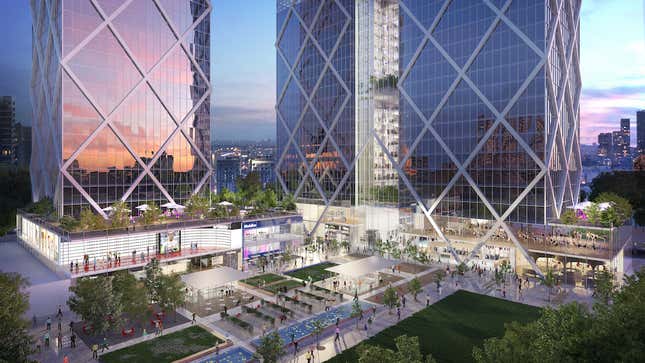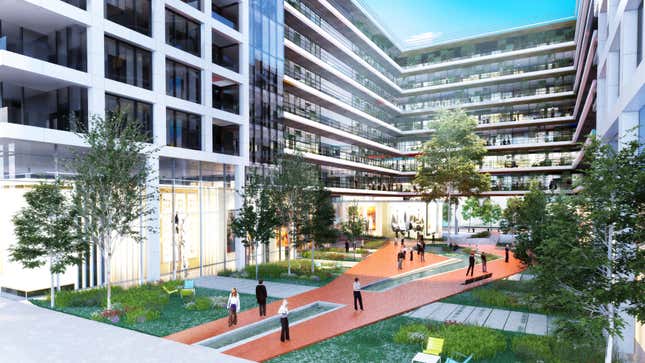 Labs TLV
Ultra-professional with unbeatable views, this office occupies the top floors of the tallest skyscraper in Israel. With plenty of conference and event space and meeting rooms with panoramic views of Tel Aviv (below), the spot also has a host of fitness facilities, eateries, and business lounges.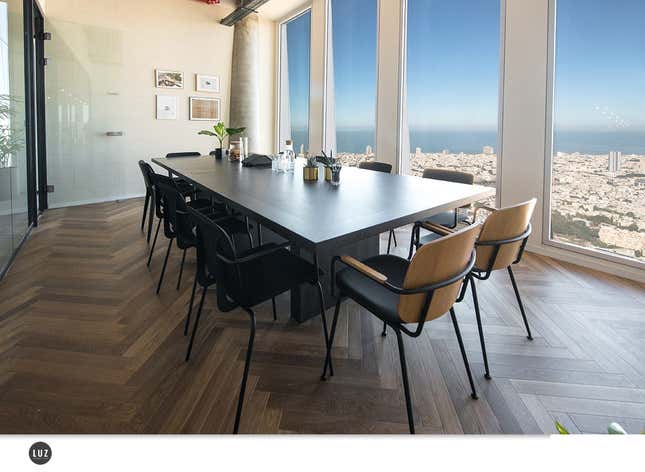 Google Tel Aviv
Google's Isreal campus is co-working integrated with real office space (below), with seven out of eight floors housing staff members, while the remaining floor is dedicated to 'Campus Tel Aviv', a dedicated hub for entrepreneurs and developers. Each floor was designed with a different aspect of the local identity in mind, in order to illustrate the diversity of Israel as a country and nation.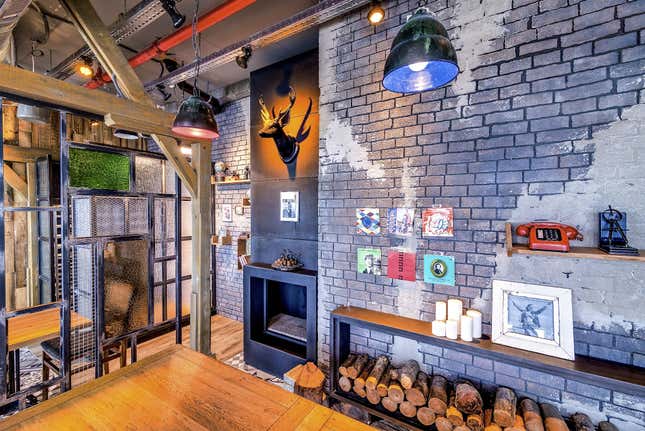 Down with cubicle farms
The death of the office may be inevitable as a more and more people begin working remotely (paywall). In fact, firms (especially in tech) have made headlines in the past year after shuttering their swanky brick-and-mortar offices because everyone was working from home anyway.
So is the workplace redundant, or is it just undergoing a shift? The former certainly isn't true in Tel Aviv, and globally we're seeing traditional offices steadily replaced by spaces designed for workers, not mere work: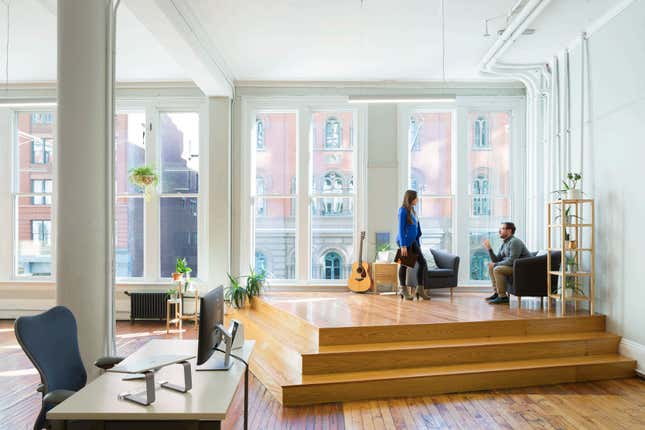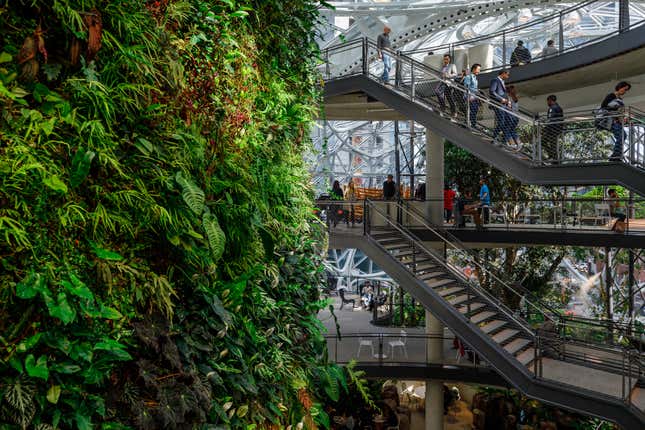 Who knows what the new era of offices will look? We could see traditional offices replaced by more design savvy models, as co-working spaces continue to revolutionize what a workspace should be (and look like). Regardless, we hope they'll be more interesting than your cubicle.