When Evan Bloom decided to open Tokyo's first Jewish deli, he didn't realize he'd become a pastrami smuggler in the process.
Bloom, and his brother Ari, co-founders of Wise Sons Jewish Delicatessen in San Francisco, launched their first restaurant outside the Bay Area in late February, opening Wise Sons Bagel & Coffee near Tokyo station. Beyond feeding hungry locals, the brothers are aiming to bring their bagels, pastrami, and matzoh ball soup to Japanese diners in a way that stays true to the family recipes their business was built on. They also hope to recognize local ways of eating—which requires some creative and careful thinking.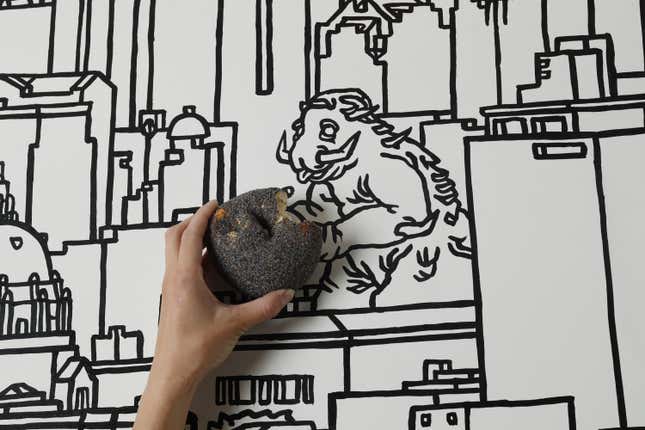 The bagel is probably the best example of Wise Sons' balance between American and Japanese tastes—which is fitting for a deli. Bagels are a growing obsession in Tokyo, but they tend to be different than the New York-style bagels that Americans are used to. "A real bagel should have some chew to it, should have some density," said Evan in a phone call with Quartz and his brother. "The Japanese bagel is far more like a soft, squishy roll than it is an authentic bagel as we know it." Japanese bagels also often come in decidedly un-"New Yorkish" flavors like red bean, pumpkin, and nori.
To retain that sense of authenticity, the Blooms decided that they would keep the bagels chewy and savory (Wise Sons does not serve a cinnamon raisin bagel at any of its locations), in six flavors only: pumpernickel, sesame, poppy, plain, everything, and salt. Toppings though, have been opened to local influence, like yuzu cream cheese and salmon roe.
They also discovered that an entire bagel was too large a portion for some less-peckish Japanese customers, so in Tokyo it's possible to order half a bagel, served open faced. Which half? "The nice thing about our bagels is that we top both sides the same," said Evan. "That's something we believe in here in the States as well, that the bottom and the top should be equally good."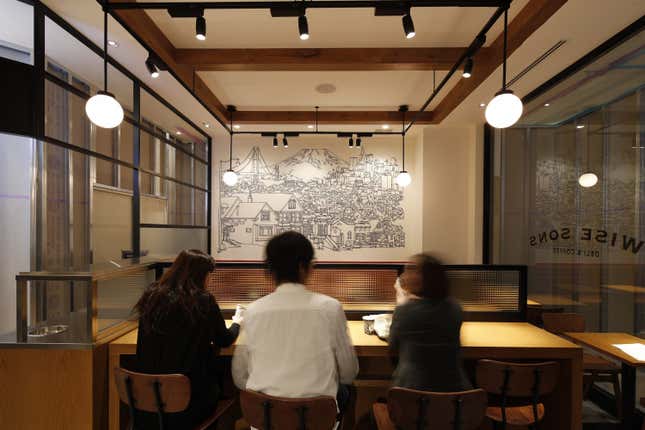 The location near Tokyo station is one of the most densely populated commuter destinations in the world. So the Blooms realized that they needed to offer something that would work with the grab-and-go, bring something to eat at your desk culture in Japan. The solution was a bagel bento box, with a bagel, a spread, and several toppings.
"We put everything in a box, which is something familiar and it's nice way to introduce people to that kind of food," said Evan. "It's probably something that will make its way back to the States in some form."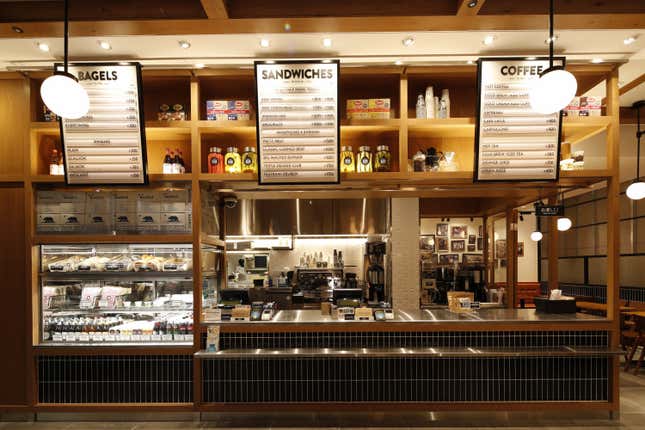 This process of figuring out their core culinary values led the brothers to reflect on the role of identity in their deli's development. "We are the delicatessen planting its flag in Japan," Ari said. "We're really representing the American deli. It's not so much a Jewish thing as an American thing."
Personally though, being an emissary of Jewish deli food far beyond the Lower East Side, or even San Francisco, strongly resonated with Ari. "Beyond being American, being a Jew and bringing something that's Jewish to another country that doesn't really have a lot of Jews—I think we met most of them at our opening party—that was really powerful," he said.
That culinary cross-pollination has given the Blooms new ideas to bring back to the US, too. Bagel bento boxes, yuzu cream cheese, and even nori bagels are all innovations that may well make their way into the American deli cannon, at least at Wise Sons.
And what of the smuggled pastrami?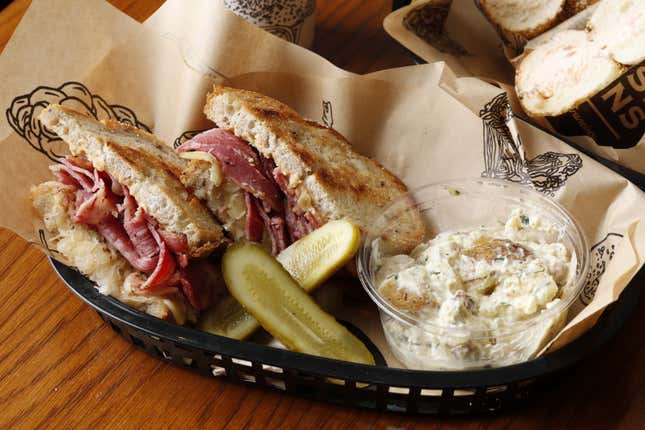 The Wise Sons Tokyo location is operated by Giraud Restaurant Systems and a local team. To make sure all the recipes were correctly prepared, Evan had to bring samples for locals to taste, since most employees had never had a pastrami on rye or matzoh ball soup. At one point an American team member made a gift of Western style grill spatulas to the kitchen staff, who had been struggling to flip patty melts with a shovel-like teppanyaki spatula.
Ari noted that the Japanese culture of meticulous craftsmanship worked well with Wise Sons recipes well. "They're a really systems oriented culture, so if you can provide the systems and framework for them to work within….they want to provide the best possible product," he said.
To that end, Wise Sons is curing their own pastrami at a 100-year-old smokehouse outside of Tokyo, the first ever to be produced there. The pastrami is made mainly from Australian beef imported to Japan, in a process they perfected after making sure everyone knew how the end result should look and taste.
"We actually brought a suitcase full of beef, of pastrami and corned beef, which is illegal," Evan explained. "You're not supposed to be bringing beef into Japan because of mad cow (paywall). So we actually vac sealed a bunch of product, we stuck a label on it that said 'pig' in Japanese and put it in our suitcase and crossed our fingers and hoped that it made it, and it did. I'm glad I'll never have to travel with a suitcase full of pastrami ever again."