It was 1962 all over again at New York's John F. Kennedy airport yesterday. After three years in development, the public got a first glimpse of the highly anticipated TWA Hotel—and it's groovy.
With the Eero Saarinen-designed TWA Flight Center as its centerpiece and spiritual core, the 512-room hotel is poised to be a shrine to the so-called golden age of travel. Judging from the model room unveiled to the press yesterday, developers MCR and MORSE Development didn't skimp on the details.
Designed by New York-based firm Stonehill Taylor, the sixties-inspired guest rooms are equipped with martini bars, midcentury furniture, even vintage rotary phones sourced from Ebay. The bathroom vanity evokes Philip Johnson's glamorous powder room at the former Four Seasons Hotel restaurant in Manhattan. There's even a fleet of vintage cars—1956 BMW Isetta 300 to a 1963 Lincoln Continental—waiting in the wings to transport guests to their terminals.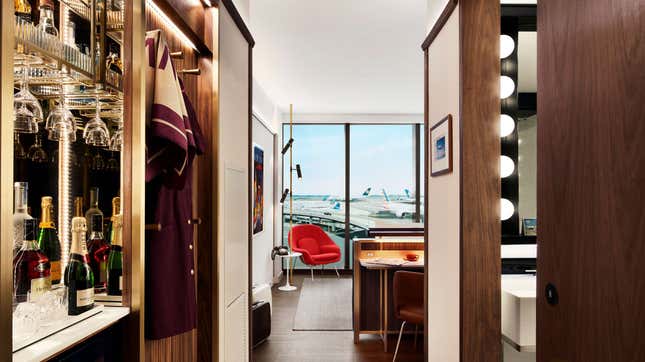 "It's a magical period in time. We're trying to capture this ethos," says Tyler Morse, CEO of MCR and MORSE Development.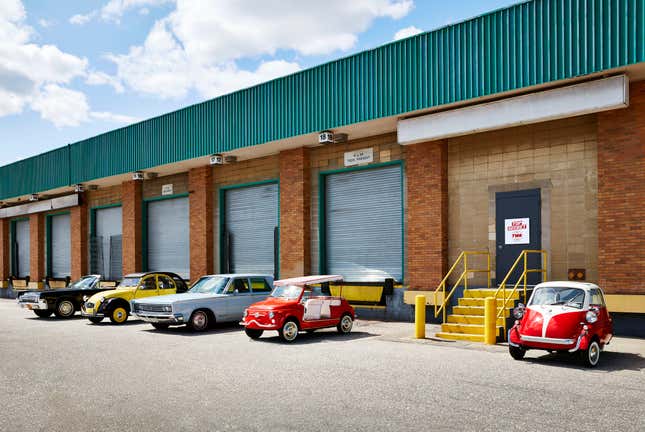 For all the period details, Morse emphasizes that the TWA Hotel isn't meant to be a theme-hotel, like other overly-branded "experiential" venues decorated with random props. "There's so much historic authenticity in our building and in our story … so we don't have to fabricate it," explains Morse to Quartz. TWA Hotel's emphasis on getting the genuine article extends to the furniture. Each room has an authentic Saarinen-designed Womb Chair upholstered in Knoll fabrics in TWA's signature chili red, with a Saarinen Pedestal tulip side table to match. "It's always cheaper to get the knockoffs but we paid a premium for authenticity," he says.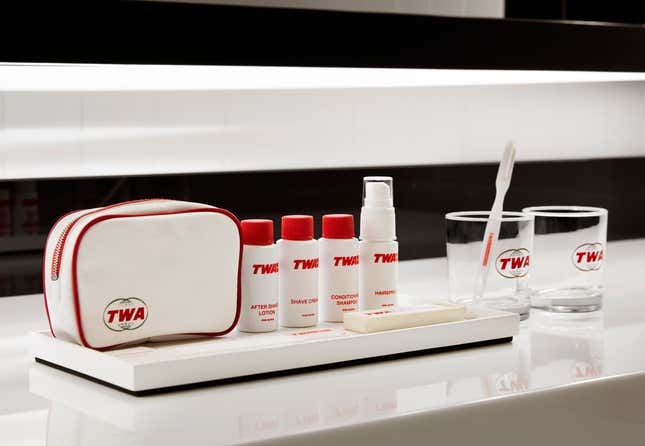 Beneath the sixties shell are contemporary amenities too. Those in-room rotary phones have been retrofitted so they're compatible with the latest VoIP equipment. And to allay fears of sleepless nights from the sound of planes taking off, Morse points out the model suite's soundproof windows. The room's curtain wall is made of seven-panes of glass—that's 4.5 inches, making it the second thickest in the world, after the new U.S. Embassy in London. It will be the quietest sleep you'll ever get, assures Morse.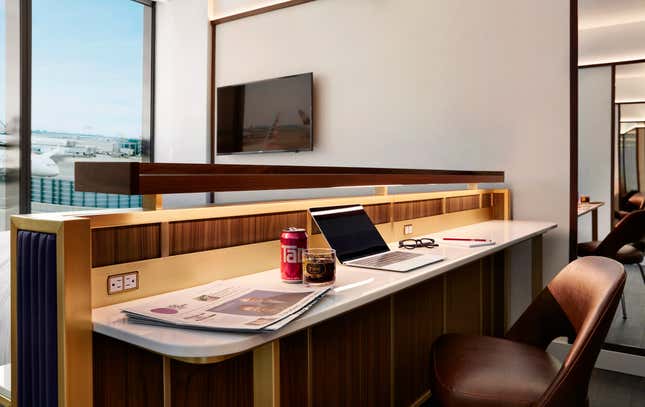 The TWA Hotel is categorized as a 4-star plus hotel which are deluxe properties with an extended range of amenities. It will have eight restaurants, six bars, conference space to accommodate 1,400 people, an in-house museum, and a 10,000-square-foot observation deck. With rooms starting at $250 a night, the TWA Hotel is scheduled to welcome its first guests in spring 2019.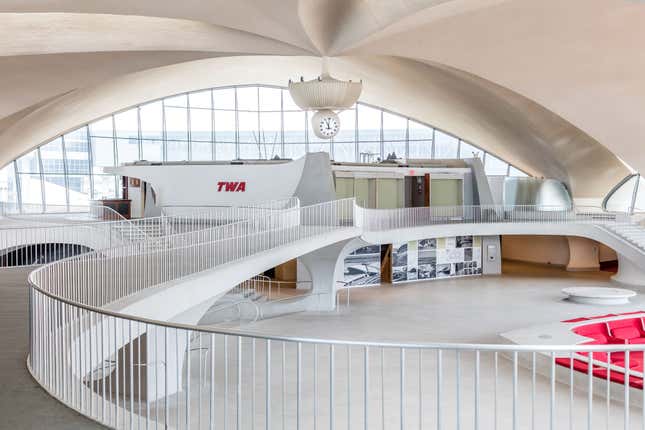 Beyond airport travelers, Morse anticipates that the TWA Hotel will attract modern architecture fans and aviation nerds (a.k.a. "AvGeeks"). "This is their nirvana," he says.