Watch This is a Quartzy recommendation series that spotlights unusual or surprising television shows and films to check out. You'll find all the entries here.
The show that most often makes me cry isn't a primetime drama on premium cable or streaming. It's a kids' show on Cartoon Network.
Steven Universe is in its fifth season. I started watching in January of this year with my significant other, but I ended up racing ahead alone, binging all 144 11-minute episodes in the span of a couple of months. In each short episode, the writers manage to tug a heartstring in a way that frankly, no adult television show I'm aware of can do.
The cast of well-written characters, rendered by Rebecca Sugar, the show's creator (who formerly worked on Adventure Time), each has a strong, colorful personality, and is full of ambition, excitement, kindness, curiosity, playfulness, intelligence, and patience—beneficial qualities for kids to see, to be sure. But also, you know, for grownups.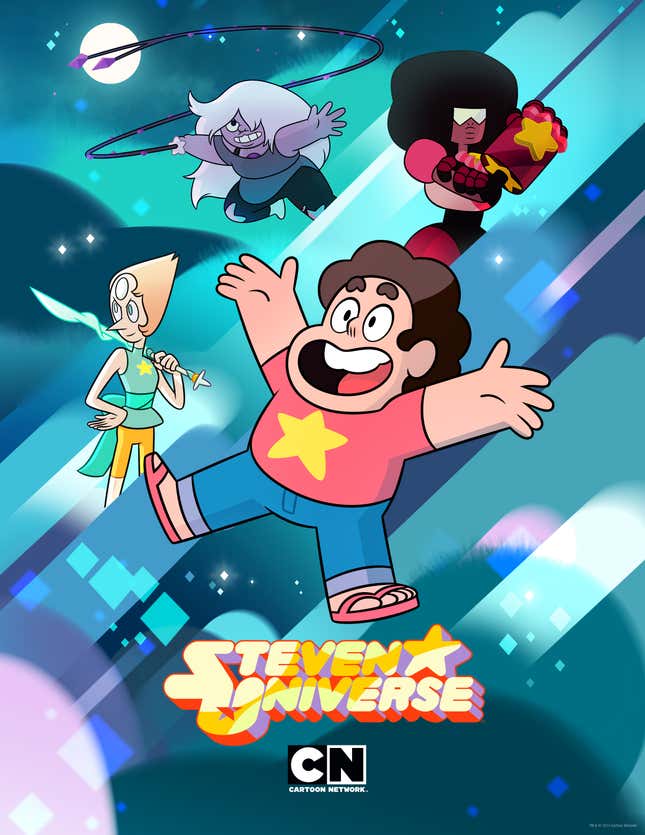 It's also one of the first shows to introduce a representation of LGBTQ equality into family programming—a conscious choice, Sugar told Cameron Esposito on an episode of the podcast Queery. Sugar came out as bisexual at the age of 28, but struggled with the process, she said. This is in part because growing up, there were no healthy representations of queer people in children's media, she said.
"What you learn when you don't see [LGBTQ characters and themes] is that your story isn't interesting and that it isn't beautiful," she said. "What you learn is that…in a family-friendly, all-ages-appropriate world, you're not supposed to be there."
Although the sexuality of the characters in  is never explicitly stated in Steven Universe, it's fairly obvious: The plot revolves around Steven, an adolescent boy, who lives with Pearl, Garnet, and Amethyst, three anthropomorphic aliens with a corresponding magical gemstone. Their goal is to protect Earth from monsters, including gems from their home world. All gems are women. They're capable of fusing together, and when they do, their combined superpowers and personality traits to manifest themselves as an entirely new being. Garnet, it's revealed, is a permanent fusion of two gems named Ruby and Sapphire, who choose to stay together because they love each other so much.
It's not entirely surprising that a first-of-its-kind family-friendly cartoon starring lesbian superheroes could bring in a star-studded cast. The British singer Estelle voices Garnet; actor Kate Micucci voices a reoccurring human character named Sadie; and Nicki Minaj and Uzo Aduba have made guest appearances. The rest of the cast includes highly seasoned voice actors and singers, including Deedee Magno, Michaela Dietz, and Zach Callison as Steven.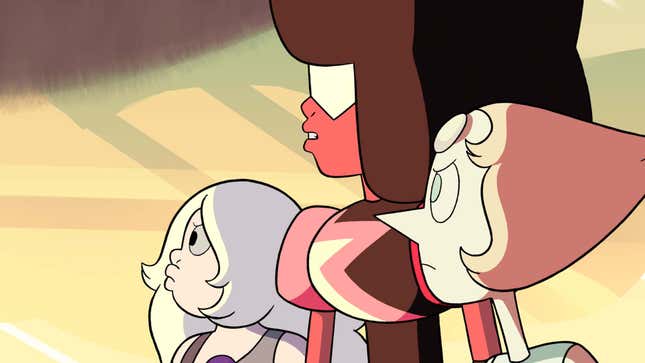 The plot focuses on Steven as he grows up and figures out his own powers. Steven's mother was a gem named Rose Quartz, who fell in love with a human named Greg. Rose Quartz gave up her physical form to have Steven, who looks like a little boy with dark curly hair and a pink gemstone in his bellybutton.
Steven, who is based on Sugar's little brother, represents the best parts of being a kid. He's playful, enthusiastic, inquisitive, and fiercely dedicated to treating others with empathy and compassion. He accepts everyone he meets and tries to understand and befriend them. At the show's onset, Steven is totally innocent, and his values are easy to act on. As it progresses and he learns more about the complicated realities of his world, he must work a little harder to figure out what kind of person—and gem—he wants to be.
The show also manages to take on complex topics such as war and conflict, family dynamics, friendships, and class. In every interpersonal conflict, the characters talk openly with each other about their feelings, and resolve them in admirably emotionally mature ways.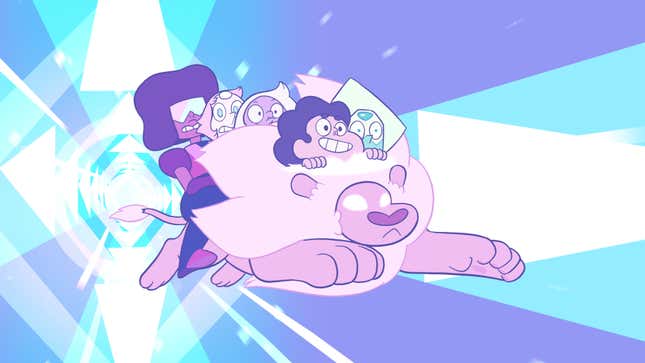 On top of all that, Steven Universe is super funny, and some episodes contain musical numbers, many of which Sugar wrote herself (including the end credits theme, which she sings, too).
That any show would cover so much ground is incredible, and the fact that it's for kids is all the more impressive. Sugar and her team recognize that kids are capable of understanding complicated themes of love in all forms, and compassion and care for those who are different than us. To be "childlike" means to be playful, curious, kind, open, accepting, and optimistic—not to be emotionally clueless.
That's why I so often end up in tears at the end of an episode: If kids can live by these values, why can't we grownups do the same?
Steven Universe airs weekly at 7:30 pm US Eastern time on the Cartoon Network, and new episodes are set to air May 7. Some episodes are available for streaming on Hulu and the Cartoon Network app.