For her inaugural state dinner as first lady, Melania Trump changed out of the supremely white Carmen Sandiego-meets-Bianca Jagger hat that puzzled the internet all day, and slipped into something a little more comfortable—namely, Chanel haute couture. A former fashion model, Melania is no stranger to the power of the fashion, which doesn't entirely explain the hat, but it does explain the Chanel.
The guests of honor, of course, were French president Emmanuel Macron, and the French first lady Brigitte Macron. And it doesn't get much more French than Chanel couture. The gown that Melania wore was made of Chantilly lace—a delicate lace that often consists of floral motifs, dating back to Chantilly, France in the 17th century—embroidered with lots and lots of silver sequins, beading, and hand-painting.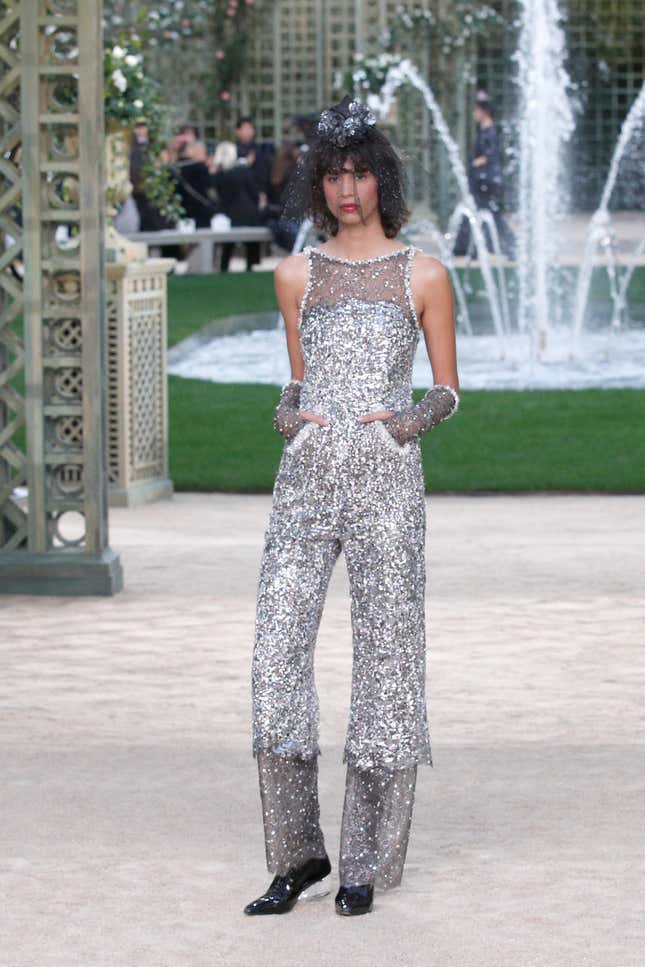 The look made its first appearance on Chanel's haute couture runway in January, where it was quite something in jumpsuit form—with a little black veil to boot. Couture, by definition, is made-to-order, so it's no surprise that Chanel would change the style to suit the customer—and the first lady has worn couture by Karl Lagerfeld (Chanel's creative director) in the past. This collection in particular seemed tied to the designer's positive feelings about the French president and first lady.
When he showed the designs in January, Lagerfeld told Vogue that the Macrons made him feel optimistic about the political climate in France: "It's the feeling I have, and the mood," he said.
For her part, Brigitte Macron stuck to her standard Louis Vuitton, in a long-sleeved cream gown with gold criss-cross chain motifs and an empire waist accented with a gold belt.
With all these metallics, it's hard not to feel nostalgic for the last state dinner at the White House, when Michelle Obama welcomed Italian prime minister Matteo Renzi in rose-gold chainmail Versace.