Mohair is on its way out at some of the world's biggest international clothing companies.
Gap Inc., which also owns Banana Republic and Old Navy, will ban mohair in its clothes starting in spring 2019, and Arcadia Group, which owns eight brands including Topshop, says it will stop sourcing any new goods containing mohair. H&M Group has pledged to cease using mohair at its brands by 2020, the Washington Post reports (paywall), as has Inditex, the parent company of Zara and several other labels.
The widespread shift comes after a graphic exposé by People for the Ethical Treatment of Animals (PETA) documented animal abuse at mohair farms in South Africa. Should the findings make you concerned about what's on the rack or in your closet? Possibly. Here's what you need to know:
What is mohair?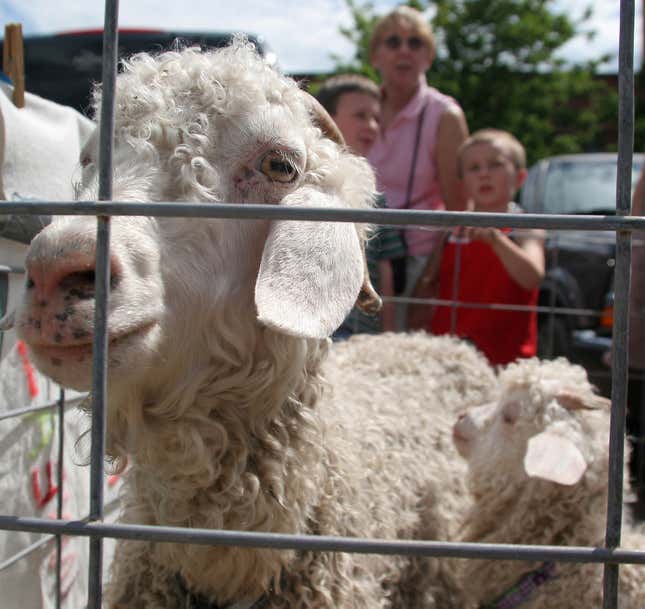 You wouldn't be alone if you don't know exactly what mohair is.
It comes from the coats of angora goats. (Confusingly, angora fabric is made from the fine, soft hair of angora rabbits. It's also banned (paywall) by several brands because of PETA's work.)
Mohair is considered a luxury fiber, like cashmere, except coarser. It's known for being remarkably hard-wearing, and producing a beautiful sheen. It's used in a lot of knit products, such as sweaters and scarves, but it's also frequently woven into a substantial cloth that's dense, stiff, and resistant to wrinkling, which makes it popular for men's suiting.
Often mohair is blended with other fibers to make the resulting fabric feel softer. There's a good chance that, if there's mohair in your closet, it's in this form.
Why are brands banning it?
PETA's exposé is based on visits to 12 South African farms made earlier this year. Those farms might not be representative of the whole mohair industry, but it's troubling because South Africa is the world's largest producer of mohair. The South African government says it produced half (pdf, p. 6) of the world's mohair in 2015.
It's not clear if any of the brands were sourcing from the farms PETA investigated. Supply chains can be notoriously difficult to monitor. A recent Deloitte survey of sourcing professionals at companies found most didn't know what was going on beyond the first-tier suppliers they buy from directly.
"The supply chain for mohair production is challenging to control—a credible standard does not exist—therefore we have decided to ban mohair fiber from our assortment by 2020 at the latest," a spokesperson for H&M Group told the Post.
Among the abuses PETA's video showed were goats being dragged and thrown across the floor. Workers sometimes lifted them in the air by their tails, which PETA says can break their spines. They could also be brutal when shearing them, leaving the goats bloody and crying out.
The group is asking law enforcement to investigate and charge farms that are violating South Africa's 1962 Animals Protection Act (pdf).