I love drinking. I look forward to mixing a beverage deserving of a lime wedge after a long day, and was once deeply moved by the gift of a shower beer-caddy. But last month, when my boyfriend announced he'd be taking four weeks off from alcohol, I agreed to join him. I was curious, and figured since it was his goal, not mine, I could fall off the wagon at any time.
I made it through the month, and it was a mostly positive experience, except for the few occasions when it was excruciating. The main result—and to my mind, the best reason for taking some time off drinking—is that my end-of-day default has been reset from "drinking" to "not drinking." And there's no denying that abstaining from alcohol is a simple way to improve sleep, cut calories, save money, and, of course, avoid hangovers.
So yes, when I'm eating Neapolitan-style pizza at a restaurant that serves natural Sangiovese by the glass, you bet I'll have one. But when I'm just craving something sippable to signal the day is done—my happy hour, as it were—my drink might not necessarily need to contain alcohol. Which then begs the question: What's in the glass?
Ben Branson, the founder of the London-based company Seedlip, is attempting to answer precisely this question with something he calls "non-alcoholic spirits." The company's slogan is "what to drink when you're not drinking."
"Whether someone is drinking alcohol or not, they should still be able to go out to a bar, restaurant or party, and have a great-tasting, grown-up cocktail," said Branson. "Most soft drinks tend to be fruity, sweet, and lack the ritual or theatre we enjoy about alcohol."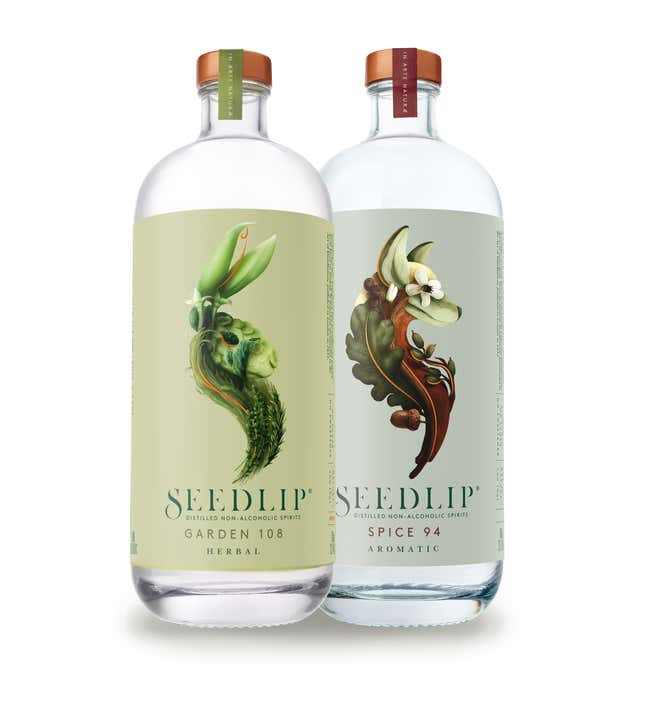 Seedlip distills two blends in a manner similar to gin, whereby botanicals are macerated, distilled, filtered, and blended—but they skip fermentation, and the base liquid, when all is said and done, is water. There's no sugar either. A 700-ml bottle goes for $40, which seems expensive for flavored water but reasonable for a high-end "spirit," which is really the way Seedlip functions. These botanical distillates, which come in two different blends, give a surprisingly respectable backbone to a zero-proof drink. And apparently, I'm not the only one who wants such a thing, from time to time.
In the beer market, global sales of non-alcoholic beer (less than 0.5% ABV) rose by nearly 50% between 2009 and 2018, while traditionally alcoholic beer rose by just 4.5%, according to estimates by Euromonitor. Of course, that dramatic rise is within the still relatively tiny market for non-alcoholic beer, versus the Goliath that is traditional beer—but it signals the great potential for the category.
And the booze behemoths are taking notice. In 2016, Diageo invested in Seedlip, the distiller's first investment in a non-alcoholic drink company (although Diageo-owned brands such as Guinness offer non-alcoholic options). Today, Seedlip's attractive glass bottles, with labels depicting herbs, flowers, and vegetables in the shapes of woodland creatures, are poured at 2,000 bars and restaurants worldwide, including New York's Momofuku Ssäm and London's Savoy. Branson attributes the drinks' success to the rise in wellness culture (and indeed, it was a friend on the Whole30 who inspired my boyfriend to take a break). We're also all increasingly "too busy to be hungover."
"On a Friday, I had nine people drinking Seedlip cocktails at the bar," said Victoria Canty, the bar director at the Fat Radish, a British-inflected restaurant in downtown Manhattan. There, the menu includes a Spring Sour—a non-alcoholic cocktail that combines Seedlip's Garden 108, a vegetal blend made with peas and hay from Branson's own farm, with elderflower syrup, lemon, celery salt, and aquafaba, for a foamy, vegan egg-white-style finish. A Seedlip-and-tonic made with Seedlip's Spice 94 blend comes garnished with a cinnamon stick and an anise pod.
"I was really surprised by all the different people," said Canty, of her Friday night teetotalers. "It wasn't like it was just pregnant ladies. I think it was a thing people didn't know they wanted or needed."
For my own home happy hour, I started with Seedlip's Spice 94, which features cardamom and allspice with grapefruit and lemon rind. I poured two ounces of it over ice, topped it up with Fever Tree Indian tonic and a grapefruit twist, and happily sipped it as I cooked dinner.