Whatever you think of the British monarchy, or the spectacle of an extravagant royal wedding, it'll be worth watching the coverage of the nuptials of Prince Harry and Meghan Markle tomorrow for one thing: hats.
And there are sure to be plenty to ogle, from the subtle to the stunning to the frankly ridiculous. The couple's invitation (unlike that of Prince William and Kate Middleton in 2011) explicitly asks that women guests don a "Day Dress with Hat" (see the lower right corner):
But what does one look for in a royal wedding hat?
Past royal weddings are remembered for all manner of posh hats, and sometimes they can be downright divisive: The navy pillbox hat perched precariously on the front of Victoria Beckham's head in 2011 was admired by some as understated, and others as off-putting. And of course, the most memorable headgear at that wedding was Princess Beatrice's controversial "toilet seat" fascinator, which made the previously little-known royal an international sensation.
Whimsy is part of the point, says British Vogue editor and author Bronwyn Cosgrave, noting that when it comes to British wedding hats, fashion isn't always the the best lens. "There is no style," she told me in a phone interview. A wedding is supposed to be fun, she said, so British guests will choose a "funny or humorous hat, just in the spirit of celebration."
A comeback for British millinery
From medieval England's humble flat cap to Winston Churchill's homburg, hats have a long and a significant history in British culture, and often have the power to signify class, occupation, and social stations.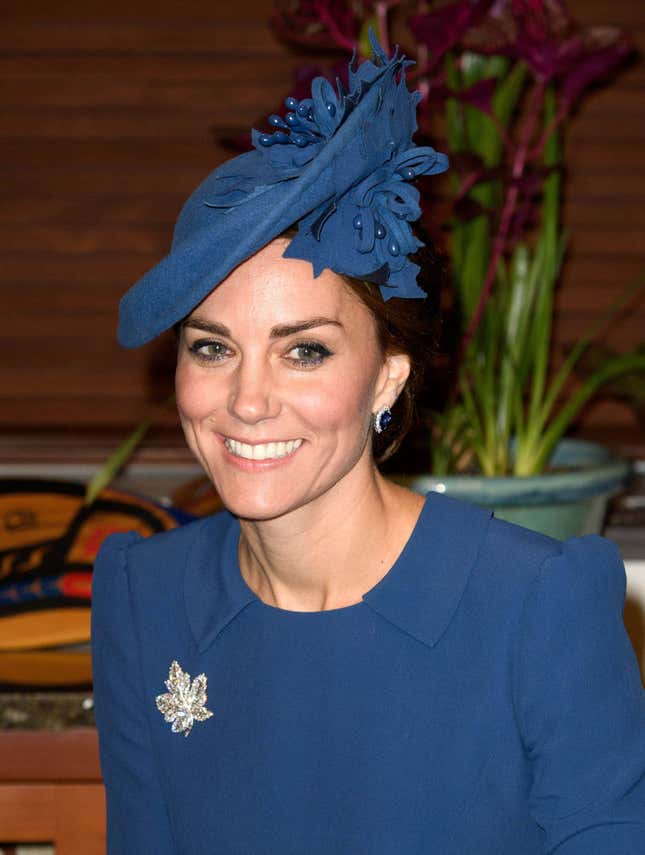 Hat-wearing certainly saw a boost following the 2011 royal wedding, and the Duchess of Cambridge has herself helped millinery's comeback. She has been a "wonderful ambassador for hat wearing for the next generation," Rachel Trevor-Morgan, milliner to The Queen since 2006, told Britain Magazine.
Her mother-in-law, Princess Diana, a fashion icon who was well known for her stylish headwear, topped some of her most spectacular looks with bespoke hats.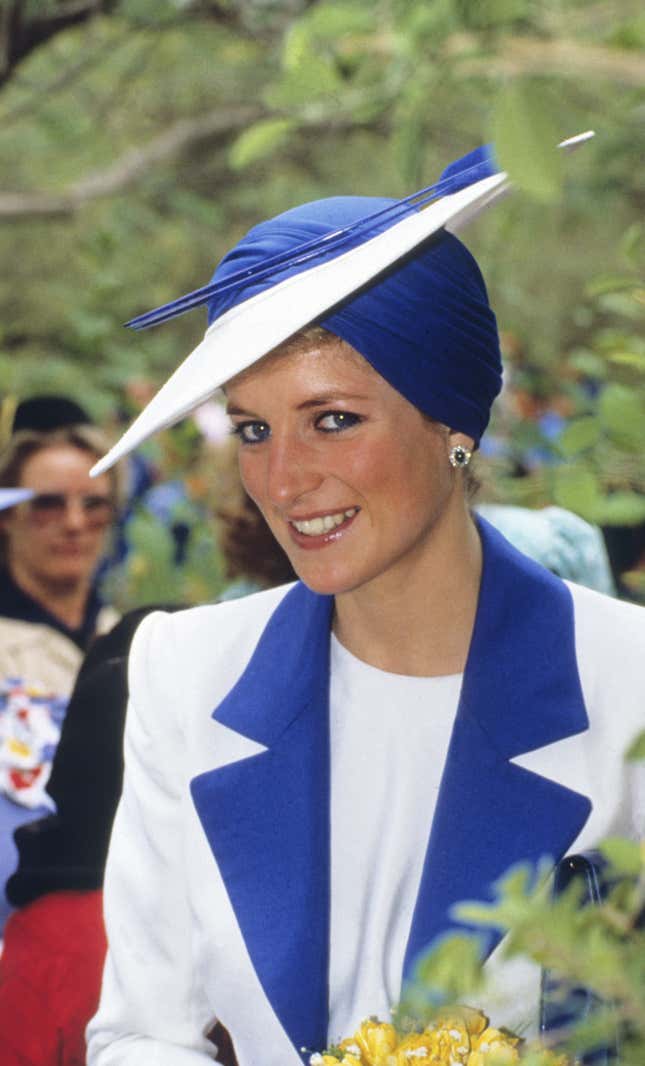 Queen Elizabeth II tends to wear the exact same style of hat, regardless of the occasion, which is a wide-brimmed affair in whatever color matches the rest of her outfit. Cosgrave suspects that we'll be seeing the Queen in pastel this Saturday, but there's also speculation that she'll be wearing blue.
Outside of royal circles, and even across the pond in the US, headgear also seems to be rising, with British millinery seeing a boost as a result, Cosgrave says.
Melania Trump's white Hervé Pierre-designed hat stole the show during the French state visit to the US (though some saw it as a rip-off of Beyoncé's iconic black wide-brimmed hat in the Formation video), and creative headwear was a staple at this year's Met Gala.
Eclectic and elegantly adorned hats are also a fitting tribute to Markle's African-American heritage: Fine headwear has long been a part of the pageantry of church-going and weddings in the black community.
A hat or a fascinator? 
One of the big questions facing royal wedding guests, undoubtedly, is whether to wear a full hat, or a "fascinator"—a small, brimless hat, usually attached to the hair with a clip or comb. Cosgrave called a fascinator a "lighter alternative to a hat"—and said it is much more appropriate for something like the Royal Ascot:
"Fascinators are headgear for women who don't want a cumbersome hat or head covering," she explained. "I think that a royal wedding calls for a little bit more… And it's also the kind of headgear that a younger woman wears typically, where older women would choose a hat."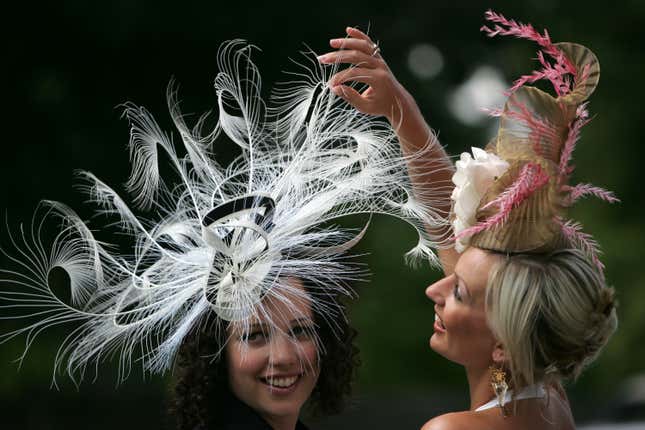 Its hard to predict what styles we'll see at the wedding, Cosgrove said, but we can predict the most popular designers, and three London-based ateliers are dominating this year. Here's who they are, what they've made, and what to watch for this Saturday:
Philip Treacy 
Classic, (and sometimes outlandish)
The Irish milliner's most infamous piece was Princess Beatrice's aforementioned "toilet seat" fascinator, which fetched $130,000 on eBay after it was worn by Queen Elizabeth's granddaughter to Kate Middleton's wedding.
Treacy, whose operations are based in London, is also responsible for many pieces worn by Camilla, Duchess of Cornwall, and designed a hat for Princess Diana on a trip to the Middle East in 1988. More recently, he designed Frances McDormand's complicated headpiece at this year's Met Gala: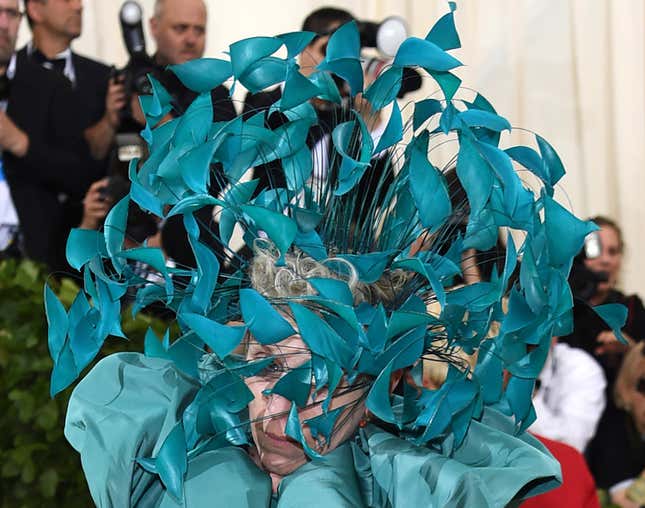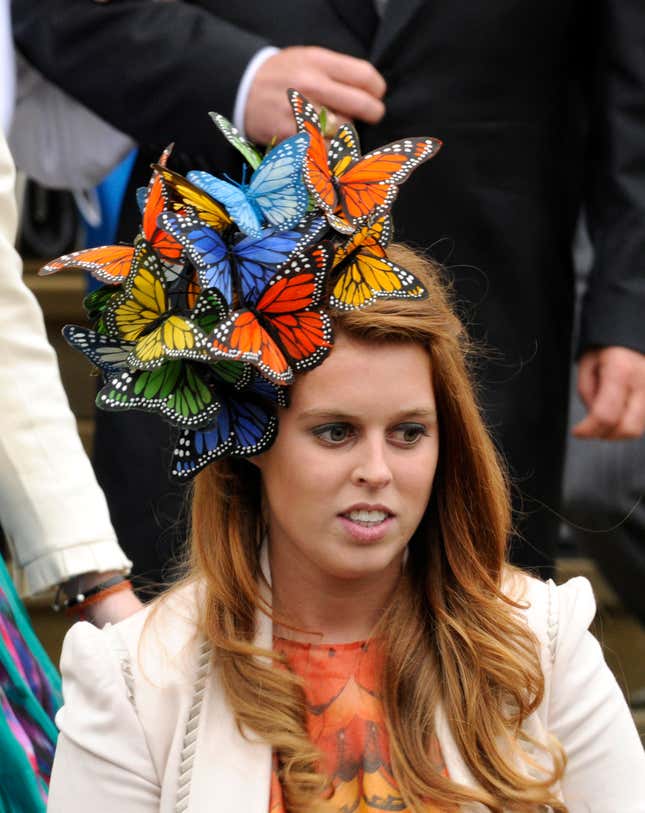 Noel Stewart
Sleek, modern millinery 
Stewart's pieces are decidedly modern, and are inspired by contemporary art and architecture, according to his website. Cara Delevigne wore a Stewart design on the June cover British Vogue.
The London-based designer is also a runway regular, and as the youngest milliner of the group has already collaborated with the likes of JW Anderson and the Kate Middleton favorite Erdem. His hats and veils were recently featured in the film Murder on the Orient Express, and have been worn by Keira Knightly, Lady Gaga, Florence Welch, and Kylie Minogue.
Stephen Jones
Fashion-forward, haute couture headwear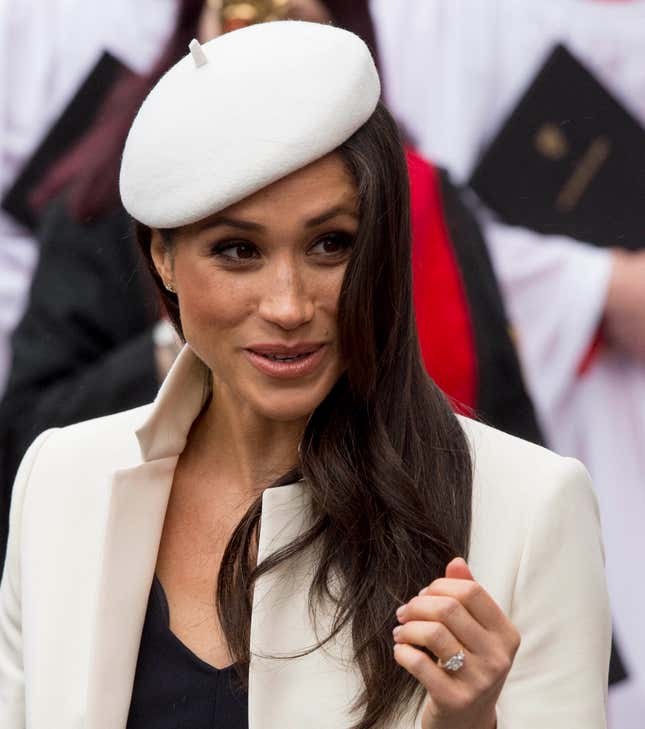 The 61-year-old milliner, who operates out of London's Covent Garden, is known for his haute couture headwear, and creates runway pieces for high-end fashion houses such as Dior, Balenciaga, and Alexander Wang. Meghan Markle recently wore a jaunty white Jones beret to the 2018 Commonwealth Day services.
Cosgrave says we're likely to see a lot of Jones's work at the wedding this year, especially after his most recent design: Rihanna's Pope headdress at the Met this year.