You get home from work and there they are, the new pants you ordered. When you try them on though, happy anticipation turns to empty disappointment. The flowing cut that looked beachy and easy online appears downright dowdy in your bathroom mirror. Even though you ordered two different sizes, neither quite works. Back they go.
There's something very personal about opening a package with your name on it and trying on the clothing inside—only to find that it doesn't fit very well. The truth is, it's not you, it's them. By showing a garment available in different sizes on just a single—and likely very tall and very thin—body, clothing companies are failing their customers. The result: A high rate of returns for online purchases.

Some online retailers have added a new tool designed to help customers find the right size and assess whether a garment works for their body type. Instead of showing a pair of pants or shirt on a single model, they've added a drop down menu that says, "see how these fit on other sizes," or "see on more body types" to their online stores. Some stores, like Universal Standard, provide photos of models wearing the item in every size it comes in, others offer three of four choices—a rough small-medium-large range.
It sounds like a no brainer, but it's a big change in the industry.
Everlane, and J. Crew have started offering this feature on some garments, though the clear industry leader is Universal Standard. "The idea of trying to guess what something might look like on you when you're looking at a size 14 model and you actually wear a size 28, it can be a bit tricky," Alex Waldman, co-founder of Universal Standard said over the phone. "We wanted show that scope of bodies."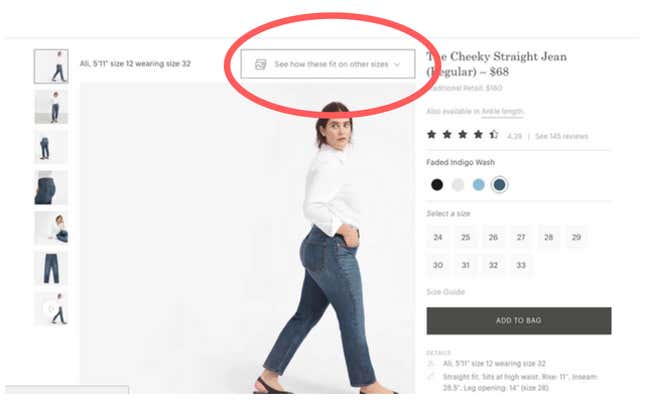 Universal Standard was founded on the principle of inclusive sizing—they offer sizes 6-32. What's more, most of the items on their site can be viewed in every one of those sizes. "It's a big project, it's not inexpensive," says Waldman of his site's expansive sizing visuals. "You should be able to really see how it's constructed and how it will look on a body your size."
Returns are a major stumbling block for retailers and are often the result of imprecise sizing information. Because of this, venture capital is flowing into services designed to help online shoppers determine fit—and tools like fit quizzes have become a way for retailers, like Universal Standard, to distinguish themselves.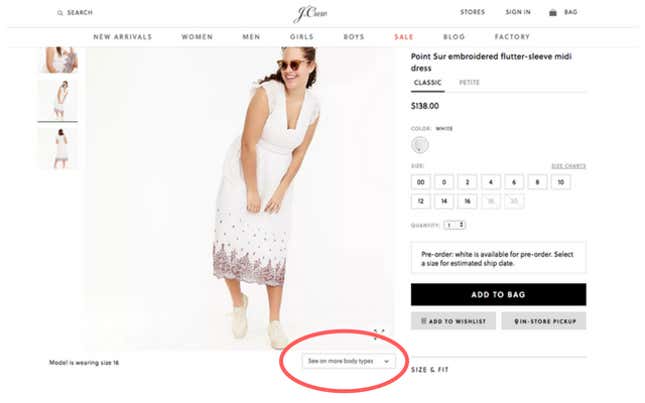 Carmindy Bowyer, a makeup artist, author and entrepreneur, has written about the idea that marketing targeted at women is designed to provoke a reaction she refers to as "compare and despair"—you're never as good as the model selling the pants, or lipstick, or dress you would like to buy. She sees inclusive sizing, as well as beauty products designed for women of all ages, as more than just a confidence builder, but a way forward in a crowded marketplace.
"As we're becoming more advanced as women, as we're saying  enough is enough, we also need to get a little more real," Bowyer told Quartzy over the phone, speaking from the set of a photo shoot for a large clothing brand. "The companies that are real are the companies that are going to last."