There's a school of thought among kitchen nerds that single use gear items—like an avocado slicer or an egg separator—are a waste of space. There are a few exceptions to that rule, though, like the $7 burger press that goes into heavy rotation in my house come summer grilling time.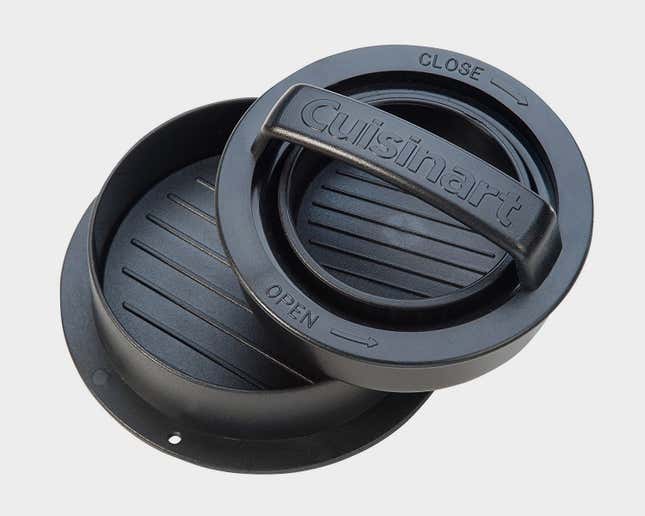 My husband, Tom Mylan, is very serious about burgers, in professional sense—he's a butcher who wrote a book about how to cook and eat meat. So I was surprised when a small plastic patty maker arrived in the mail several years ago. It seemed so insubstantial compared to his normal kit of knives and grinders. The results though, speak for themselves. Burgers made with the press are uniform and even, sitting nicely on a bun without that puffed-up football shape that home-cooked burgers so often take on. As for their texture, the patties nicely balance juiciness and chew in a way that really highlights beefy flavor without toughness.
Tom told me that he was inspired to order the press after visiting Jack O'Shea's butcher shop in London nearly a decade ago—where the well known European butcher was using a handpress rather than an expensive automated patty maker. We've been benefitting from O'Shea's frugality ever since.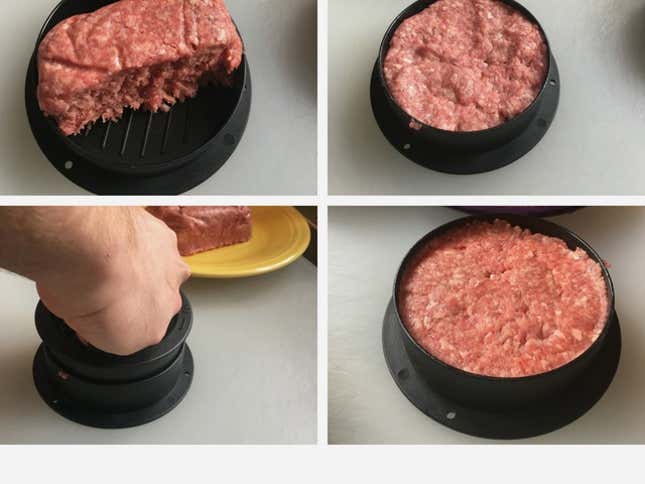 The science behind this device is fairly simple. Red meat is high in a substance called myosin. According to Tom, these sticky strands make beef, and lamb, once ground, much like velcro—which means the more you work it, the more it bunches up and binds to itself. The muscle fibers in an overworked burger will contract as it cooks, in effect wringing itself out, losing fat and juices and causing exterior-scorching grill flare-ups. "It's everything you don't want," Tom told me.
Using the press, rather than forming patties by hand, limits the further development of sticky entanglements, keeping the burgers evenly sized and juicy, not tough and puck-like.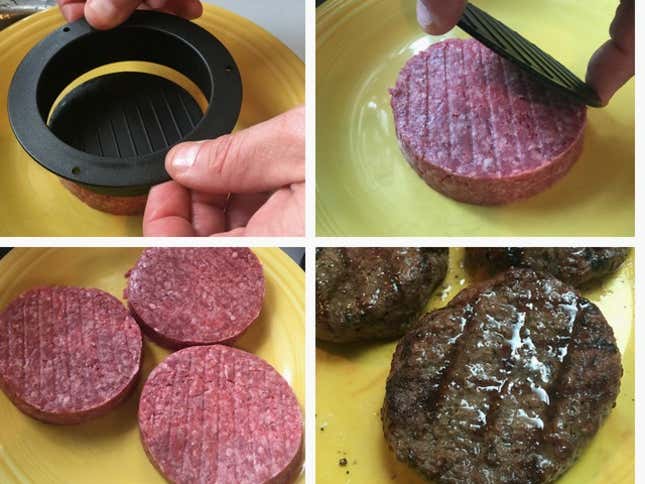 Using this device is breezily simple. Just divide up your ground beef, tuck into the mold evenly without handling too much, and then press down, turning slightly, very much like packing an espresso arm with ground espresso—firm, even pressure. Then pop them out and salt and pepper if you're on the way to the grill directly. Ideally though, you'll let them firm up on a plate in the fridge for an hour or so, then pull out and salt and pepper about 20 minutes before you're ready to pop them on the flames. How you like your burger is up to you.
The Cuisinart version we use makes burgers that are a third of a pound, which I find substantial but not gigantic. You could also make quarter pound burgers in it, they'd just be thinner.
And, this isn't really a one-trick pony either—there's a nifty feature that allows cooks to create a stuffed burger for a Midwestern style Juicy Lucy, an inside-out cheeseburger, or something more creative, like sautéed mushrooms and blue cheese sealed in a beefy package.