Kate Middleton made headlines on Saturday when she wore a cream-colored Alexander McQueen coat dress to the royal wedding. Some scolds wagged their fingers at the Duchess of Cambridge, claiming that she was trying upstage her new sister-in-law by wearing white.
Here's the thing: This was not a mistake, a faux pas, or a snafu. That's simply not how the royal family works. This is a woman who posed for a photo, in a dress and heels, the same day she gave birth to a 8.5-pound baby. Propriety is her thing.
This is a teachable moment, though. Everything you need to know about wearing white to a wedding can be gleaned from Middleton's wedding guest attire.
Listen to the bride
It stretches credulity to think that Middleton chose her dress without Meghan Markle's approval, or even direct request. If you look at the official wedding photographs of the new Duke and Duchess of Sussex, it's clear that the pale citrus-hued pastels worn by the women in the wedding party were planned. Megan Markle's mother, Doria Ragland, and Queen Elizabeth are both in pale green. Middleton's dress and hat appear to be pale yellow, in comparison to the white dress her daughter, Princess Charlotte is wearing.
Here's the takeaway: If the bride asks you to wear white, or cream, or pale yellow, please do so. If she herself chooses to wear magenta, or black, or chartreuse and wants everyone else to wear white for a very intense, modern look, you should also do so. If she asks for black tie, please do not wear tie dye. You can roll your eyes a bit, in the privacy of your own home, but if you cannot bring yourself to stick to the dress code that she has requested, you probably should send your regrets.
Beware of the pastel trap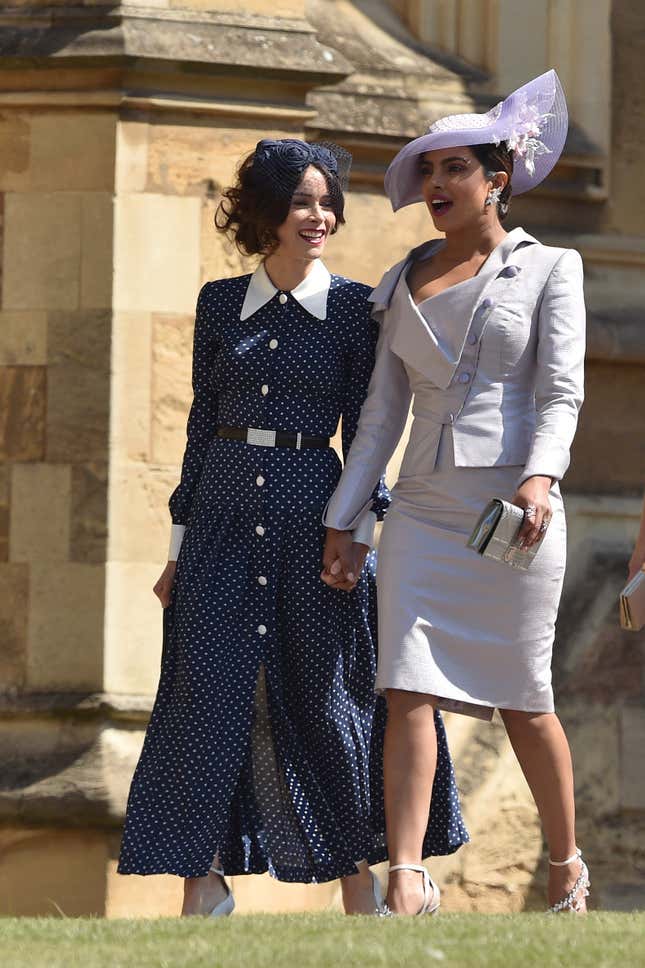 Let's not do a white and gold or blue and black (or Yanny or Laurel) thing here, but Kate Middleton's dress scans as white or off-white when she is standing by herself, but seems closer to cream or pale yellow next to white.
As we have discussed, her sister-in-law almost certainly gave her the go ahead for this look, but the confusion and scolding on the part of viewers is worth noting.
To avoid such confusion, don't wear a white dress with a subtle floral print or embellishment. Wearing pale blush, lemon, or dove gray may be asking for trouble. Ask yourself, if there was a photo from this wedding, could I be mistaken for the bride?
The answer might be no. For all the flap over Middleton's dress, no modern viewer would mistake her knee-length day dress and coat for a wedding dress, especially when the bride wore a jeweled headpiece and a 16-foot veil. If the bride is wearing something very formal or elaborate, and you want to wear a pale pink sheath, suit, or sundress, that will probably be just fine, provided it's dress code-appropriate.
Though ultimately, it's probably best to err on the side of caution—to avoid side eye from other guests, if nothing else.
What if there's no bride?
Wedding etiquette is evolving alongside weddings themselves. If you're celebrating two grooms, you may be able to wear that white eyelet sundress that looks so amazing with bronzed shoulders. The key here is to ask whichever groom you're closest to whether that is okay. If you don't feel comfortable asking, then don't wear the dress.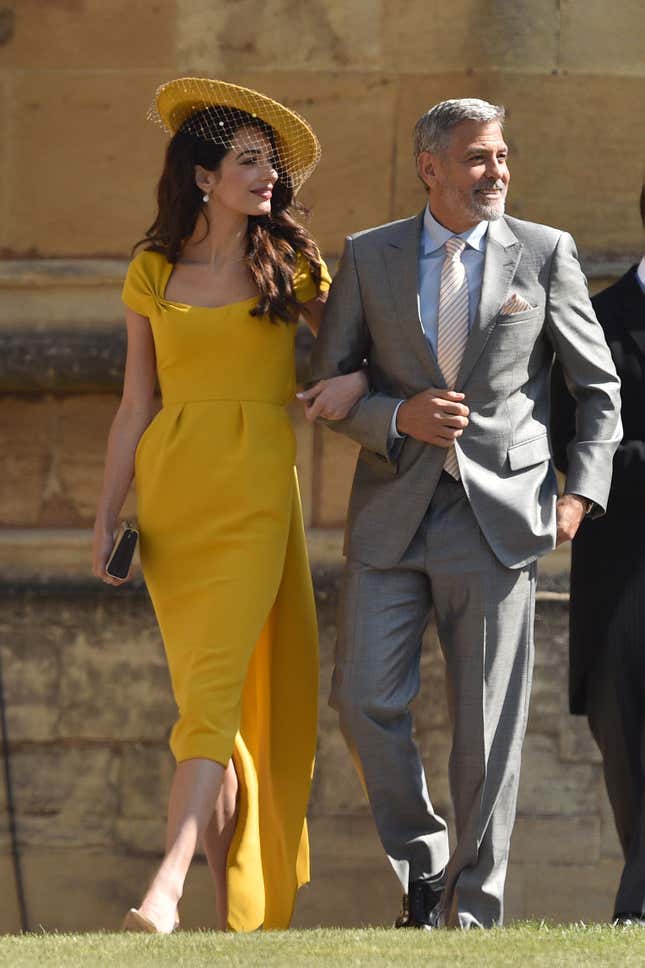 What kind of attention do you want?
The second most talked about dress at the royal wedding was worn by Amal Clooney, the international human rights lawyer. Though her husband opted for a yellow tie that was a little matchy-matchy, the turmeric hue she chose was gorgeous, appropriate, and show-stopping without any suggestion of passive-aggressive upstaging. It's also a lot more fun than a pastel. Life is short! Wear bright colors.