Unlike many newlyweds, Prince Harry and Meghan Markle did not need to wait months for official photographs of their big day. Kensington Palace has already released official portraits shot by Alexi Lubomirski—also a prince—and they are delightful! They demonstrate many "Do's" when it comes to wedding photos:
Do shoot in lots of natural light; Do smile naturally; Do place subjects at different heights, in natural poses; Do include an infinite gilded mirror to symbolize your family's infinite power, and so on.
But perhaps above all else, this photo proves the power of strong-arming one's family into a matching color scheme.
This portrait is a spring-green garden for the eyes. Look at how marvelously the embroidered flowers on mother-of-the-bride Doria Ragland's Oscar de la Renta jacket echo the bouquets and floral crowns worn by the tiny bridesmaids. Admire the discreet camouflage of Kate, in ivory, behind little Princess Charlotte, while also matching those ivory and spring green bouquets. And let us not overlook the grandmother of the groom, aka Queen Elizabeth, an absolute citrine vision in a Stewart Parvin coat over her plum, lime, and emerald printed floral dress, topped with a purple feathered hat. She is the royal matriarch not only of this family, but of this color scheme.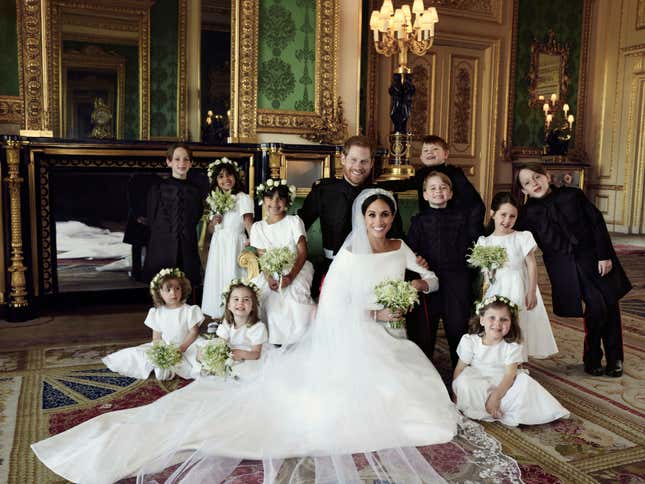 As bridal parties—those small armies of bridesmaids in matching taffeta—become passé, this sort of wedding palette coordination could easily fall by the wayside. Who wants to tell their future stepmother-in-law what color to wear? Not I! Apparently not Markle, either, which is possibly why Camilla ended up in pink. It's monochrome and subtle. The shade is complementary to the predominant greens and whites; She's playing her part in the portrait as a whole.
The entire concept of a color scheme for one's wedding seems absurd, indeed. But the royal family here makes a strong case: Do it for the pictures.